NFL AM: Gurley's Suspension Won't Hurt His Draft Stock
We look at how Todd Gurley's suspension will affect his draft status, T.Y. Hilton's career night and Adrian Peterson's career going up in smoke.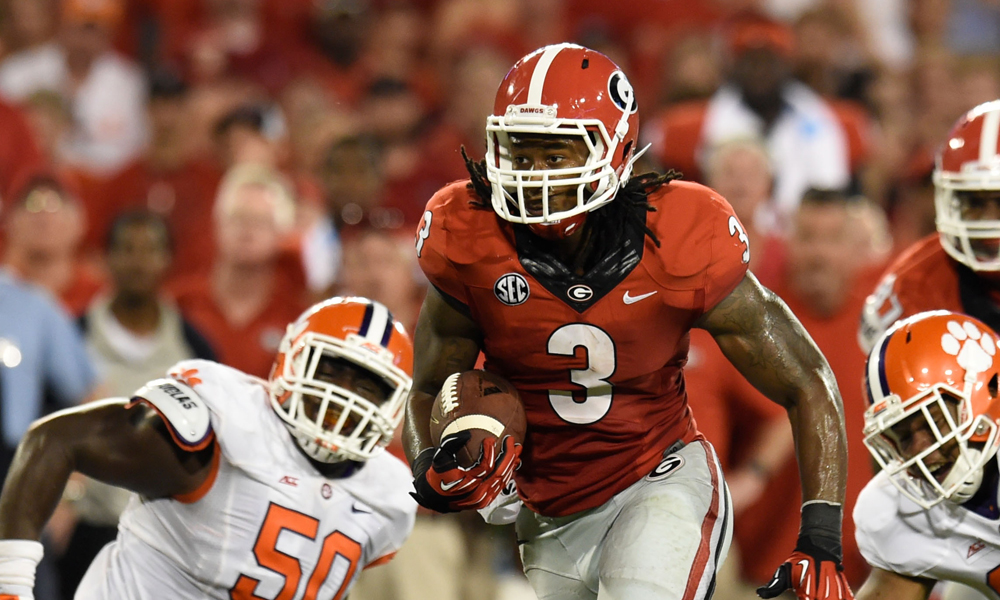 In Friday's edition of NFL AM, we examine the indefinite suspension of Georgia running back Todd Gurley, a close game on Thursday night and the possibility of Adrian Peterson going to prison.
Potential First-Round Pick Suspended
There hasn't been a running back taken in the first round of the NFL Draft in two years. The 2015 Draft looked to buck that trend as Georgia running back Todd Gurley is the best looking running back prospect since Adrian Peterson.
The talented Georgia running back was suspended indefinitely for allegedly signing autographs for money.
"I'm obviously very disappointed," Georgia coach Mark Richt said in a statement. "The important thing for our team is to turn all our attention toward preparation for Missouri."
So how will this indiscretion affect Gurley's draft stock?
An NFC scout told Football Insiders, "In the grand scheme this isn't that big of a deal. I wouldn't downgrade him for this and I wouldn't expect other teams to do so."
The 6-foot-1, 231-pound running back runs with violence and vision, and the closest NFL comparison right now is probably a faster Marshawn Lynch. Gurley has breakaway speed, can catch the football out of the backfield and looks like a complete three-down running back.
In our initial Heisman Rankings, Gurley was ranked first.
Hilton, Colts Take Over First Place
A battle for first-place in the AFC South turned from laugher to a thriller as the Indianapolis Colts beat the Houston Texans en route to their fourth consecutive win, 33-28.
This looked like it was going to be yet another Thursday night mismatch as the Colts struck early and often, and raced out to a 24-0 lead after just one quarter. Houston kept chipping away and pulled within six points as "Cyborg" defensive end J.J. Watt forced a fumble, then scooped it up and raced 45 yards for his third touchdown of the season. Watt has more touchdowns this season than Calvin Johnson, LeSean McCoy and Larry Fitzgerald…combined.
Still, it was the Colts defense that sealed the deal as Ryan Fitzpatrick fumbled on Houston's final possession as they were trying to drive for a game-winning score.
Offensively, Andrew Luck had what is becoming a typical Andrew Luck type of game, completing 25 of 44 throws, for 370 yards with three touchdowns and an interception. Colts wide receiver T.Y. Hilton was a fantasy and reality stud with nine receptions for a career-high 223 yards and a touchdown.
After dropping their first two games of the season, Indianapolis has feasted on the AFC South, winning three straight in the division and four straight overall. The schedule stiffens a bit for the Colts as they face Cincinnati at home, then travel to Pittsburgh and then New York to face the Giants before their Week 10 bye.
Indianapolis has won an amazing 10 straight games on Thursday night football.
Peterson's Freedom Going Up In Smoke?
As if Vikings running back Adrian Peterson hasn't found himself in enough hot water, he willingly put himself in some more.
Peterson willingly admitted that he smoked marijuana, violating the terms of his bond as he awaits trial for his charges of child abuse. Per a Fox 26 Houston report, Peterson told a courthouse employee that he "smoked a little weed" before providing his urine sample.
It's possible that Peterson's bond could be revoked and he could be arrested.
Anyone that would find it prudent to beat their 4-year old with a stick until he has marks all over him obviously isn't the greatest decision maker. Stupidity such as this shouldn't surprise anyone when talking about Adrian Peterson.
Buccaneers admit mistake, boot Aguayo
In the NFL, it's always better to admit a mistake than to compound it. For the Buccaneers, the decision to burn a 2016 second-round pick on kicker Robert Aguayo has proven to be a mistake. The Buccaneers made the definitive admission of their error on Saturday, cutting Aguayo. He exits with $428,000 in fully-guaranteed salary [
more
]
Source: Mike Florio of ProFootballTalk
Powered by WPeMatico
Did Bucs put too much pressure on Aguayo?
After the Buccaneers surprised everyone by taking a kicker with the 59th overall pick in the draft, G.M. Jason Licht explained the move by heaping superlatives on the player. "I was very excited along with my staff and coaches about Roberto for a very long time," Licht told PFT Live in May 2016. "It's not [
more
]
Source: Mike Florio of ProFootballTalk
Powered by WPeMatico
Broncos holding their breath on Derek Wolfe
Only two days after losing Billy Winn for the year with a torn ACL, the Broncos are now sweating out another potentially serious injury along the defensive line. Via multiple reports, Broncos defensive lineman Derek Wolfe was carted off the field during practice on Saturday. It's being described as a right ankle injury by coach [
more
]
Source: Mike Florio of ProFootballTalk
Powered by WPeMatico