NFL AM: Drew Stanton, Arizona Cardinals Finally Catch a Break
Drew Stanton will come back; Adrian Peterson will stay home; and Chris Harris will be a Bronco for at least five more seasons.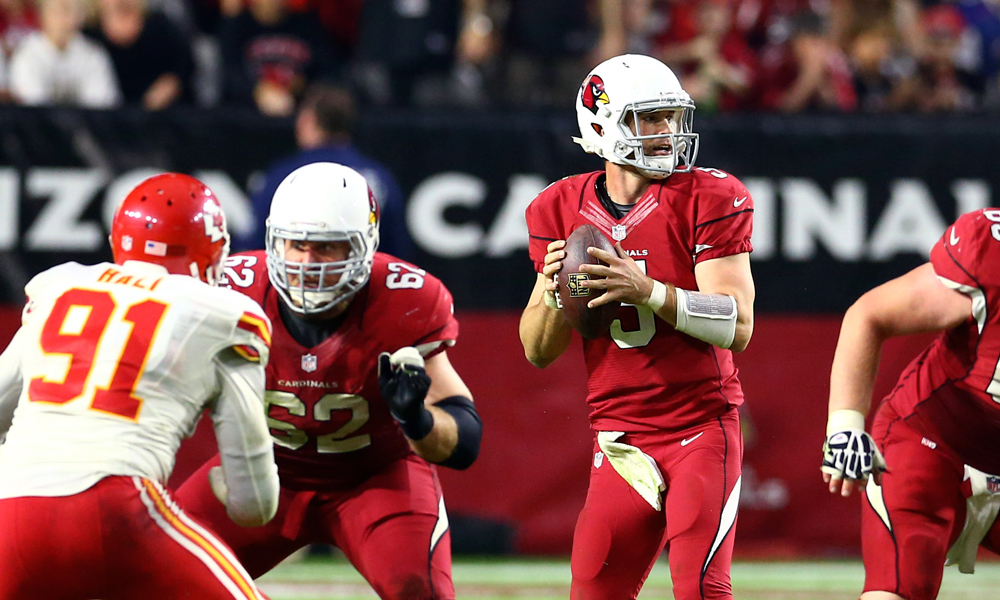 Stanton Diagnosed With Knee Strain
The Cardinals received good news on Friday when an MRI revealed quarterback Drew Stanton only strained his ACL and MCL during Thursday's win over the Rams. Stanton was knocked from the game in the middle of the third quarter when he twisted his knee on a hit by Aaron Donald.
The diagnosis means Stanton should be able to return for the playoffs, keeping alive Arizona's dream of being the first team to play in a Super Bowl at its home stadium. However, Stanton is unlikely to play next weekend when the Cardinals host the Seahawks in a game that could determine which team will win the NFC West.
"Whatever quarterback lines up for us next Sunday night, he'll have a game plan that he's comfortable with and should be able to execute," said head coach Bruce Arians. "That's what we expect of him."
That quarterback figures to be Ryan Lindley, who replaced Stanton against the Rams. After completing his first pass to Michael Floyd, Lindley completed just three of his next nine passes, gaining only 24 yards and nearly turning the ball over on a pass that should have been intercepted by Janoris Jenkins.
Originally a sixth-round pick of the Cardinals in 2012, Lindley has spent his whole career in Arizona, with the exception of a 10-week stint earlier this season on San Diego's practice squad. His career numbers are not pretty. The 51.4 percent completion percentage is bad, but the 0-to-7 touchdown-to-interception ratio is downright horrific.
Lindley will have to play better to give the Cardinals a chance to beat the Seahawks. He should be better prepared for that game, as he will practice with the starters all week and will have a simplified game plan tailored to his strengths. It will also help that he has an extra three days to prepare, thanks to Arizona coming off a Thursday game.
Lindley will not be asked to win the divisional showdown; instead, his objective is simply not to lose it. Arizona's defense and running game are peaking at the right time, so if Lindley can just keep the offense on schedule, he will give his team an excellent chance to remain undefeated at home.
A win over Seattle would give the Cardinals the NFC West title and a first-round bye; that extra week of rest may now be a necessity given Stanton's situation.
Appeal Denied for Adrian Peterson
Adrian Peterson's appeal of his season-long suspension, which is slated to last until at least April 15, was denied by arbitrator Harold Henderson, the league announced on Friday.
Peterson was suspended for a violation of the league's personal conduct policy after he pleaded no contest to misdemeanor reckless assault for injuring his four-year-old son with a switch. He was suspended without pay as of Nov. 18 after beginning the season on the Commissioner Exempt list, which kept him off the field but on the payroll.
"[Peterson's] public comments do not reflect remorse or appreciation for the seriousness of his actions and their impact on his family, community, fans and the NFL, although at the close of the hearing he said he has learned from his mistake, he regrets that it happened and it will never happen again," wrote Henderson, a former NFL executive who was appointed by Commissioner Roger Goodell. "I reject the argument that placement in Commissioner Exempt status is discipline."
The NFLPA came out with a statement condemning the decision, as expected, and will now likely to appeal the outcome in federal court. But whatever happens from this point forward, there is now zero chance of Peterson returning to the field this season.
It will be interesting to see how teams deal with Peterson as opposed to Ray Rice when both ostracized running backs look for work this offseason (assuming Peterson is released by the Vikings, which seems to be a foregone conclusion at this point).
Rice's offense — striking his wife (then fiancée), Janay — brought about more public backlash because it was caught on camera. Also, Rice cannot plead ignorance about the ill intent of his actions, a shroud Peterson has tried to hide behind since his case became public.
Ever since the night Rice struck his wife, he has been extremely apologetic and proactive in helping initiate action to stop future instances of domestic violence. Peterson, meanwhile, has spent more time and energy trying to get out of his punishment than he has taking corrective action for his obvious missteps.
Because of those reasons, the team that signs Peterson may face even more scrutiny than the team that inks Rice, assuming both runners find new employers. Then again, Peterson is the far superior player on the field, and in this league, talent is the only thing that matters.
Chris Harris Lands Five-Year Extension
The Broncos got a head-start on their offseason to-do list on Friday, locking up cornerback Chris Harris with a five-year extension worth a reported $42.5 million. Harris is playing at a Pro Bowl level this season, holding opposing quarterbacks to a passer rating of 46.9 on throws in his direction.
Harris' deal helps Denver clear a significant hurdle. He was one of three marquee Broncos heading for free agency this offseason, along with WR Demaryius Thomas and TE Julius Thomas. Now, Denver can turn its attention towards locking up Demaryius Thomas, who has indicated a willingness to take a "hometown discount." If John Elway can get that deal done, it will free him up to use the franchise tag on Julius Thomas, which is expected to cost a palatable $8 million.
"Chris is a young, ascending player who has consistently performed at a high level during his first four years in the NFL," Elway said. "He joined the Broncos as a college free agent and has worked tirelessly to become one of the league's best at his position."   
Harris' career numbers include 242 total tackles, 10 interceptions, 47 pass breakups, 3.5 sacks and a forced fumble. With him lining up opposite first-year Broncos corner Aqib Talib, Denver ranks No. 4 overall against the pass.
Want to talk more about these and other headlines? Join Michael Lombardo for his weekly NFL Chat on Friday at 2pm EST. But you don't have to wait until then … go ahead and ask your question now! 
Buccaneers admit mistake, boot Aguayo
In the NFL, it's always better to admit a mistake than to compound it. For the Buccaneers, the decision to burn a 2016 second-round pick on kicker Robert Aguayo has proven to be a mistake. The Buccaneers made the definitive admission of their error on Saturday, cutting Aguayo. He exits with $428,000 in fully-guaranteed salary [
more
]
Source: Mike Florio of ProFootballTalk
Powered by WPeMatico
Did Bucs put too much pressure on Aguayo?
After the Buccaneers surprised everyone by taking a kicker with the 59th overall pick in the draft, G.M. Jason Licht explained the move by heaping superlatives on the player. "I was very excited along with my staff and coaches about Roberto for a very long time," Licht told PFT Live in May 2016. "It's not [
more
]
Source: Mike Florio of ProFootballTalk
Powered by WPeMatico
Broncos holding their breath on Derek Wolfe
Only two days after losing Billy Winn for the year with a torn ACL, the Broncos are now sweating out another potentially serious injury along the defensive line. Via multiple reports, Broncos defensive lineman Derek Wolfe was carted off the field during practice on Saturday. It's being described as a right ankle injury by coach [
more
]
Source: Mike Florio of ProFootballTalk
Powered by WPeMatico