Is the Running Quarterback in Decline?
The dual-threat quarterback was supposed to change the game, but this year scramblers are stuck in neutral.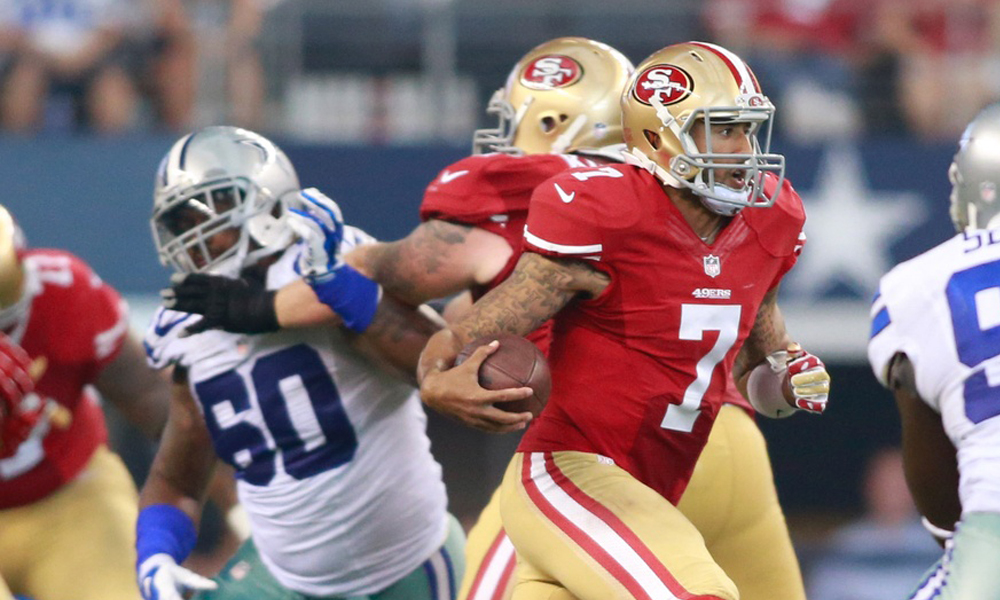 Quarterback has long been the country club position of the NFL — big money, a bit staid and, for a long time, exclusive to members of just one skin color.
That has changed over the years, but one expectation about the position hadn't until recently — to succeed in the NFL, it was thought you had to be a traditional dropback passer. There have always been exceptions to the rule, from Fran Tarkenton to John Elway to Randall Cunningham (QB Eagles to those "Tecmo Bowl" players among us), but all went against the traditional grain.
A couple years ago, it looked like the traditional grain was finally changing. A flurry of young, mobile quarterbacks burst upon the scene. Cam Newton, Robert Griffin III, Russell Wilson and Colin Kaepernick all looked capable of redefining how we looked at NFL quarterbacks.
This season, the wheels have fallen off for all but Wilson. But why? And will it be enough to give teams pause when it comes to drafting the next big thing in dual-threat quarterbacks, Oregon's Marcus Mariota?
The answers are too varied for each individual quarterback to allow for a blanket statement of, "Defenses have figured out how to stop dual-threat quarterbacks."
In Newton's case, an offensive line that puts him in greater peril than when his truck was flipping over three times earlier this week has been a major issue. The Panthers grade out as one of the poorest offensive lines in football, and Carolina let virtually all of its veteran receivers walk away prior to a season when Newton's career seemed poised to make a significant jump.
Instead, it has regressed like everything else around him.
For Griffin, injuries, both physical and mental, have been the story of his downfall. He hasn't been a mobile quarterback since blowing out his knee against Seattle in the playoffs his rookie year. Nor has he been a confident quarterback — the whole Mike Shanahan divorce, whatever it is that is going on with Jay Gruden and deterioration of speed has him looking like a hesitant shell of his former self.
Kaepernick's problems are harder to put a finger on. He has been sacked more than any other quarterback this year, but many have come as he scrambles around to keep plays alive. More troubling is the fact it is hard to think of a game where Kaepernick hasn't misfired on multiple passes. He hasn't had multiple touchdown passes in a game since the 49ers beat St. Louis on Oct. 13. Everything just seems off.
Is it just a slump, or a sign of what the rest of his career will look like?
Wilson's season gives us a sign that the new wave of mobile quarterbacks won't just go out as a passing — or in this case running — fad.
He had shaky performances against Dallas and Oakland earlier this year, but for the most part Wilson has excelled since the departure of not-so-beloved teammate Percy Harvin. Wilson hasn't thrown an interception in his last four games, and the Seahawks are creeping closer to earning the all-important homefield advantage at CenturyLink Field.
As more colleges go to read-option and spread offenses, the old-school pocket passer will continue to be difficult to find. Even those perceived as pocket guys like Aaron Rodgers and Andrew Luck are able to kill dishonest defenses with their feet.
So even though the poster boys for the mobile quarterback movement are struggling this year, don't worry — the concept of quaterbacks who can run it and gun it isn't going anywhere.
Buccaneers admit mistake, boot Aguayo
In the NFL, it's always better to admit a mistake than to compound it. For the Buccaneers, the decision to burn a 2016 second-round pick on kicker Robert Aguayo has proven to be a mistake. The Buccaneers made the definitive admission of their error on Saturday, cutting Aguayo. He exits with $428,000 in fully-guaranteed salary [
more
]
Source: Mike Florio of ProFootballTalk
Powered by WPeMatico
Did Bucs put too much pressure on Aguayo?
After the Buccaneers surprised everyone by taking a kicker with the 59th overall pick in the draft, G.M. Jason Licht explained the move by heaping superlatives on the player. "I was very excited along with my staff and coaches about Roberto for a very long time," Licht told PFT Live in May 2016. "It's not [
more
]
Source: Mike Florio of ProFootballTalk
Powered by WPeMatico
Broncos holding their breath on Derek Wolfe
Only two days after losing Billy Winn for the year with a torn ACL, the Broncos are now sweating out another potentially serious injury along the defensive line. Via multiple reports, Broncos defensive lineman Derek Wolfe was carted off the field during practice on Saturday. It's being described as a right ankle injury by coach [
more
]
Source: Mike Florio of ProFootballTalk
Powered by WPeMatico