NFL 2-Minute Drill 9/22
Enjoy some insight and analysis about all of Sunday's games in the time it takes to drink your coffee.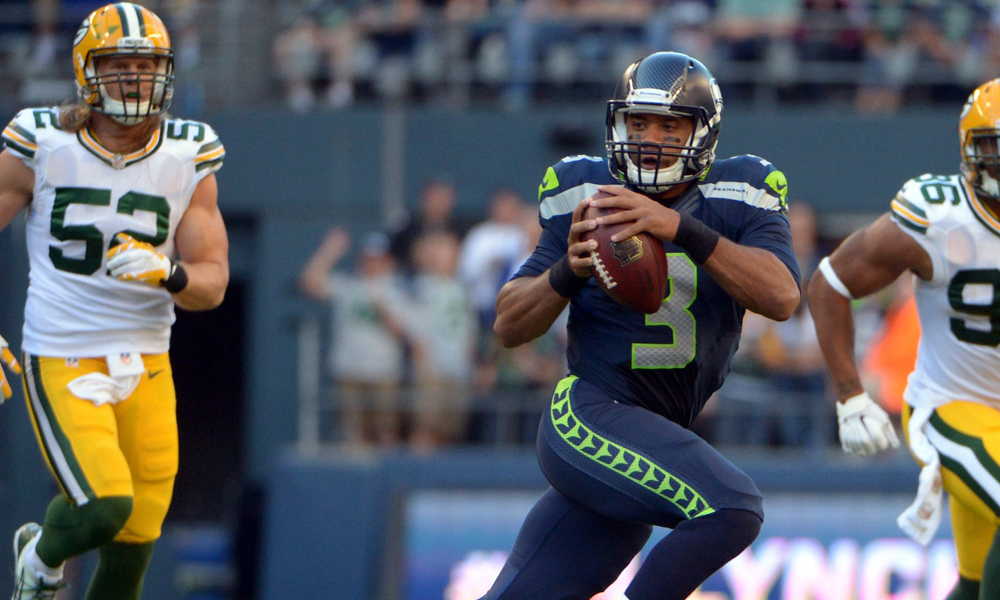 In this edition of the two-minute drill, we share some nuggets of wisdom from each game that won't take up too much time out of your busy life.
Chargers 22, Bills 10
Great win traveling across the country by the tied for first-place Chargers. Philip Rivers continues to have a renaissance under Mike McCoy and the defense continues to play above their talent level.
Cowboys 34, Rams 31
Another Tony Romo comeback as the 'Boys dug themselves out of a 21-0 hole. DeMarco Murray went for triple digits for the third straight game and the offense bailed out a pretty poor performance from the Cowboys defense. The Rams may have something in Austin Davis, who made some mistakes but also made some plays. Not bad for a guy who shouldn't be in the lineup.
Eagles 37, Redskins 34
If I would have told you one year ago that we'd see a shootout in the City Of Brotherly Love between Kirk Cousins and Nick Foles, you'd probably think I was talking about Arena Football. Both Cousins and Foles were very sharp in a game that surprisingly featured no sacks. So much for the stingy Redskins D.
Giants 30, Texans 17
There was no good reason why Eli Manning was being outplayed by Ryan Fitzpatrick through two weeks. We call this a market correction as the two-time Super Bowl winner was 21-28, 234 yards, two touchdowns and no picks while the Harvard grad threw three interceptions. Houston isn't that much different from the team that lost 14 straight to end last season.
Saints 20, Vikings 9
Matt Cassel was hurt, forcing Teddy Bridgewater's debut. Bridgewater wasn't great, but he needs to play, especially if the Vikings are going nowhere. The Saints weren't as sharp as you'd expect, but a win is a win.
Bengals 33, Titans 7
Are the Bengals the best team in the NFL? Maybe. The Titans were their own worst enemy with two Jake Locker interceptions and 99 penalty yards. Cincinnati is pretty scary if they're going to win in spite of Andy Dalton playing poorly.
Ravens 23, Browns 21
After the Ravens' ugly opening week loss, they haven't lost. They found a running game with Lorenzo Taliaferro and are protecting Joe Flacco. Another tough loss for Cleveland as Brian Hoyer played a really nice game.
Lions 19, Packers 7
Matt Stafford played like Matt Stafford of old, making key mistakes, but the Lions' defense was tremendous. The Green Bay offense hasn't looked quite the same since they lost Greg Jennings last year.
Colts 44, Jaguars 17
Andrew Luck was almost flawless against a pretty bad Jacksonville defense. Still, Jaguars fans were never so happy leaving a four-touchdown loss because they finally jump-started their future by playing Blake Bortles and naming him the starter.
Patriots 16, Raiders 9
The New England offense doesn't seem to have a vertical threat other than tight end Rob Gronkowski. The good news is that they're winning games while still figuring things out. Oakland played really hard and that should allow head coach Dennis Allen to keep his job for another couple weeks.
Cardinals 23, 49ers 14
Bruce Arians magic! All he does is win, even if it's with backup Drew Stanton at quarterback. The 49ers began 1-2 last season, but this feels different. They seem like just an average team.
Seahawks 26, Broncos 20
The resilient Seahawks saw Peyton Manning go 80 yards in 41 seconds to tie the game (with a two-point conversion) and picked themselves up, won the overtime coin toss and never looked back. It's nice to see two heavyweights squaring off with a great finish.
Chiefs 34, Dolphins 15
Kansas City out-muscled the Dolphins at the point of attack all game long. Ryan Tannehill was terrible against a depleted Chiefs defense. Florida NFL teams are really horrible right now.
Steelers 37, Panthers 13
The Pittsburgh offensive line muscled up and dominated Carolina at the line of scrimmage. Whether it was Le'Veon Bell or LeGarrett Blount, the Steelers averaged nearly eight yards per carry. Carolina looked like anything but defending division champs and added insult to injury as running backs Jonathan Stewart and Mike Tolbert left with injuries. The only real negative to the Steelers' evening was the gruesome arm injury to Ike Taylor.
Best win: Seahawks over Broncos- With the Cardinals winning to go to 3-0, Seattle really didn't want to drop two games back of Arizona. Russell Wilson was brilliant in overtime, and the Seahawks continue to win big games, especially at home.
Worst loss: Dolphins vs. Chiefs- No Jamaal Charles, injuries all over the defensive line and Miami loses a home game to drop to 1-2. What's worse is that they lost to another AFC team at home, which will hurt them down the road regarding tiebreaks.
Buccaneers admit mistake, boot Aguayo
In the NFL, it's always better to admit a mistake than to compound it. For the Buccaneers, the decision to burn a 2016 second-round pick on kicker Robert Aguayo has proven to be a mistake. The Buccaneers made the definitive admission of their error on Saturday, cutting Aguayo. He exits with $428,000 in fully-guaranteed salary [
more
]
Source: Mike Florio of ProFootballTalk
Powered by WPeMatico
Did Bucs put too much pressure on Aguayo?
After the Buccaneers surprised everyone by taking a kicker with the 59th overall pick in the draft, G.M. Jason Licht explained the move by heaping superlatives on the player. "I was very excited along with my staff and coaches about Roberto for a very long time," Licht told PFT Live in May 2016. "It's not [
more
]
Source: Mike Florio of ProFootballTalk
Powered by WPeMatico
Broncos holding their breath on Derek Wolfe
Only two days after losing Billy Winn for the year with a torn ACL, the Broncos are now sweating out another potentially serious injury along the defensive line. Via multiple reports, Broncos defensive lineman Derek Wolfe was carted off the field during practice on Saturday. It's being described as a right ankle injury by coach [
more
]
Source: Mike Florio of ProFootballTalk
Powered by WPeMatico