Shotgun a Big Problem For Clemson
Playing follow the leader contributed to Clemson's loss against FSU.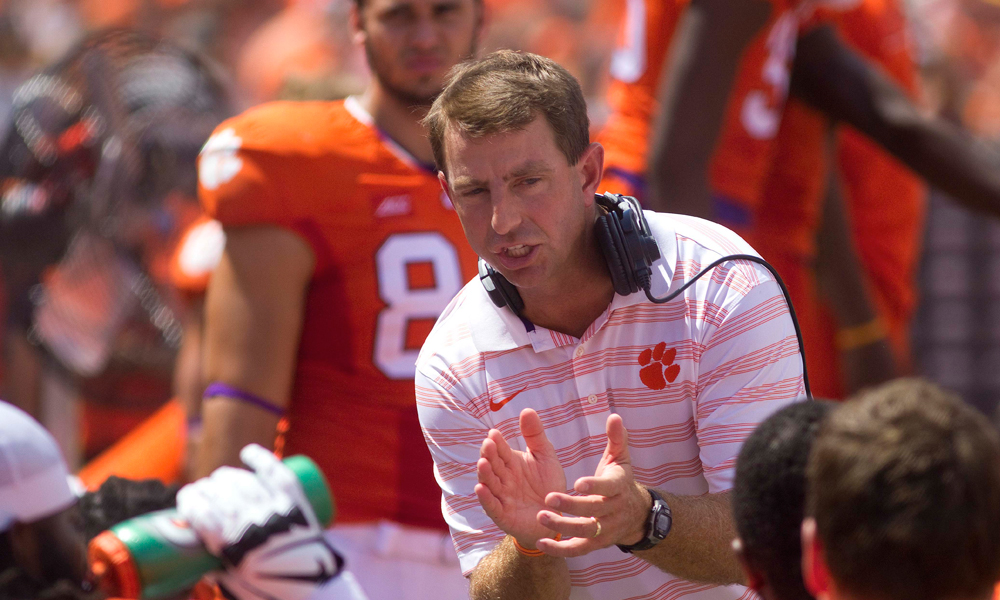 I just can't take it anymore. Football coaches play follow the leader so much it makes me crazy.  Playing out of shotgun 100 percent of the time is the latest fad that recently cost Clemson a chance to beat top-ranked Florida State.
With Jameis "I can't get out of my own way" Winston sidelined (and I completely disagree with Jimbo Fisher's choice to allow him to warm up and stay on the sideline) by his own deplorable and selfish actions, FSU was in a dogfight with Clemson, who could have taken the lead late in the game but suffered a fumble and turnover, which allowed the game to go to overtime.
On Clemson's offensive possession in OT, it came down to a 4th and six-inches decision.  I believe Clemson head coach Dabo Swinney made the right call to go for it, instead of settling for a field goal and giving the Seminoles a chance to win it with a touchdown drive from the 25-yard line.
However, he made a big mistake moments after making the right decision to go for it, making the same bad decision that coaches all over the country continue to make by staying in the shotgun formation for short yardage plays.
The shotgun formation takes a lot of the downhill run game out of the offense already, but in short-yardage situations, having the ball go back to the quarterback five yards deep in the backfield before handing it to the running back gives the defense such a huge advantage to get penetration, it is ridiculous.
Needless to say, Florida State got deep penetration with their defensive line and stopped Clemson for a loss, when a quarterback sneak would have had about a 95 percent success rate.
I hope that this nationally televised game was widely enough watched to wake coaches at all levels up to the fact that shotgun and short-yardage situations don't mix.
That's not to say that it cannot work, but calling plays is about increasing the odds for success and the best chance for success when running for short yardage is clearly from under center.
Clemson lost this great opportunity against Florida State on a coaching error, an obvious one for me since I'm on a crusade to tell the world that shotgun is great, but definitely not in short yardage or goal line!
Buccaneers admit mistake, boot Aguayo
In the NFL, it's always better to admit a mistake than to compound it. For the Buccaneers, the decision to burn a 2016 second-round pick on kicker Robert Aguayo has proven to be a mistake. The Buccaneers made the definitive admission of their error on Saturday, cutting Aguayo. He exits with $428,000 in fully-guaranteed salary [
more
]
Source: Mike Florio of ProFootballTalk
Powered by WPeMatico
Did Bucs put too much pressure on Aguayo?
After the Buccaneers surprised everyone by taking a kicker with the 59th overall pick in the draft, G.M. Jason Licht explained the move by heaping superlatives on the player. "I was very excited along with my staff and coaches about Roberto for a very long time," Licht told PFT Live in May 2016. "It's not [
more
]
Source: Mike Florio of ProFootballTalk
Powered by WPeMatico
Broncos holding their breath on Derek Wolfe
Only two days after losing Billy Winn for the year with a torn ACL, the Broncos are now sweating out another potentially serious injury along the defensive line. Via multiple reports, Broncos defensive lineman Derek Wolfe was carted off the field during practice on Saturday. It's being described as a right ankle injury by coach [
more
]
Source: Mike Florio of ProFootballTalk
Powered by WPeMatico