NFL Sunday Observations: 3 Big Things
We explore the game of the week, a surprise leader of the toughest division and two rookie debuts.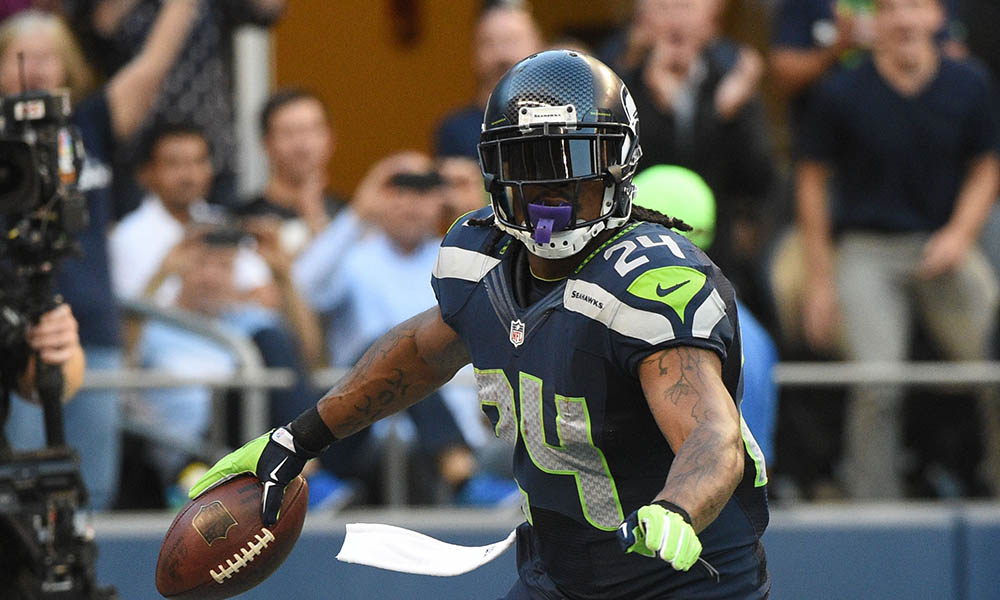 It was an action-packed Sunday in the NFL, as we saw elite teams step up, two more rookie quarterbacks get their first game action and undefeated teams fall.
Gap Narrowed
In the most high-profile matchup of the week, between the Denver Broncos and Seattle Seahawks, the Super Bowl rematch went the way of the defending champs, 26-20. Although the Broncos fell from the ranks of the unbeaten, they can head home with their heads held high as Peyton Manning led the team down the field with one minute remaining in regulation to a touchdown and two-point conversion to tie the game.
"It's a disappointing loss, but it's a Week 3 loss and we have a bye week," Manning said following the game. "We have a chance to rest up and get better. Maybe get a few guys back."
The final drive was vintage Manning, with a little lost arm strength, as he led the team down the field 80 yards in just 41 seconds against the NFL's most feared secondary.
A win is a win and a loss is a loss, but for the Broncos to travel to Seattle in that environment and play the champs to overtime after being embarrassed by them seven months ago, it's a major step forward.
"I believe in moral losses and that was a good loss," former Patriots and Chargers safety Rodney Harrison said.
Best In the West
There appeared to be quite a bit of snickering last week when media and fans talked about "the first place Arizona Cardinals." Perhaps the statement will be taken a little more seriously now that the 3-0 Birds defeated the San Francisco 49ers… without starting quarterback Carson Palmer.
"For us to go undefeated in September is a huge step forward with all the things that have gone on the past two weeks," Arizona coach Bruce Arians said. "I love the resiliency of our football team, the focus that they bring every single day to work."
Cardinals backup quarterback Drew Stanton played the role of game manager to near perfection as he completed 18 of 33 throws for 244 yards, two touchdowns and, most importantly, no turnovers.
A big part of the reason that the Cardinals are undefeated is that they have not allowed a point in the fourth quarter this season. Subsequently, the 1-2 San Francisco 49ers haven't scored a point in the fourth quarter this season.
Future Starts Now
There were four quarterbacks selected in the first two rounds of May's NFL Draft. After three weeks, we've now seen all four play. The Oakland Raiders' Derek Carr has started since Week 1 and although the team is winless, he seems to be improving each week.
The Cleveland Browns have featured Johnny Manziel in some special packages and plays, but starter Brian Hoyer has done a solid job of holding down the fort and making the Browns competitive.
The two remaining quarterbacks, third-overall pick Blake Bortles and 32nd-overall pick Teddy Bridgewater, finally saw some game action, although it came from different circumstances.
Bridgewater was forced into action from an injury to starter Matt Cassel early on in the the Minnesota Vikings' 20-9 loss to the New Orleans Saints. Bridgewater was unspectacular, completing 12 of 20 throws for 150 yards.
"This is where I always wanted to be," Bridgewater said. "Unfortunately, the way it happened, wasn't the way that I expected it to. "But I was able to relax. The guys put their trust in me and they told me nothing changes. The game plan isn't going to change and we just continue to play football."
Meanwhile in Jacksonville, the Jaguars found themselves in a 30-0 halftime hole as they were being kicked around the field by the Indianapolis Colts. With the home fans booing, it was a pretty easy decision for head coach Gus Bradley to hand the ball to his prized rookie, Bortles.
"I think it lifted everybody up," Bradley said of Bortles' presence. "When he came in there, things fell into place a little bit better and guys were making plays. Sometimes that happens with a guy that goes in there, regardless of the situation."
Bortles immediately lit a fire under the crowd and his team, and he made some spectacular plays and some major mistakes, but there was finally something to cheer about.
"It was average," the rookie from UCF said. "I mean, I thought there was some good stuff and there was some bad stuff we need to correct. There are definitely some things we'll see on film I need to work on. You can't throw two picks."
Bortles completed 14 of his 24 throws for 223 yards with two touchdowns and a pair of interceptions. Bortles showed a flare for the spectacular as his first NFL touchdown toss was a strike over the middle that Allen Hurns took 63 yards to the house. His second touchdown pass came off a fake spike near the end zone where he hit Cecil Shorts, who laid out for the catch.
Although the rookies played for different reasons, both Mike Zimmer and Gus Bradley have made the decision to let the future start now, and it's the right thing to do.
Buccaneers admit mistake, boot Aguayo
In the NFL, it's always better to admit a mistake than to compound it. For the Buccaneers, the decision to burn a 2016 second-round pick on kicker Robert Aguayo has proven to be a mistake. The Buccaneers made the definitive admission of their error on Saturday, cutting Aguayo. He exits with $428,000 in fully-guaranteed salary [
more
]
Source: Mike Florio of ProFootballTalk
Powered by WPeMatico
Did Bucs put too much pressure on Aguayo?
After the Buccaneers surprised everyone by taking a kicker with the 59th overall pick in the draft, G.M. Jason Licht explained the move by heaping superlatives on the player. "I was very excited along with my staff and coaches about Roberto for a very long time," Licht told PFT Live in May 2016. "It's not [
more
]
Source: Mike Florio of ProFootballTalk
Powered by WPeMatico
Broncos holding their breath on Derek Wolfe
Only two days after losing Billy Winn for the year with a torn ACL, the Broncos are now sweating out another potentially serious injury along the defensive line. Via multiple reports, Broncos defensive lineman Derek Wolfe was carted off the field during practice on Saturday. It's being described as a right ankle injury by coach [
more
]
Source: Mike Florio of ProFootballTalk
Powered by WPeMatico