YSU's Jelani Berassa is Turning Heads
YSU Penguins wide receiver Jelani Berassa describes himself as a "no-name" but that will likely change very soon.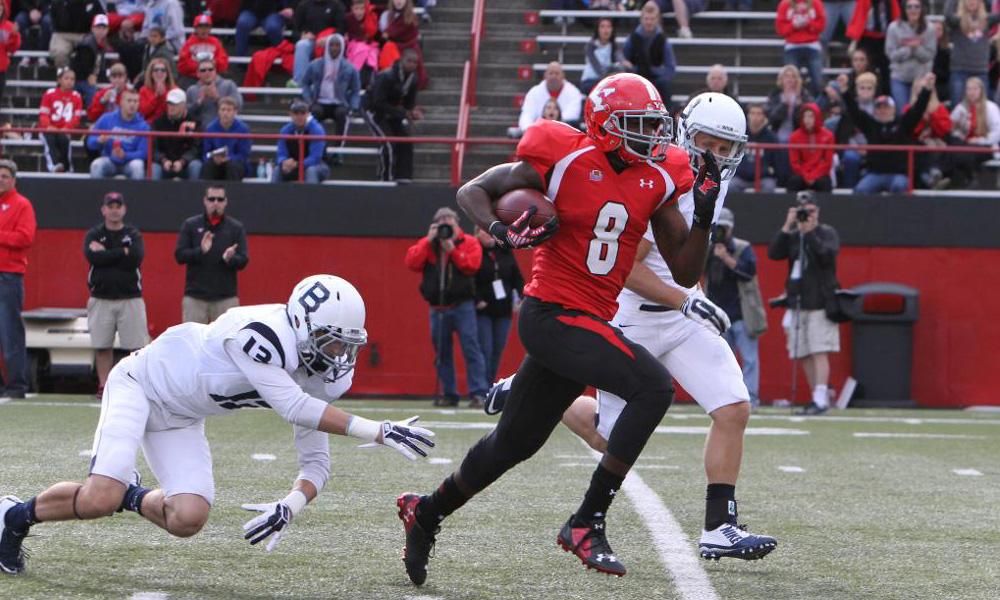 "We're a no-name football team," Youngstown State receiver Jelani Berassa said. "We just work hard. We don't have any big names. We just play football as a team."
That might have been an easy thing to say prior to the season, but Berassa now has back-to-back games over a hundred yards for the Penguins. Against Butler, he scored three first half touchdowns.
How long does he stay a no-name?
"I don't know," laughed Berassa responding to the question. "I'm still going to keep working."
In 2014, Berassa had already set a career-high for receiving yards with 116 against Duquense and followed it up with his second career 100-yard game against Butler in YSU's 44-13 win. True freshman quarterback Hunter Wells connected three times with Berassa in the first half for touchdown strikes of 25, 72, and 26 yards.
It's been a long time coming for the Miami, FL native. He suffered a season-ending knee injury in fall camp in 2012, missing the entire season. Berassa returned, in 2013, playing in nine games. He finished the year with six receptions for 74 yards and a touchdown. Now, he's looking better than ever and turning heads.
"I feel pretty good," Berassa said post-game at Stambaugh Stadium. "Going through what I went through and having a game like this, it's all worth it. The grind to come back and all the hard days, it feels all worth it now."
After three games, in 2014, Berassa currently tops all Penguins with 16 catches for 320 yards and three touchdowns.
"I got my speed back," Berassa said. "My knee isn't bothering me anymore. There is nothing holding me back."
Watching him jet off the line of scrimmage, it's evident the senior is back to where he was prior the injury.
Berassa Scouting Notes vs. Butler
1) Wish he was a little bit better in his cuts.
2) Great route, sold the play on DB and was quick off the snap, adjusted to underthrown ball. (First TD)
3) Able to locate the ball over the shoulder and make a play.
4) Looks to make a block in the running game.
5) Physical
Overall Analysis
Excellent body control. Natural at catching the football. Physical receiver who knows how to use his body against defensive backs. Attacks the ball and can climb the ladder to retrieve it. Adjusts to the ball extremely well. Shows some run-after-the catch ability. Has all the tools to become legit NFL Draft prospect.
Buccaneers admit mistake, boot Aguayo
In the NFL, it's always better to admit a mistake than to compound it. For the Buccaneers, the decision to burn a 2016 second-round pick on kicker Robert Aguayo has proven to be a mistake. The Buccaneers made the definitive admission of their error on Saturday, cutting Aguayo. He exits with $428,000 in fully-guaranteed salary [
more
]
Source: Mike Florio of ProFootballTalk
Powered by WPeMatico
Did Bucs put too much pressure on Aguayo?
After the Buccaneers surprised everyone by taking a kicker with the 59th overall pick in the draft, G.M. Jason Licht explained the move by heaping superlatives on the player. "I was very excited along with my staff and coaches about Roberto for a very long time," Licht told PFT Live in May 2016. "It's not [
more
]
Source: Mike Florio of ProFootballTalk
Powered by WPeMatico
Broncos holding their breath on Derek Wolfe
Only two days after losing Billy Winn for the year with a torn ACL, the Broncos are now sweating out another potentially serious injury along the defensive line. Via multiple reports, Broncos defensive lineman Derek Wolfe was carted off the field during practice on Saturday. It's being described as a right ankle injury by coach [
more
]
Source: Mike Florio of ProFootballTalk
Powered by WPeMatico