Thursday Night Is Do Or Die For Buccaneers
Buccaneers fans entered the season with high hopes, but two weeks in it's already a season on the brink of disaster.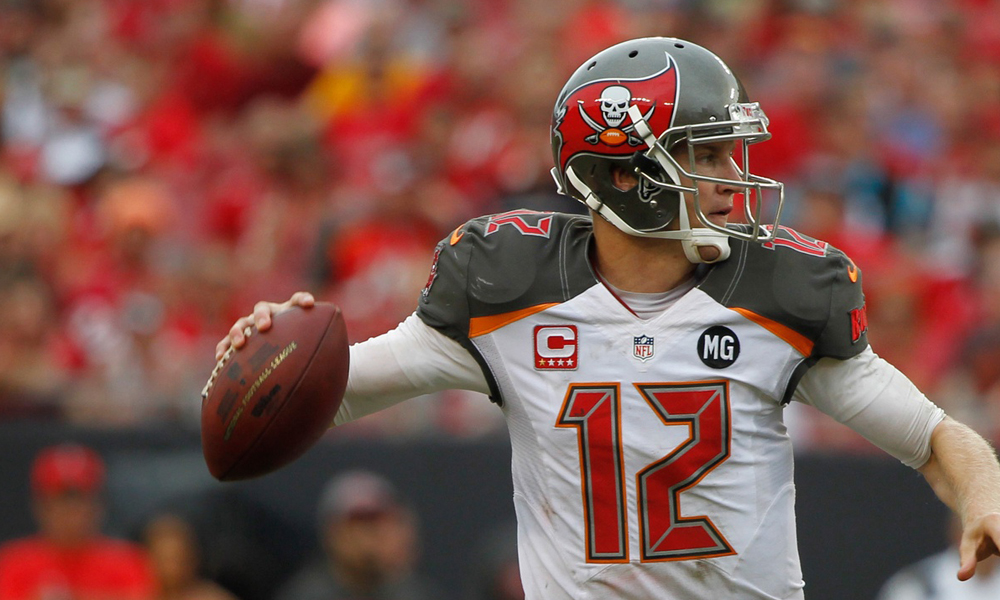 Is it even possible to have a must-win game in the third week of the season?
It appears that the Tampa Bay Buccaneers are in that very situation as they face the Atlanta Falcons on Thursday night. The 1992 San Diego Chargers, 1998 Buffalo Bills and 1998 Detroit Lions are the only teams in league history to make the playoffs after dropping their first three games of the season. The Bucs can't expect to be the fourth to accomplish that feat in a stacked NFC after already starting 0-2 in the conference.
The Buccaneers asked local media to stay quiet on what they were seeing offensively at practice during training camp. The suggestion was that the Bucs' offense would be very wide open with lots of reverses, passes to backs in the flats and a fast-paced, no-huddle type of offense that is in vogue around the sport.  The offense hasn't been incredibly fast paced or incredibly creative, but it has been incredibly conservative, which isn't helping a Buccaneers offense that hasn't had many long drives.
Whether it's declining to send rookie kicker Patrick Murray out for a 53-yard field goal while still being scoreless in the third quarter against the Carolina Panthers, or not stopping the clock to give the offense time to attempt to score before halftime or calling a run play on 3rd and 7 in the red zone against the St. Louis Rams, both the play calling and decision-making have been far too conservative.
"The only evidence there was to present that was that you want to make sure that you get points and the last time we were in there on third-and-five, Josh ran for a touchdown on that third-and-five because they dropped eight into coverage, so if they're going to drop eight, then they are not a lot of places to put the ball for fades or anything else," Buccaneers quarterbacks coach Marcus Arroyo explained when asked about the 3rd and 7 call.
Lovie Smith is conservative by nature. There's some who believe that conservative football can't work today, but there is evidence to the contrary. Conservative football can work, but only on a team built to win conservatively. This Buccaneers team isn't there at the moment. A conservative game plan works when you've got road graders up front and you can run the ball down opponent's throats. While Bobby Rainey had a very good game against the Rams, this team isn't built to "pound the rock."
One reason for the conservative approach may be the early play of quarterback Josh McCown. McCown's decision-making has been very poor the first two games and he struggled throughout the preseason as well. The offensive line in front of McCown has been suspect at best, but he knows that, and he knows he's got to do a much better with ball security than he has during this 0-2 start. When it comes to his play early this season, McCown knows he just hasn't been good enough.
"At the end of the day, you hear quarterbacks being measured by wins and we're 0-2 and for me that's how I evaluate it," McCown said. "I say, 'What could I have done better to help us win the ball game?' and look at it in both games as – it really felt like I did a lot of good things, except the three turnovers in those games and those have been critical, it's just eliminating those."
Optimism would be higher in Tampa if the offensive woes were the only issue. The defense, which looked to be the strength of this team, has underwhelmed as well. The play of tackles Gerald McCoy and Clinton McDonald has been everything you want on the inside of the line, but the Bucs have generated almost no pressure from the edge, despite spending a first-round pick on the now injured Adrian Clayborn as well as a king's ransom on free agent defensive end Michael Johnson.
Compounding the disappointing play up front, the line is now also riddled with injuries. McCoy has a broken hand, which may keep him out Thursday and could hamper him upon his return. Johnson is bothered by an ankle, and Clayborn is done for the season with a bicep injury.
"We'll kind of see," Smith said about the possibility of McCoy suiting up. "We know that eventually he'll get back out there and he's trying to get out there as soon as he possibly can. But the Thursday night game is a little challenging."
When the Buccaneers meet Atlanta on Thursday night, they could go a long way to remedy some of these issues and help encourage a fan base that is already talking about which quarterback to draft in May, and whether or not Brian Urlacher would like to come out of retirement.
For the locker room, for the impatient fans already comparing Lovie Smith to Greg Schiano and asking for Mike Glennon, and for their unlikely playoff hopes, this Week 3 Thursday night battle is a must-win.
Buccaneers admit mistake, boot Aguayo
In the NFL, it's always better to admit a mistake than to compound it. For the Buccaneers, the decision to burn a 2016 second-round pick on kicker Robert Aguayo has proven to be a mistake. The Buccaneers made the definitive admission of their error on Saturday, cutting Aguayo. He exits with $428,000 in fully-guaranteed salary [
more
]
Source: Mike Florio of ProFootballTalk
Powered by WPeMatico
Did Bucs put too much pressure on Aguayo?
After the Buccaneers surprised everyone by taking a kicker with the 59th overall pick in the draft, G.M. Jason Licht explained the move by heaping superlatives on the player. "I was very excited along with my staff and coaches about Roberto for a very long time," Licht told PFT Live in May 2016. "It's not [
more
]
Source: Mike Florio of ProFootballTalk
Powered by WPeMatico
Broncos holding their breath on Derek Wolfe
Only two days after losing Billy Winn for the year with a torn ACL, the Broncos are now sweating out another potentially serious injury along the defensive line. Via multiple reports, Broncos defensive lineman Derek Wolfe was carted off the field during practice on Saturday. It's being described as a right ankle injury by coach [
more
]
Source: Mike Florio of ProFootballTalk
Powered by WPeMatico