NFL Fun Stats – Week 2
Here are some fun NFL statistics that you can drop at the water cooler.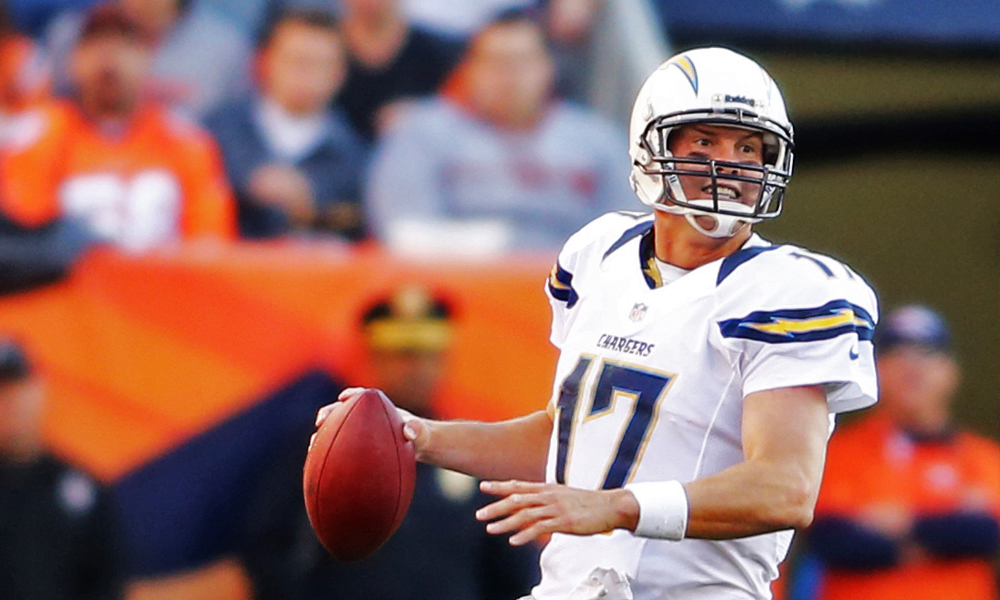 NFL fun stats is put together to provide a wide range of number-oriented morsels for those who crave the delicacy and geek-dom of NFL statistics, news, notes and just about anything that can be put to the mix. If you're not quoting one note each week, I'm not doing my job. Here are your water cooler nuggets.
0
– Is the amount of passing touchdowns the St. Louis Rams have in 2014. Neither Shaun Hill nor Austin Davis have been able to connect for pay dirt.
1
– Is the ranking of the New York Jets rushing attack as they're averaging 179.0 yards per game. The defense also leads the league in rushing yards allowed (52.5).
2
– Starting quarterbacks yet to be sacked. Andy Dalton and Ryan Fitzpatrick have kept their jerseys clean.
3
– Quarterbacks are averaging over 300 passing yards per game- Matt Ryan, Nick Foles and Matthew Stafford. In 2013, two eclipsed that mark and you can probably guess their names- Peyton Manning and Drew Brees.
3
– Antonio Gates touchdowns were caught on Sunday against the Seattle Seahawks, which know a thing or two about defending the pass. Although Gates production has certainly slowed down in recent years, his huge game makes sure that 2014 won't be his lowest total for touchdowns, as he finished his rookie season in 2003 with two.
4
– Quarterbacks since Week 8 of 2012 have thrown three or more touchdowns against Seattle. Philip Rivers accomplished the feat on Sunday, in the Chargers 30-21, win over Seattle. The Seahawks are 0-4 in those games.
5
– The Washington Redskins are the only team in the NFL ranked in the Top 5 both offensively and defensively. (Redskins fans say thank you for the visit from Jacksonville Jaguars)
5
– Running backs are averaging more than 20 carries per game- Arian Foster, DeMarco Murray, LeSean McCoy and Giovanni Bernard. In 2013, the only running back to average more than 20 carries per game was Tampa Bay's Doug Martin, who only appeared in six games.
32
– Is the ranking in passing yards of Texans quarterback Ryan Fitzpatrick. Fitz has thrown for 345 yards in two games and his team is 2-0. Matt Ryan leads the NFL in passing 679 yards.
Buccaneers admit mistake, boot Aguayo
In the NFL, it's always better to admit a mistake than to compound it. For the Buccaneers, the decision to burn a 2016 second-round pick on kicker Robert Aguayo has proven to be a mistake. The Buccaneers made the definitive admission of their error on Saturday, cutting Aguayo. He exits with $428,000 in fully-guaranteed salary [
more
]
Source: Mike Florio of ProFootballTalk
Powered by WPeMatico
Did Bucs put too much pressure on Aguayo?
After the Buccaneers surprised everyone by taking a kicker with the 59th overall pick in the draft, G.M. Jason Licht explained the move by heaping superlatives on the player. "I was very excited along with my staff and coaches about Roberto for a very long time," Licht told PFT Live in May 2016. "It's not [
more
]
Source: Mike Florio of ProFootballTalk
Powered by WPeMatico
Broncos holding their breath on Derek Wolfe
Only two days after losing Billy Winn for the year with a torn ACL, the Broncos are now sweating out another potentially serious injury along the defensive line. Via multiple reports, Broncos defensive lineman Derek Wolfe was carted off the field during practice on Saturday. It's being described as a right ankle injury by coach [
more
]
Source: Mike Florio of ProFootballTalk
Powered by WPeMatico