Deja Vu in St. Louis? First Kurt Warner, Now Austin Davis
Austin Davis has surprisingly put the St. Louis Rams' offense back on track.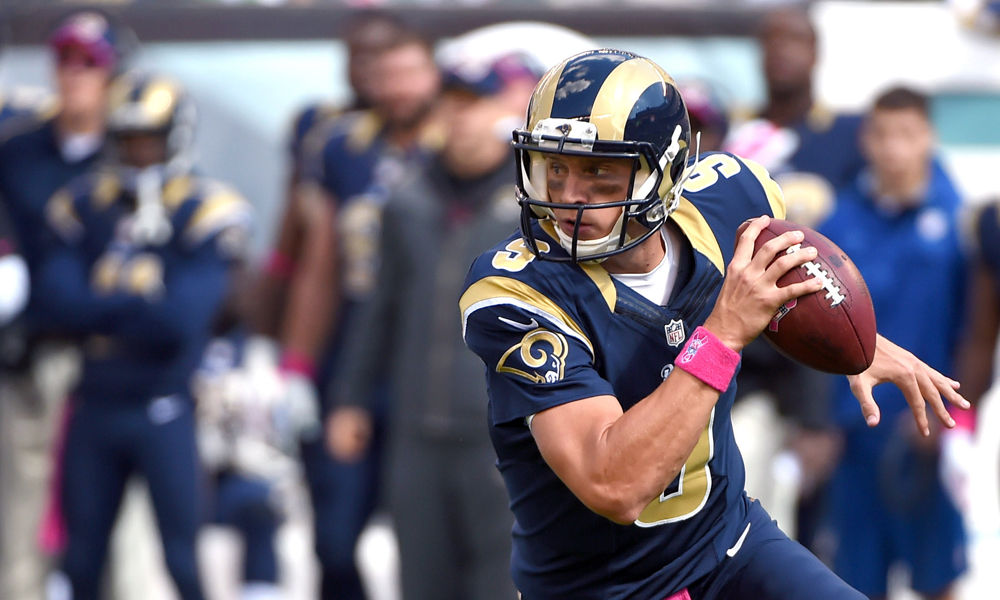 In 2001, then New England Patriots starting quarterback Drew Bledsoe suffered internal bleeding in the fourth quarter after a hit by New York Jets linebacker Mo Lewis. The final series of the game ended with Tom Brady under center and ever since he's been the man in New England.
But before Brady, there was Kurt Warner.
The St. Louis Rams signed free agent Trent Green to be their starting quarterback in 1999. Had things gone as planned, Kurtis Eugene Warner should have never seen the field. Green was slated to be the starter for the Rams, but suffered a season-ending injury in a preseason game on a hit to the knee by San Diego Chargers safety Rodney Harrison. Warner took over and improbably led the Rams to victory in Super Bowl XXXIV against the Tennessee Titans, winning 23-16.
That brings us around to another Rams quarterback: Austin Davis. This must feel like déjà vu for the Rams, since Davis earned the starting job after Sam Bradford sustained a season-ending ACL tear in the preseason and back-up Shaun Hill was knocked out of the season opener with a calf injury. Those injuries allowed Davis, another unknown and undrafted quarterback, to get his chance in the pocket.
It's premature to try to predict how his career will unfold, and it's borderline ludicrous to elude he'll be mentioned in the same sentence as Brady and Warner in five years. But making the most of an opportunity like the players mentioned above is the only thing he can do moving forward.
"He understands the offense, this is his third year in the system now," Rams head coach Jeff Fisher told the media on a conference call this past week in preparation for Monday night's game against the San Francisco 49ers.
"He got to watch Sam (Bradford), and he got to watch Kellen (Clemens) last year," Fisher said. "When Austin has gotten his opportunity, unfortunately it's been in the second half of preseason games, and he's playing with guys that probably aren't on the roster. This is his first opportunity this year to play with the supporting cast. He's trusting them, they're making plays for him and he's got a good feel for what he's doing. He's got some mobility, he can extend plays, move around the pocket – you need to be able to do that these days."
Davis has the necessary size at 6'2 and 221 pounds to be a legit NFL starter. He also has the arm strength, which is important. On attempts 20-plus yards, he's completed 11 of 22 passes for 346 yards with two touchdowns and one interception. According to the numbers gathered from Pro Football Focus, Davis ranks third in the NFL on his deep throw accuracy, completing 59.1 percent of such throws. The intangibles Davis brings to the quarterback position are impressive.
A walk-on at Southern Mississippi and undrafted into the NFL in 2012, Davis has never been well received upon first inspection. But once he settles in? Watch out, he can bring it. Davis is in some elite company, since over the last two weeks in the NFL only four quarterbacks have thrown for 300 or more yards and the short list includes Davis, Drew Brees, Andrew Luck and Aaron Rodgers. Davis' six touchdown passes between Week 4 and Week 5 are only matched by Eli Manning, Philip Rivers and Rodgers. This is exceptional production, especially considering in the previous 17 games without Davis in the line-up the Rams had just one 300-yard passer. The Rams' offense during that same stretch only had three games where the quarterback threw for three touchdowns. Davis has thrown for at least 300 yards passing and three touchdowns in back-to-back games.
The Rams are 1-3 overall and 1-2 with Davis as the starting quarterback. Davis has claimed the starting spot by posting a 100.6 rating in his three starts. Niners head coach Jim Harbaugh has voiced his approval of Davis.
"He's got a knack of throwing the ball in traffic," Harbaugh said. "He can have guys hanging on him, around him, and he's able to get the ball out at the last second."
After Bradford was hurt, the immediate reaction was St. Louis would be spending their first pick in the NFL Draft on a quarterback. Now, a brief pause along with the slightest hesitation is needed after three games to examine what the Rams have in Davis. If this same story was written three games after Bledsoe and Green went down with injuries, it would have been very easy to write off both Brady and Warner. It's pretty simple: The Rams either have their future starter or back-up currently on the roster, and only time will tell which role Davis will settle into.
Buccaneers admit mistake, boot Aguayo
In the NFL, it's always better to admit a mistake than to compound it. For the Buccaneers, the decision to burn a 2016 second-round pick on kicker Robert Aguayo has proven to be a mistake. The Buccaneers made the definitive admission of their error on Saturday, cutting Aguayo. He exits with $428,000 in fully-guaranteed salary [
more
]
Source: Mike Florio of ProFootballTalk
Powered by WPeMatico
Did Bucs put too much pressure on Aguayo?
After the Buccaneers surprised everyone by taking a kicker with the 59th overall pick in the draft, G.M. Jason Licht explained the move by heaping superlatives on the player. "I was very excited along with my staff and coaches about Roberto for a very long time," Licht told PFT Live in May 2016. "It's not [
more
]
Source: Mike Florio of ProFootballTalk
Powered by WPeMatico
Broncos holding their breath on Derek Wolfe
Only two days after losing Billy Winn for the year with a torn ACL, the Broncos are now sweating out another potentially serious injury along the defensive line. Via multiple reports, Broncos defensive lineman Derek Wolfe was carted off the field during practice on Saturday. It's being described as a right ankle injury by coach [
more
]
Source: Mike Florio of ProFootballTalk
Powered by WPeMatico