Breaking Down the Unpredictable NFC North
Who will prevail in football's black-and-blue division?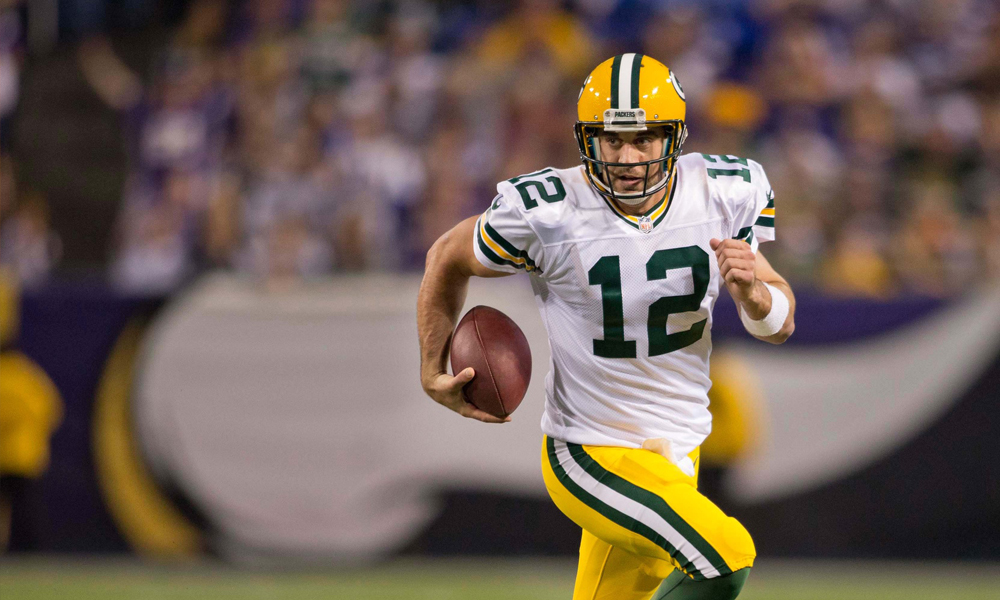 The checklist for winning an NFC North title the past three years has not been terribly complicated.
IS YOUR QUARTERBACK NAMED AARON RODGERS? YES [] NO []
And that's that.
But outside of Minnesota, the rest of the division is getting closer to the Packers. Green Bay regressed from 15-1 in 2011 to 8-7-1 last year, though that can largely be attributed to playing much of last season with a number of quarterbacks not named Aaron Rodgers. But even if No. 12 can stay healthy for all 16 games this year – a likelihood, but not a certainty behind a leaky offensive line – the Pack is in for a fight if it wants to be the first member of the black-and-blue division to four-peat since the Bears won five straight NFC Central crowns from 1984-88.
Will the Bears or Lions bring an end to Green Bay's hegemony? Here's a look at where all three contenders stand heading into the final 10 games of the season.
DETROIT LIONS
On paper, the 4-2 Lions look to be team to beat. Unfortunately for Detroit, the Lions have been better on paper than the field ever since George Plimpton wrote a book about them.
It starts on defense, where the Lions rank first in the league against the pass and second against the run. Those are numbers that win you championships, even when your team has a quarterback as uninspiring as Trent Dilfer.
The Lions are in much better shape behind center than those Ravens of yore thanks to Matthew Stafford, who has been able to throw to one of this season's most underrated pickups, Golden Tate, as Calvin Johnson sits out with injury. But Detroit is going to have to figure out how to run the ball before finishing the year with back-to-back games at Chicago and Green Bay. The Lions are 29th in rushing with 86.3 yards per game.
They also have to hope Matt Prater is the answer at kicker after already going through two other options in Nate Freese and Alex Henery. Detroit is 5 of 15 on field goals this year.
CHICAGO BEARS
The 3-3 Bears are every bit as difficult to predict as mercurial triggerman Jay Cutler. Are they the team that's good enough to erase a 17-0 deficit at San Francisco, or the one that's bad enough to gift a home game to Buffalo?
Obviously, they are both of those things. Chicago's secondary has been so ravaged by injuries that lifelong fans can legitimately ask "Who is THAT guy?" twice a game. Rookie Kyle Fuller has lived up to the hype replacing Charles Tillman, but there seems to be a revolving door around him. Much-maligned free safety Chris Conte is actually making some highlight-reel plays this season, but seems to get hurt after each one.
The Bears aren't just limping on defense – the offensive line has started four different combinations in six games.
And so the fate of the Bears ultimately falls on the shoulders of Cutler, who has as strong an arsenal as anyone in the league in Brandon Marshall, Alshon Jeffrey, Matt Forte and Martellus Bennett.
If it's the Cutler that faced Atlanta – 26 of 38 for 381 yards, no interceptions – the Bears will win this division. If it's the Cutler that faced Green Bay – 22 of 34 with two crucial interceptions – another 8-8 finish stares the Bears in the face.
GREEN BAY PACKERS
Statistically, the Packers have no business being tied atop the division standings at 4-2.
No one in the NFL is worse against the run. Teams are pushing Green Bay around for 154.5 yards per game. (How pass-happy is this era when that's the most rushing yards allowed by a defense?)
Even Green Bay's offense has been average at best. Last season's Rookie of the Year, Eddie Lacy, is only averaging 51 yards per game. Rodgers is 15th in the league in passing yards, though that may say more about the ability of opposing offenses to keep the ball away from him while running against the Green Bay defense. When the Packers actually have the ball, and Rodgers actually has time to throw rather than taking one of his 15 sacks, he has the second-best quarterback rating in the NFL.
Coaches will always tell you football is won in the trenches, and that's where Green Bay is weakest on both sides of the ball. By any logical measure, this should be the third-place team in the North. But only the Packers can check yes in the box that has won them three straight division titles.
Buccaneers admit mistake, boot Aguayo
In the NFL, it's always better to admit a mistake than to compound it. For the Buccaneers, the decision to burn a 2016 second-round pick on kicker Robert Aguayo has proven to be a mistake. The Buccaneers made the definitive admission of their error on Saturday, cutting Aguayo. He exits with $428,000 in fully-guaranteed salary [
more
]
Source: Mike Florio of ProFootballTalk
Powered by WPeMatico
Did Bucs put too much pressure on Aguayo?
After the Buccaneers surprised everyone by taking a kicker with the 59th overall pick in the draft, G.M. Jason Licht explained the move by heaping superlatives on the player. "I was very excited along with my staff and coaches about Roberto for a very long time," Licht told PFT Live in May 2016. "It's not [
more
]
Source: Mike Florio of ProFootballTalk
Powered by WPeMatico
Broncos holding their breath on Derek Wolfe
Only two days after losing Billy Winn for the year with a torn ACL, the Broncos are now sweating out another potentially serious injury along the defensive line. Via multiple reports, Broncos defensive lineman Derek Wolfe was carted off the field during practice on Saturday. It's being described as a right ankle injury by coach [
more
]
Source: Mike Florio of ProFootballTalk
Powered by WPeMatico