Week 4 NFL Quarterback Rankings
Find out which young signal callers are moving up the list.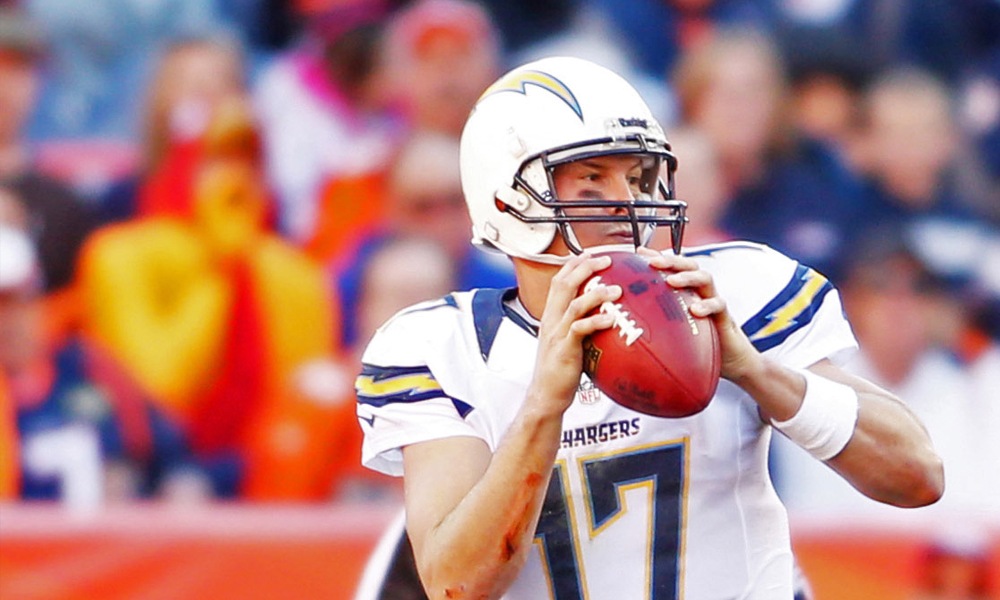 Every week, Football Insiders will rank the NFL's quarterbacks. Last week, Peyton Manning was atop our rankings, but there's a new No. 1 quarterback this week.
1. Philip Rivers- I know it's outside the box, but has anyone been better?
2. Russell Wilson- Not the fastest, not the strongest arm, but always makes big plays when the Seahawks need them. He has a 7-0 record against Manning, Brees, Rodgers and Brady.
3. Peyton Manning- He makes up for a lack of arm strength with great anticipation and timing. Will that work when the weather gets cold?
4. Andrew Luck- He's brilliant with the football and one of the most mobile quarterbacks in football.
5. Aaron Rodgers- Rodgers has looked out of sync all season long. Offensive line injuries might finally be taking their toll and there's reason to question the game plans.
6. Drew Brees- It's a surprise that Jimmy Graham hasn't been a bigger part of the offense. Still no worries about Brees.
7. Andy Dalton- So the "Red Rocket" caught a touchdown pass but didn't throw one. He wasn't great but he really didn't need to do much.
8. Tom Brady- Tom Terrific is navigating a fantastic horizontal offense. He hasn't been that sharp yet, but as the receivers get on the same page you'll see improvement.
9. Ben Roethlisberger- When Ben is on his game, there might not be anyone better. Roethlisberger seemingly loses a key weapon every year and still makes plays.
10. Matt Ryan- Ryan couldn't have played much better against the Bucs, but a lot of guys can say that this year.
11. Alex Smith- Outside of the opener where Smith didn't have Dwayne Bowe, he's been very good.
12. Cam Newton- Newton was under duress Sunday night, but surprisingly the defense was the biggest problem in Carolina.
13. Matthew Stafford- Stafford looked like the Stafford of old, throwing jump balls into coverage and missing open guys.
14. Arizona Cardinals*- Drew Stanton played a great game against a formerly good 49ers defense and the Cards are getting productive play from everyone who lines up under center.
15. Jay Cutler- Jay giveth and Jay taketh away. Part of the genius that is Smokin' Jay Cutler.
16. Kirk Cousins- Cousins has a really good command of the Redskins' offense. He's looking more and more like a legitimate starting quarterback.
17. Nick Foles- You can't question his toughness as he took a huge shot and then came back to beat the Redskins. Still some issues with accuracy, but he plays well in Chip Kelly's system.
18. Tony Romo- Yeah, Romo makes mistakes but he also makes big plays. He seems to be working off some of that rust from limited preseason reps.
19. Joe Flacco- Flacco has arm talent and he makes big plays at the end of games. If he was better in the beginning of them there wouldn't be a need for the heroics.
20. Colin Kaepernick- All the talent in the world, but needs to develop more touch on his throws.
21. Eli Manning– Eli seems to be getting more comfortable in the new offense as he really played well against the formerly undefeated Texans.
22. Brian Hoyer- He's performing admirably while in the pressure cooker with a first-round pick sitting behind him. The team really believes in him.
23. Ryan Fitzpatrick- He'll never be great but he's pretty serviceable right now. Tough game against the Giants.
24. Ryan Tannehill- It appears as if the Dolphins' coaching staff might be losing some confidence in him. They need to stick with him and run the ball more.
25. E.J. Manuel- His mistakes are often covered up with a good running game and speed on the outside.
26. Geno Smith- He often struggles with ball placement. Better talent around him should equate to better play.
27. Austin Davis- He's showed an ability to put up points and the Rams are actually playing competitive football.
28. Jake Locker- He played horribly against Cincinnati and then hurt his wrist. His job will be in jeopardy if he misses time and Charlie Whitehurst plays well.
29. Blake Bortles- Bortles only played a half, but he's the Jaguars' starter going forward. He made some plays and some big mistakes, but that's an improvement to what they had.
30. Teddy Bridgewater- Teddy played after an injury to Matt Cassel, and if the Vikings are smart they'll leave Bridgewater in. Teddy wasn't great, but he didn't make any egregious mistakes.
31. Derek Carr- He's learning the position with poor talent around him. It's going to take a while.
32. Josh McCown/Mike Glennon-– McCown has made horrible mistakes and it appears that he's going to miss some time. Mike Glennon is a higher floor/low ceiling guy.
Buccaneers admit mistake, boot Aguayo
In the NFL, it's always better to admit a mistake than to compound it. For the Buccaneers, the decision to burn a 2016 second-round pick on kicker Robert Aguayo has proven to be a mistake. The Buccaneers made the definitive admission of their error on Saturday, cutting Aguayo. He exits with $428,000 in fully-guaranteed salary [
more
]
Source: Mike Florio of ProFootballTalk
Powered by WPeMatico
Did Bucs put too much pressure on Aguayo?
After the Buccaneers surprised everyone by taking a kicker with the 59th overall pick in the draft, G.M. Jason Licht explained the move by heaping superlatives on the player. "I was very excited along with my staff and coaches about Roberto for a very long time," Licht told PFT Live in May 2016. "It's not [
more
]
Source: Mike Florio of ProFootballTalk
Powered by WPeMatico
Broncos holding their breath on Derek Wolfe
Only two days after losing Billy Winn for the year with a torn ACL, the Broncos are now sweating out another potentially serious injury along the defensive line. Via multiple reports, Broncos defensive lineman Derek Wolfe was carted off the field during practice on Saturday. It's being described as a right ankle injury by coach [
more
]
Source: Mike Florio of ProFootballTalk
Powered by WPeMatico