NFL AM: Ravens Owner Speaks, Chargers Look At RBs
We question the sincerity of Steve Bisciotti and look at some options to replace Danny Woodhead in San Diego.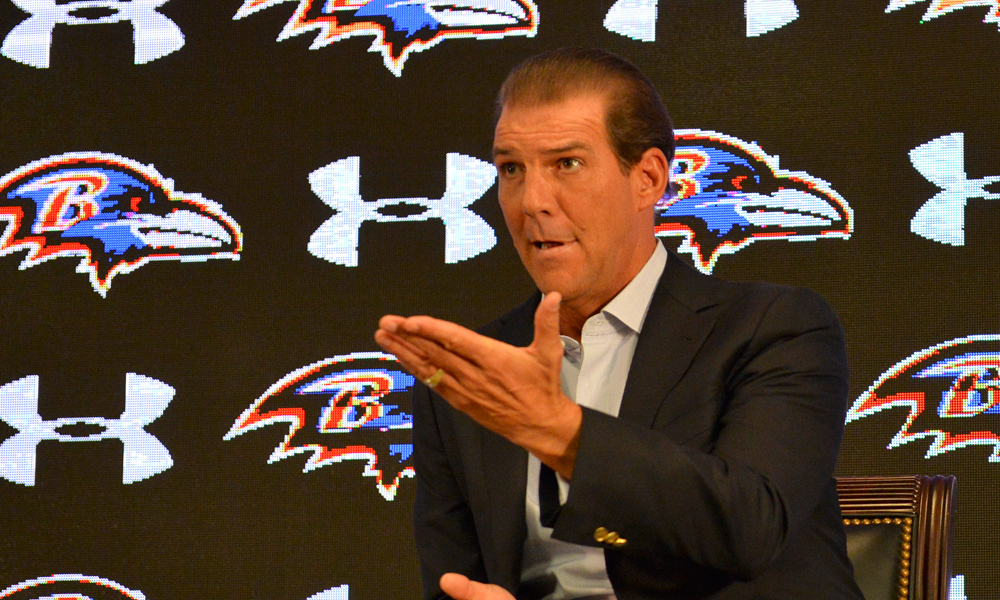 Ravens Owner Challenges Report
Baltimore Ravens owner Steve Bisciotti addressed the media on Monday, just three days after an ESPN Outside The Lines report diagrammed how the Ravens attempted and succeeded to dictate the NFL's punishment on Ray Rice and how they knew about the contents of the infamous elevator video.
Bisciotti refuted the contents of the report that contained over 20 sources within the league, the Ravens organization and Rice's camp.
"It's Ray's attorney, it's Ray's agent, it's Ray's friends," Bisciotti said. "Their accusations didn't jibe with what we know as fact."
It may be true that many of the sources came from Rice's camp, but what sort of story would the Ravens give? Bisciotti referenced his team's integrity and character coming into question, and they are legitimate questions.
One of the keys from the second-youngest owner in the NFL's statement was that he was surprised at the length of the Rice suspension, which directly contradicts the ESPN report that the Ravens lobbied for lenient punishment from the league.
"I expected four or six games, I was surprised as everyone else that it was two," Bisciotti said.
The report in question asserts that Ravens management actively lobbied to get Rice the suspension he initially received.
"We can't lead this investigation and step on the prosecutor's shoes and the NFL," Bisciotti explained. "We can't do it."
If that's the case, why did Ravens general manager Ozzie Newsome and team president Dick Cass accompany Rice and his wife, Janay, to New York to speak with NFL commissioner Roger Goodell?
Bisciotti spoke about the elevator video that TMZ released and admitted that his team should have done more in regards to uncover all the evidence.
"I'm sorry that we didn't push harder to get that tape," Bisciotti conceded. "It seems to me certainly in hindsight that we had the leverage."
Goodell spoke a different tune in his press conference last week as he said that there wasn't a way to get the elevator video, an assertion that seems laughable at best and dishonest at worst.
"Why didn't we get that video? How could the league not have seen that video? How could they not have gotten that video?" the Ravens owner asked.
Bisciotti seemed to be more forthcoming than Goodell, but there are still several holes in both of their stories. Although this acts, looks and smells like a cover up, there are still questions about the league's motivation to cover up for a running back on a team that averaged 3.1 yards per carry in 2013.
Chargers Lose Woodhead For The Season
With wins over the Seattle Seahawks and Buffalo Bills in the past two weeks, the San Diego Chargers have been one of the most impressive teams in the NFL. Philip Rivers is playing at an MVP level and he's making everyone around him better.
Rivers will have one fewer weapon to work with as the diminutive utility back Danny Woodhead was placed on injured reserve after suffering a high ankle sprain and a broken fibula in Sunday's 22-10 victory over the Bills.
"Tough situation for our entire team," Chargers head coach Mike McCoy explained when asked about the Woodhead injury. "We're going to put him on IR. Danny means a lot to our organization. The love he has for the game, the way he plays, the love he has for his teammates… He's a true professional and we have to move on."
The Chargers will move on by giving Donald Brown more touches. Brown was signed as a free agent in the offseason from Indianapolis to complement the now injured Ryan Mathews. Brown was busy, yet unproductive on Sunday as he toted the rock 31 times for 62 yards and had five catches for 27 more in McCoy's short passing attack.
"It's next man up and Donald showed he could do that this week," McCoy said. "He did an outstanding job with the number of touches in 60 snaps and he just hung in there and didn't want to come out of the game and made the most of his opportunity."
San Diego doesn't have another scat back like Woodhead and former Chargers practice squad running back Marion Grice was just plucked away by the Arizona Cardinals. It's likely that San Diego will make a move this week to add depth at the position. Some names to keep in mind are LaRod Stephens-Howling, Michael Bush, Tashard Choice and Brian Leonard.
Buccaneers admit mistake, boot Aguayo
In the NFL, it's always better to admit a mistake than to compound it. For the Buccaneers, the decision to burn a 2016 second-round pick on kicker Robert Aguayo has proven to be a mistake. The Buccaneers made the definitive admission of their error on Saturday, cutting Aguayo. He exits with $428,000 in fully-guaranteed salary [
more
]
Source: Mike Florio of ProFootballTalk
Powered by WPeMatico
Did Bucs put too much pressure on Aguayo?
After the Buccaneers surprised everyone by taking a kicker with the 59th overall pick in the draft, G.M. Jason Licht explained the move by heaping superlatives on the player. "I was very excited along with my staff and coaches about Roberto for a very long time," Licht told PFT Live in May 2016. "It's not [
more
]
Source: Mike Florio of ProFootballTalk
Powered by WPeMatico
Broncos holding their breath on Derek Wolfe
Only two days after losing Billy Winn for the year with a torn ACL, the Broncos are now sweating out another potentially serious injury along the defensive line. Via multiple reports, Broncos defensive lineman Derek Wolfe was carted off the field during practice on Saturday. It's being described as a right ankle injury by coach [
more
]
Source: Mike Florio of ProFootballTalk
Powered by WPeMatico