Week 13 NFL Quarterback Rankings
Find out where your favorite quarterback ranks through 12 weeks of the NFL season.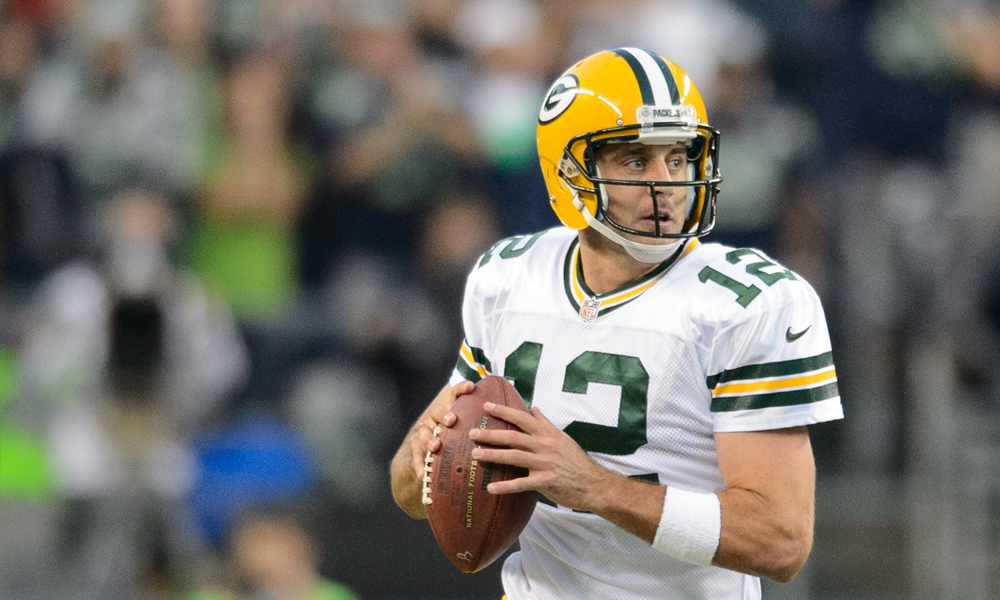 Every week, Football Insiders will rank the NFL's quarterbacks. We had quite a few shakeups in the Top 10.
Aaron Rodgers- Rodgers holds the top spot in our quarterback rankings for the sixth straight week. He now has 30 touchdowns and just three interceptions on the season, carrying an incredible 119.3 passer rating. The NFC North leading Packers will host the Patriots on Sunday in what could possibly be the Super Bowl preview.
Peyton Manning- Coming off a surprising loss to the Rams, Manning led the Broncos offense to 39 points against one of the NFL's best Miami Dolphins defense. It was Manning's third game of the year with at least three touchdowns, an 80.0 percent completion percentage, and zero interceptions. He has had a passer rating of below 100.0 just three times this season.
Tom Brady- Brady continued his dominance, leading the Patriots to an assertive 34-9 win against the Lions on Sunday. The Patriots, now who are which Super Bowl favorites in many people's minds, have won seven straight games. In the past three games, they have beaten the Denver Broncos, Indianapolis Colts, and Detroit Lions by a combined total of 69 points. Needless to say, Brady and the Pats are rolling.
Tony Romo- Who says Romo isn't clutch? He threw for 275 yards, 4 touchdowns, no interceptions, and a tremendous 143.4 passer rating against their rival New York Giants this past weekend. He also led the game-winning drive with under two minutes to go. He has the second highest passer rating in the NFL trailing only Aaron Rodgers. The Cowboys are tied for the second best record in the NFL.
Andrew Luck- Although Luck's eight-game stretch of 300+ yards came to an end Sunday against the Jacksonville Jaguars, he led the Colts to a 23-3 win. He still makes mistakes and overthrows open receivers occasionally. The thought that he is only in his third year and will get better is scary. He is on pace for 5,300 yards and 42 touchdowns.
Drew Brees- The Saints keep losing, but it's not Brees' fault. Brees leads the eighth-highest scoring offense in the NFL. However, he did have a costly pick-six late in the third quarter of the Saints' 27-34 loss against the Ravens on Monday night.
Ben Roethlisberger- Big Ben is looking as elusive and as good of a passer as he has in his whole career. He is on pace to break his previous career highs in passing yards, touchdowns, and passer rating. The Steelers (7-4) are tied for the final Wild Card spot with four other teams.
Philip Rivers- After starting the season with five of the first six games with a passer rating of 120.0 or above, Rivers' hasn't broken the century mark in the past five games. However, he is playing at an extremely high level. Because of tiebreakers, the Chargers currently hold the AFC's last playoff spot.
Russell Wilson- Wilson had a phenomenal game against the NFL-best Arizona Cardinals defense. He threw for 211 yards and a touchdown with a 77.3 percent completion percentage and led the Seahawks in rushing with 73 yards on ten carries. Wilson is on pace to finish the season with 937 rushing yards.
Ryan Tannehill- The Miami Dolphins, after an impressive 22-9 win against the Bills in Week 11, surprised the Broncos by scoring 36, though, were outscored by three. Tannehill is a huge reason why the Dolphins' offense (10th highest scoring in the NFL) is surprising many people. Tannehill has a bright future.
Colin Kaepernick- The 49ers have scored more than seventeen points just once in the past five games, but are still 3-2 in those games. Kaepernick has to do more in order to make the 49ers elite.
Alex Smith- Coming off wins against the Bills and Seahawks, nobody thought the 7-3 Chiefs would lose to the 0-10 Raiders. Well, they did. But it wasn't all Smith's fault. He threw for 234 yards, two touchdowns, and no interceptions. He is on pace for the second-least interceptions among quarterbacks that have started every game of the season, trailing only Aaron Rodgers.
Joe Flacco- Flacco led the Ravens' to a huge win over the New Orleans Saints at the Superdome on Monday Night Football. Flacco is on pace for his best season since his second year.
Matt Ryan- Has averaged 44 passing attempts in the last two games, though hasn't thrown for 300 yards. In fact, he has only thrown for 300 yards twice this season. With two of the top receivers in the NFL (Julio Jones and Roddy White), Ryan should be having a much better season. The Falcons' terrible defense doesn't help either. They are tied for the lead in the NFC South with a 4-7 record.
Jay Cutler- Had his first game without a turnover since Week 6, however, had only 130 yards. The Bears' have beaten just one team with a winning record this season and the controversy over head coach Marc Trestman's job security are in doubt. Many believe this is because of Cutler's letdown season.
Mark Sanchez- In each of his past three starts, Sanchez has thrown for at least 300 yards and a touchdown. He still shows poor decision-making as he has six interceptions on the season. He has led the Eagles to 30+ points in three of his four starts for the injured Nick Foles.
Cam Newton- Unfortunately, we have yet to see Newton play to the top of his potential. In fact, at age 25 in his fourth NFL season, he is having his worst season. He has fourteen total touchdowns and sixteen total turnovers. He has top-quarterback potential, though hasn't showed it.
Eli Manning- Manning had a strong comeback game after his five-interception embarrassment the previous week. He threw for 338 yards and three touchdowns against the rival Dallas Cowboys, though was still outplayed by Tony Romo. He is on pace to throw for ten less interceptions and thirteen more touchdowns than he did last year.
Drew Stanton- Stanton was embarrassed against the Seahawks defense on Sunday, throwing for just 149 yards and an interception. The Cardinals' only two losses this year, both started by Stanton, were to the Broncos and Seahawks.
Kyle Orton- Orton easily beat the Jets defense on Monday Night, leading the Bills offense to 38 points. He has ten touchdowns and only three interceptions on the year while leading the Bills to a 4-3 record in his starts.
Brian Hoyer- Hoyer had three interceptions and no touchdowns against the Falcons on Sunday, however, showed incredible poise by leading the Browns on a game-winning drive with just 44 seconds left starting on their own 20-yard line.
Matthew Stafford- Stafford has been a complete embarrassment this year. He looks nothing like a number one pick in the NFL draft. He is on pace for his lowest total passing yards and touchdowns since the 2011 season. Needless to say, he is one of the most, if not the most, disappointing quarterbacks in the NFL.
Andy Dalton- Dalton is a mediocre quarterback placed into a dominant offense. With Giovani Bernard and Jeremy Hill in the backfield and A.J. Green and Mohamad Sanu out catching balls, Dalton has an amazing offensive core. He should be playing better than an 83.4 passer rating would suggest.
Josh McCown- The Buccaneers expected the Josh McCown of 2013 when he threw for thirteen touchdowns and one interception, but are getting the 2005 Josh McCown who threw for nine touchdowns and eleven interceptions.
Robert Griffin III- RGIII is really struggling this year. Whether it's the lingering injuries or not, he will have a short-plug against the Colts' next Sunday after throwing for just 106 yards against the 49ers in a 13-17 loss.
Ryan Mallett- Unfortunately for Mallett and the Texans', Ryan's season is over due to a right pectoral injury. It is a devastating injury, especially for the Texans' who now have to go back to Ryan Fitzpatrick.
Shaun Hill- After an impressive performance and win against the Broncos, Hill and the Rams dropped a goose egg against the Chargers on Sunday. He has more interceptions (3) than touchdowns (2) on the season.
Michael Vick- He was pulled for Geno Smith in their game against the Bills. That's when you know things are getting bad.
Teddy Bridgewater- Bridgewater shows signs of brilliance, though, still makes too many mistakes. He's thrown for over 300 yards just once this season while totaling more interceptions than touchdowns.
Derek Carr- Carr got his first win as a starting quarterback! Unfortunately, it was in his eleventh start.
Zach Mettenberger- The Titans' sixth-round pick has flashed, but isn't quite paying the dividends they'd hope. They're looking to finish the season already. They have a 2-9 record in the AFC South.
Blake Bortles- Bortles may be having the worst season ever by a starting quarterback. In nine games, he has led the Jaguars to a 1-8 record and has double the amount of turnovers (16) as touchdowns (8). Bortles does not have one game this year in which he has not had a turnover.
Buccaneers admit mistake, boot Aguayo
In the NFL, it's always better to admit a mistake than to compound it. For the Buccaneers, the decision to burn a 2016 second-round pick on kicker Robert Aguayo has proven to be a mistake. The Buccaneers made the definitive admission of their error on Saturday, cutting Aguayo. He exits with $428,000 in fully-guaranteed salary [
more
]
Source: Mike Florio of ProFootballTalk
Powered by WPeMatico
Did Bucs put too much pressure on Aguayo?
After the Buccaneers surprised everyone by taking a kicker with the 59th overall pick in the draft, G.M. Jason Licht explained the move by heaping superlatives on the player. "I was very excited along with my staff and coaches about Roberto for a very long time," Licht told PFT Live in May 2016. "It's not [
more
]
Source: Mike Florio of ProFootballTalk
Powered by WPeMatico
Broncos holding their breath on Derek Wolfe
Only two days after losing Billy Winn for the year with a torn ACL, the Broncos are now sweating out another potentially serious injury along the defensive line. Via multiple reports, Broncos defensive lineman Derek Wolfe was carted off the field during practice on Saturday. It's being described as a right ankle injury by coach [
more
]
Source: Mike Florio of ProFootballTalk
Powered by WPeMatico