Vic Beasley is a Special Player For Special Circumstances
Vic Beasley is an elite edge rusher who could thrive in the NFL, but only in the right situation.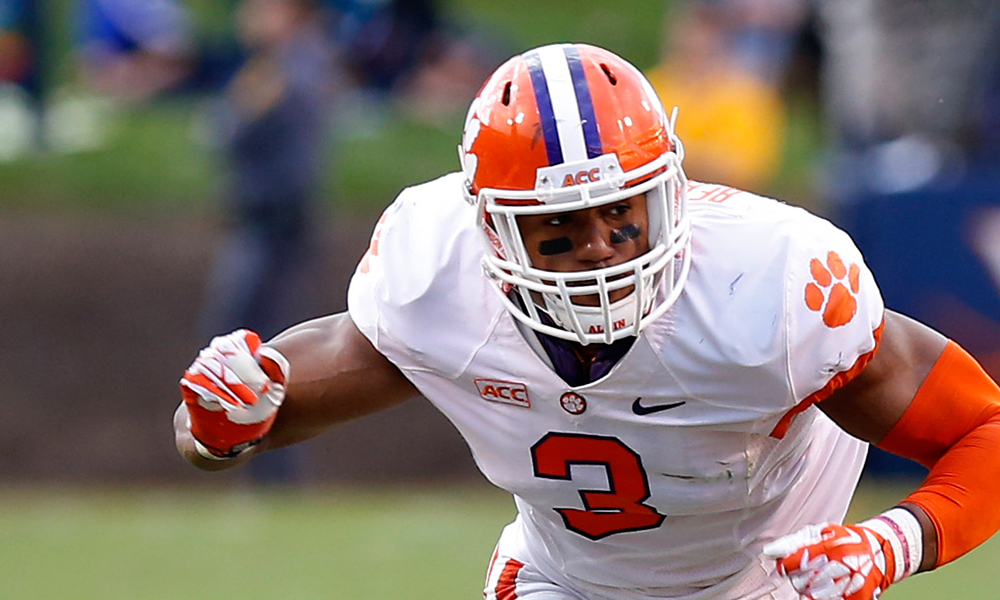 When you look at Clemson defensive end Vic Beasley (6'3, 235 pounds), you see a player that looks more like Seahawks safety Kam Chancellor (6'3, 232 pounds) and less like a prototypical defensive end like the Rams' Robert Quinn (6'4, 264 pounds).
This creates a problem for a player who would be asked to battle with offensive tackles on a regular basis.
In the run game, the defensive end in a 4-3 defense, or the outside linebacker in a 3-4 defense, has to be able to accomplish a variety of specific activities. First, they must have the mental awareness to diagnose that a play is indeed a run. This can be done a variety of ways, including the high-hat/low-hat principle, the way the blocking develops and a variety of keys on the offenses formation, personnel, tendencies, etc.
Next, they must be able to leverage their game, which is usually the C- or D-gap. This means that this defensive player will likely be the player that must set the edge, he must try to contain the run so that it funnels inside to the linebackers. This requires the player to maximize the amount of leverage they use so they can control the larger offensive tackle. This is done through a low pad level and a great deal of balance. The player should keep his hands inside the tackle's pads with his arms extended so that the blocker can't get into their body and move them out of their gap or use his inside arm to keep the blocker off his body, which frees up his outside shoulder to either force the run inside or make the tackle if the runner bounces to the outside.
Finally, the player must be able to shed the block and make the tackle. This can be done in a number of nuanced ways, but require a thorough understanding of hand fighting, balance and power.
As you can imagine, it requires a great deal of size and strength to be able to achieve those specific tasks on an every play basis against a player 20 or 30 pounds heavier than you; however, Beasley would likely be giving up a 70 to 80 pound difference on any given play as a 4-3 defensive end or 3-4 outside linebacker.
As a pass-rusher, the weight difference is not nearly as significant since a lighter player could still beat tackles on a regular basis with quickness, agility, hand usage, bend around the edge, etc.
Now, before we can identify where Beasley should or could play in the NFL, we must identify what he does well (where he wins) and what he struggles with to determine what draft value he has and what position and scheme he best translates to. This may mean that a particular team may value him as a top-five overall pick, while another may value him as a second- or third-round pick. It all depends on how well he fits their system.
Now you may be thinking, so where does Beasley win?
First, Beasley, who as a junior recorded 41 tackles, 23 for loss and 13 sacks, wins with his incredible anticipation and quickness as the ball is being snapped. This puts a great deal of pressure on the offensive tackle to get out of his stance and into his pass-blocking set as quickly as possible, which leads to mistakes being made. At first glance, these mistakes may appear to be because of the incompetence of the tackle, but in actuality it is because of Beasley's burst off the line of scrimmage.
Beasley leverages his quickness in a variety of ways. He uses it to get the offensive lineman to get off balance, so that he can dip back inside. He also can convert his quickness to power, where he uses his quickness to create the power to push the tackle back.
The best way Beasley leverages his quickness is to hit the old-fashioned speed rush around the edge. He has the unique hip and ankle flexibility that allows him to bend around the edge and past the tackle.
Beasley's unique first step and quickness set up most of his pass rushes. He also has a wide variety of pass-rush moves that he employs to get to the quarterback. He shows a fantastic outside slap to inside rip move (his best move) on a consistent basis to go along with a great swim move and quick spin move after a quick upfield burst. In addition, he has shown the ability to rush standing up or with his hand on the ground, which points to his versatility.
The best thing about Beasley is that he has shown significant improvement from year to year. When he was a junior, Beasley didn't have a wide variety of pass-rush moves and didn't utilize great balance when turning the corner, which resulted in him being pushed past the quarterback. Beasley has rectified that with an impressive shoulder dip and much better balance around the edge. These changes have led to Beasley recording four sacks in three games, despite the extra attention he has received this year.
Altogether, Beasley is the best pure pass-rusher in college football and that is why he will be highly coveted come draft time.
All these strengths are great, but where does Beasley struggle?
Beasley struggles most when he is put in a situation where he has to play at the point of attack with an offensive tackle. When you put one player who is 6'5 and 310 pounds at the point of attack with a player who is 6'3 and 235 pounds, it doesn't matter how low the pad level of that second player is, he is going to lose that battle the majority of the time. This leads to Beasley getting blown out of his gap all too often, creating running lanes for the offense.
Moreover, Beasley loses when he keeps his body square to opposing blockers, which allows them to get in close proximity to him and dominate using their superior strength and power.
Now that we have identified what his strengths and weaknesses are, which teams and schemes does he fit and not fit best in?
The first thing Beasley has going for him is the recent influx of undersized edge-rushers in the NFL as of late. Bruce Irvin (6'3, 248 pounds), Khalil Mack (6'3, 252 pounds) and Von Miller (6'3, 250 pounds) are all players who were considered to be undersized but have had some success in the NFL despite that fact. It shouldn't be difficult at all for Beasley to bulk up to at least 245 or 250 pounds in preparation for the NFL.
Having said that, it is still difficult to project Beasley as an every-down 4-3 defensive end or 3-4 outside linebacker. He doesn't show the strength or technique necessary to hold up against the run on a consistent basis against NFL talent. With teams that run a traditional 4-3 or 3-4 defense, Beasley would likely be only a nickel edge rusher, until he gained the necessary weight and learned the technical nuances to be able to survive in run defense.
Beasley may not receive a top 15 or 20 grade from traditional 4-3 and 3-4 defensive teams because of those reasons. Even though Beasley has the talent of a top-five pick, his skill-set just doesn't match what these teams are looking for an every play basis.
This leads us to a scheme that should deem Beasley of a top-five grade. The teams that employ the LEO position on defense. The LEO position is a hybrid defensive end/outside linebacker position where the player can be standing or in a three-point stance, but plays with a much wider alignment. This player's sole responsibility is to get rush the passer and create havoc in the backfield.
When discussing the LEO position Seahawks head coach Pete Carroll said, "(He) has to be one of your best football players. Size does not matter as much. We want an athletic player who can move around."
The LEO position is basically tailor-made for a player with Beasley's strengths. You have to be a great pass-rusher. Check. You have to be athletic and size is not a deal-breaker. Check.
If a team that utilizes the LEO position does end up picking in the top-five, they would be idiotic not to seriously consider Beasley.
We are looking at you, Gus Bradley.
Buccaneers admit mistake, boot Aguayo
In the NFL, it's always better to admit a mistake than to compound it. For the Buccaneers, the decision to burn a 2016 second-round pick on kicker Robert Aguayo has proven to be a mistake. The Buccaneers made the definitive admission of their error on Saturday, cutting Aguayo. He exits with $428,000 in fully-guaranteed salary [
more
]
Source: Mike Florio of ProFootballTalk
Powered by WPeMatico
Did Bucs put too much pressure on Aguayo?
After the Buccaneers surprised everyone by taking a kicker with the 59th overall pick in the draft, G.M. Jason Licht explained the move by heaping superlatives on the player. "I was very excited along with my staff and coaches about Roberto for a very long time," Licht told PFT Live in May 2016. "It's not [
more
]
Source: Mike Florio of ProFootballTalk
Powered by WPeMatico
Broncos holding their breath on Derek Wolfe
Only two days after losing Billy Winn for the year with a torn ACL, the Broncos are now sweating out another potentially serious injury along the defensive line. Via multiple reports, Broncos defensive lineman Derek Wolfe was carted off the field during practice on Saturday. It's being described as a right ankle injury by coach [
more
]
Source: Mike Florio of ProFootballTalk
Powered by WPeMatico