Time For The NFL's Overreaction Monday
Find out which narratives from last week in the NFL proved to be untrue.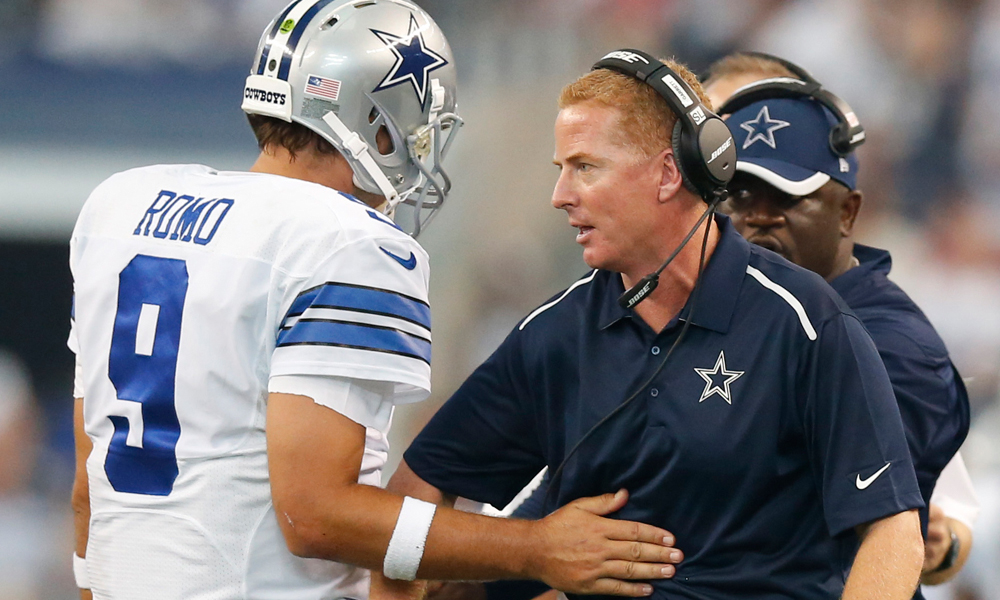 One of the most longstanding traditions in the National Football League is "Overreaction Monday." If your favorite team loses by more than a score, there's something significantly wrong and they'll never win again.  If they win by more than a score, they're going undefeated… forever.
It's a time honored tradition and mostly is much ado about nothing.  Unless it's not.
After two weeks, nobody is mathematically eliminated.  With that said, teams that start 2-0 have a 63 percent chance of making the playoffs (in it's current format).  What's much more troubling is the other side of the coin.  Out of the last 60 teams to make the playoffs, just one has started 0-2.  If you want a little bit of hope, that one team was last year's Carolina Panthers.
One of the biggest overreactions following Week 1 was the Dallas Cowboys' defense.  Sure, they gave up 28 points, but most of those were short fields from Tony Romo turnovers.  The Cowboys traveled to Nashville and shut down the Tennessee Titans' offense en route to a 26-10 victory.
"Our defense really did a great job making stops," Cowboys head coach Jason Garrett said.  "Third down was really good to us, I think they converted about two all throughout the game.  It was a really big point of emphasis for us this week. I thought our guys did a really good job of getting off the field during the game."
The Cowboys likely aren't going to have a top-10 unit on defense, but they will be better than many speculated.
Do you remember that unstoppable Detroit Lions offense from last Monday night?  The team that racked up big play after big play against the New York Giants.  Maybe it was just a really bad Giants defense?
Detroit took to the road and looked nothing like a juggernaut on offense.  The Lions managed just seven points as they seemed to be their own worst enemy, turning the ball over three times.
"When you don't take advantage of your opportunities, you miss chances and turn the ball over, you're not going to have a good day," Lions quarterback Matt Stafford said.
I guess the new "Greatest Show on Turf" isn't so great on grass.  Or maybe the Panthers still have a really good defense?
After the Seattle Seahawks' opening night victory against the Green Bay Packers, many thought that the defending Super Bowl champs would win a minimum of 14 games and could run the table and make former Miami Dolphins running back Mercury Morris very nervous.  The run toward the perfect season ended on Sunday as they traveled south to beautiful San Diego where the Chargers kept it classy and ended the champ's winning streak with a 30-21 victory.
"I'm upset.  I'm upset about it," Seahawks middle linebacker Bobby Wagner said after the game.  "But you've got to understand this is game two of 16. So if I hang my head in this game, it's going to affect the next game."
Do you remember last week when the New England Patriots run in the AFC East was finished as they were outscored 23-0 in the second half against the Dolphins, as some proclaimed them the new kings of the division?
Well, New England rebounded, as they normally do, and the defense that allowed 23 in the second half a week ago scored as many points as they allowed against a Adrian Peterson-less Minnesota Vikings team.  The Patriots' defense registered six sacks, forced four turnovers and blocked a field goal, which Chandler Jones took back to the house in their 30-7 victory.  And that offensive line that couldn't protect Tom Brady without recently traded guard Logan Mankins yielded just one sack.
"Blocking and tackling were the two biggest points of emphasis this week and I think we did improve," Patriots head coach Bill Belichick said. "We can still do better but taking care of the ball, turning the ball over, blocking, and tackling, those are the fundamentals we need to do well in."
Biggest win of the week: San Diego as they avoided an 0-2 start and proved that they can play with anybody as they took down the defending champs.  The Chargers have a much different outlook now that they have a victory and haven't lost any ground in the playoff race.
Worst loss of the week: New Orleans as they traveled to Cleveland and lost to an improved Browns team.  Going on the road is never easy, but the Saints didn't seem to play with much of a sense of desperation after dropping their opener to the Atlanta Falcons.  Now New Orleans has to try and beat the odds to make the playoffs with an 0-2 start and they're already two games behind Carolina.
Buccaneers admit mistake, boot Aguayo
In the NFL, it's always better to admit a mistake than to compound it. For the Buccaneers, the decision to burn a 2016 second-round pick on kicker Robert Aguayo has proven to be a mistake. The Buccaneers made the definitive admission of their error on Saturday, cutting Aguayo. He exits with $428,000 in fully-guaranteed salary [
more
]
Source: Mike Florio of ProFootballTalk
Powered by WPeMatico
Did Bucs put too much pressure on Aguayo?
After the Buccaneers surprised everyone by taking a kicker with the 59th overall pick in the draft, G.M. Jason Licht explained the move by heaping superlatives on the player. "I was very excited along with my staff and coaches about Roberto for a very long time," Licht told PFT Live in May 2016. "It's not [
more
]
Source: Mike Florio of ProFootballTalk
Powered by WPeMatico
Broncos holding their breath on Derek Wolfe
Only two days after losing Billy Winn for the year with a torn ACL, the Broncos are now sweating out another potentially serious injury along the defensive line. Via multiple reports, Broncos defensive lineman Derek Wolfe was carted off the field during practice on Saturday. It's being described as a right ankle injury by coach [
more
]
Source: Mike Florio of ProFootballTalk
Powered by WPeMatico