The Colts are wasting the best of Andrew Luck
Find out why Ryan Grigson is Andrew Luck's biggest enemy.
This season has proven two things when it comes to Indianapolis Colts quarterback Andrew Luck.
First, 2015 was an outlier and he's really as good as we thought he was. You can tell not just by the stats, but by the way he is bailing his team out of ridiculous situations for wins again this year.
Secondly, the Colts are wasting Andrew Luck's best years.
This is something the Colts have already done once to a quarterback by the name of Peyton Manning. Owner Jim Irsay can say all he wants that Luck will win them more Super Bowls, but it doesn't look like that is in the offing. That's not on Luck, any more than it was on Manning.
It's interesting to wonder  – if we went back and looked, would Manning's seasons be filled with as many wins carried by his arm because the defense was non-existent?
Putting the ghost of Peyton Manning aside, Luck has been abandoned by ownership and it's a waste. They know what they have and they've given him the skill players to do what he does—they have Donte Moncrief and TY Hilton, they signed the ageless Frank Gore—but they forgot to give him an offensive line worth the name and haven't bothered to build a defense.
Why do those things matter, you ask? After all, they are winning.
Well, because winning games, while nice, isn't the point. The point is winning Super Bowls and that will not happen while the Colts feature one of the worst defenses in the NFL.
Even the 'winning games' part isn't working out. How else can you explain the 6-6 overall record or the 2-2 record in an awful division?
Luck and the offense (which is pretty much all Luck) average 25.9 points a game, the seventh-highest average in the NFL.  Unfortunately, the defense allows the exact same number (which is, to be honest, freaky as heck), which is good for eighth highest allowed in the NFL.
No wonder Andrew Luck tends to look like a man frantically bailing water out of a row boat filled with holes, surrounded by sharks.
He constantly has to make up for a bad offense. Meanwhile, his offensive line has allowed him to be sacked 39 times (second-most in the NFL) and hit 96 times overall (second-most in the NFL).
Now stop for a moment and consider what he's been able to do despite that. Luck has thrown 403 passes, completing 258 of them (for a 64 percent completion percentage), for a total of 3,105 yards and 23 touchdowns, while only throwing 8 interceptions.
Imagine if they got the anchor off of his neck?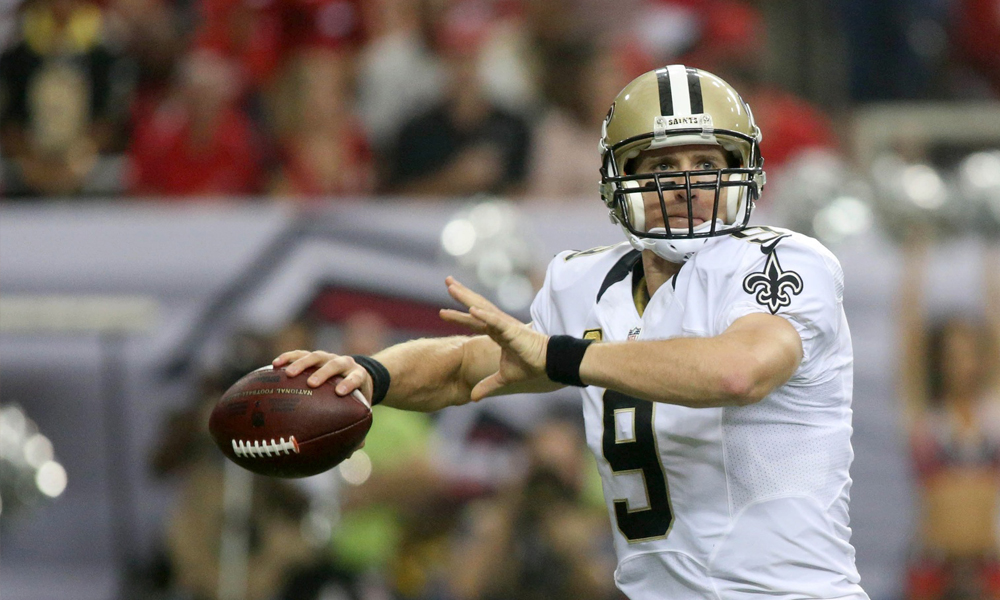 We see this elsewhere. Drew Brees and the New Orleans Saints is a great example to look at long term. While Brees is one of the most prolific passers to ever hit the NFL, he has almost never had a defense worth the name. So while the Saints have a Super Bowl win, they have not been in the hunt for more as often as they should have. Now that Brees is almost at the end of his career, what are the chances that changes? Think of what could have been.
The Colts have Andrew Luck in the prime of his career. He may not even have peaked quite yet, but there's only so much he can do without a competent defense and an improved offensive line.
In a division which is weak at best, the Colts are struggling instead of dominating. Will Luck get a Super Bowl? He might at some point.
If they don't fix what is wrong with this team, though, we will probably be having a conversation in ten years about how he never could get 'the big one' and fell short in the playoffs too often.
That won't be on Luck. That will be on Colts ownership, who will have wasted one of the best quarterbacks in the NFL.
Broncos holding their breath on Derek Wolfe
Only two days after losing Billy Winn for the year with a torn ACL, the Broncos are now sweating out another potentially serious injury along the defensive line. Via multiple reports, Broncos defensive lineman Derek Wolfe was carted off the field during practice on Saturday. It's being described as a right ankle injury by coach [
more
]
Source: Mike Florio of ProFootballTalk
Powered by WPeMatico
Buccaneers admit mistake, boot Aguayo
In the NFL, it's always better to admit a mistake than to compound it. For the Buccaneers, the decision to burn a 2016 second-round pick on kicker Robert Aguayo has proven to be a mistake. The Buccaneers made the definitive admission of their error on Saturday, cutting Aguayo. He exits with $428,000 in fully-guaranteed salary [
more
]
Source: Mike Florio of ProFootballTalk
Powered by WPeMatico
Did Bucs put too much pressure on Aguayo?
After the Buccaneers surprised everyone by taking a kicker with the 59th overall pick in the draft, G.M. Jason Licht explained the move by heaping superlatives on the player. "I was very excited along with my staff and coaches about Roberto for a very long time," Licht told PFT Live in May 2016. "It's not [
more
]
Source: Mike Florio of ProFootballTalk
Powered by WPeMatico