Alabama's Greatest Opponent Is Themselves
Who can beat Alabama? Ony Alabama can.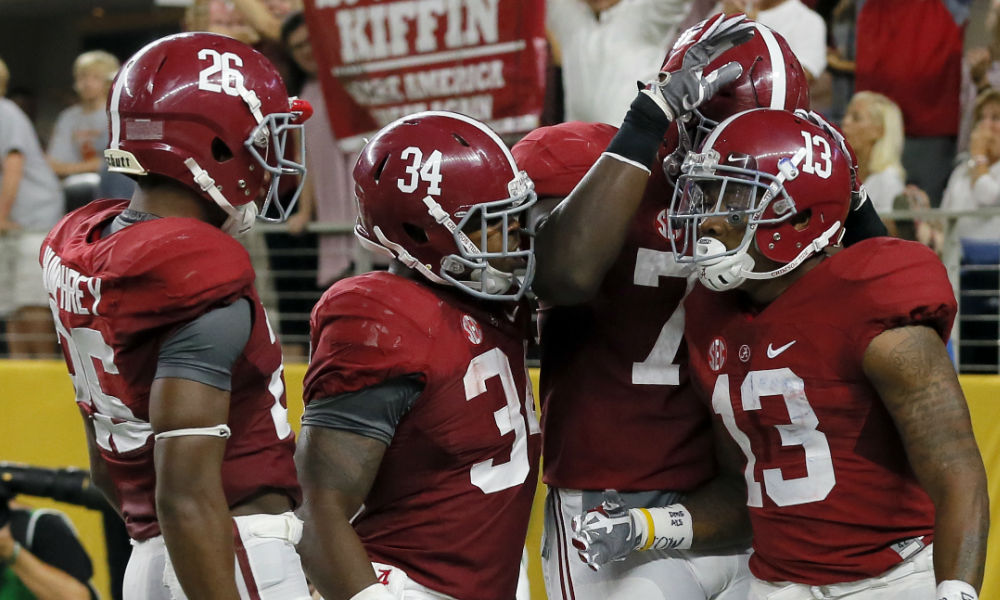 ATLANTA-
The Alabama Crimson Tide football program has reached an unprecedented level of success and not only is winning expected, it's a potential state crisis in the rare occasions that it doesn't happen.
As a program, they're more hateable than the New York Yankees and Duke basketball combined.
They're led by Nick Saban, a diminutive dictator who is unquestionably the best at his profession now, and it's difficult to make an argument for anyone else as the best coach in college football history.
He has preached discipline and accountability throughout, and his teams emulate that every game.
Alabama has plenty of advantages.  They basically have an open checkbook to get the best coaches and recruiters, some of the best facilities in the nation and a rich winning tradition.  Perhaps their biggest advantage may be the internal competition that they have every day on the practice field.
"The best guys I've had to play against are in practice," Outland Trophy Award winner Cam Robinson stated.  "Jonathan Allen, Tim Williams, Rueben Foster.  There isn't anyone who's better than them."
When you're playing against players like that in practice, Saturday's are well, easy.
"I think that does a great job of prepping me," Robinson said about the daily competition he faces.  "The guys that I get to block every day at practice, I'm pretty confident that those guys are the best I'll face.  They do a great job of getting me ready and anything I see in the game really isn't going to be a surprise to me."
There isn't any team in college football that can match up physically.  Even in the "Final Four" of the College Football Playoff, there are no more than a handful of players on any of the remaining teams that could crack the Tide's starting lineup.
Alabama's biggest opponent is themselves, and that's been the case for much of the Saban era.  They got in their own way in 2014, and they understand that their own complacency is likely their greatest foe.
"I feel like in 2014, I'm not going to lie, everybody was kind of complacent," Chuck Bednarik Award winner (College Defensive Player of the Year) Jonathan Allen said.  "We thought we were going to beat Ohio State and we really didn't work like we needed to.  After we lost to Ole Miss last year we were pissed off the whole season and everybody counted us out.  It was hell for like the next two months after we lost to Ole Miss and that stuck with us all the way through the season."
It's not the first time a highly ranked team thought too much of themselves and it likely won't be the last.  The Alabama star and soon to be first-round draft pick believes that won't happen again.
"Anybody who was here when we lost to Ole Miss knows how that felt they're not going to relax at this point or take it easy," Allen explained.  "All the seniors, we were here when we lost to Auburn and Ohio State, and last year and we just let it slip away.  Those are things that you're never going to forget."
Coach Saban does his best to keep his team grounded, even if it sounds not all that believable.  He does his best to downplay accomplishments and treats most everything as a potential distraction.
"I've been in this league for a long time and I didn't think we had easier games this year than we've ever had in the past," Saban said during a news conference in Atlanta before the SEC Championship. "So I don't know who the expert is, I'm sure it's somebody in your area out there."
This is despite having an average margin of victory of greater than 28 points per game.
Based on their body of work, Alabama could have played backups and even if they lost in the SEC title game they likely would have made it into the playoffs and still have been the top seed.  Saban didn't want to entertain any of that.
"You all (the media) put everything about the Playoffs," he said. "That's all you care about. You don't care about any bowl games. You don't care about any teams in the country that aren't in the Playoffs. I don't know. If we don't win this game, maybe we throw a stink bomb out there, maybe we don't get the Playoffs. I don't know. You guys have got all the answers to all that, but I don't. All I know is that if we play well we control our own destiny in terms of what we do."
Then the head coach really seemed to get emotional.
"So," Saban said, "I'd really rather not have any more questions about 'Is it OK to lose this game?' It's never OK to lose a game."
Alabama didn't play their best football game against Florida.
They won 54-16.
Aside from the quarterback position, Florida is one of the few programs that have athletes that aren't overwhelmed by the size and speed of Alabama.
They lost by 38 points.
Even the obvious advantages, such as playing the Playoff Semifinal game in nearby Atlanta, isn't an advantage to Saban.
"Last time I checked, the field is 100 yards long and 53 yards wide, just like every other field," Saban said with a straight face.  "There's no advantage for our team playing in Atlanta.  It's a neutral site game."
A neutral site game that will have about 90 percent of Alabama fans inside the soon to be imploded, Georgia Dome.
The Tide have every conceivable advantage that a football team can have entering the Playoff.  If they don't beat themselves, nobody will beat them.
Buccaneers admit mistake, boot Aguayo
In the NFL, it's always better to admit a mistake than to compound it. For the Buccaneers, the decision to burn a 2016 second-round pick on kicker Robert Aguayo has proven to be a mistake. The Buccaneers made the definitive admission of their error on Saturday, cutting Aguayo. He exits with $428,000 in fully-guaranteed salary [
more
]
Source: Mike Florio of ProFootballTalk
Powered by WPeMatico
Did Bucs put too much pressure on Aguayo?
After the Buccaneers surprised everyone by taking a kicker with the 59th overall pick in the draft, G.M. Jason Licht explained the move by heaping superlatives on the player. "I was very excited along with my staff and coaches about Roberto for a very long time," Licht told PFT Live in May 2016. "It's not [
more
]
Source: Mike Florio of ProFootballTalk
Powered by WPeMatico
Broncos holding their breath on Derek Wolfe
Only two days after losing Billy Winn for the year with a torn ACL, the Broncos are now sweating out another potentially serious injury along the defensive line. Via multiple reports, Broncos defensive lineman Derek Wolfe was carted off the field during practice on Saturday. It's being described as a right ankle injury by coach [
more
]
Source: Mike Florio of ProFootballTalk
Powered by WPeMatico