The Bengals' Offensive Line Is Weighing Down Offense
The Bengals heavy investment on their offensive line isn't paying off.
While nobody expected the Cincinnati Bengals to suddenly emerge as an undefeated powerhouse in the AFC, it's probably safe to say few expected a 2-3 record.
Maybe it's safer to say, though, that nobody expected the Bengals to look bad while getting to that 2-3 record.
What in the world is going on in Cincinnati? While the Bengals have had moments during the opening frame of the 2016 NFL Season, they have largely been a mess.
The passing offense is nowhere what it should be, the offensive line is a mess, the defense is underperforming, the run game is shaky—nothing is working as we expected it to be.
And while some of it might be growing pains—Marvin Jones and Mohamed Sanu leaving has left a hole—and injuries—Tyler Eifert is still out—for the most part it's just been ugly.
Ultimately, the biggest issue for the offense is the play of the offensive line.
Andy Dalton has been sacked 17 times in five games, for a net loss of 90 yards. That's horrible, but you don't need someone to tell you that, it's pretty clear. Why is it happening takes a little more explaining.
Pro Football Focus isn't as accessible as it used to be, but they do a weekly ranking of various position groups and prior to Week 5, and the drubbing the Dallas Cowboys defense put on the Bengals, they were ranked a mediocre No 17.
I often quibble with PFF's offensive line grading—how can you truly grade something when you have no idea what the assignments are?—but in this case they might have been overly generous.
As the article points out, center Russell Bodine and right tackle Cedric Ogbuehi are struggling and consistently allowed Dalton to be under pressure. Ogbuehi is coming off a missed rookie season (he was "active" for five games but got no real work), so he's a bit behind, but he's struggled beyond what was expected and last weekend in Dallas really showed how far he has to go.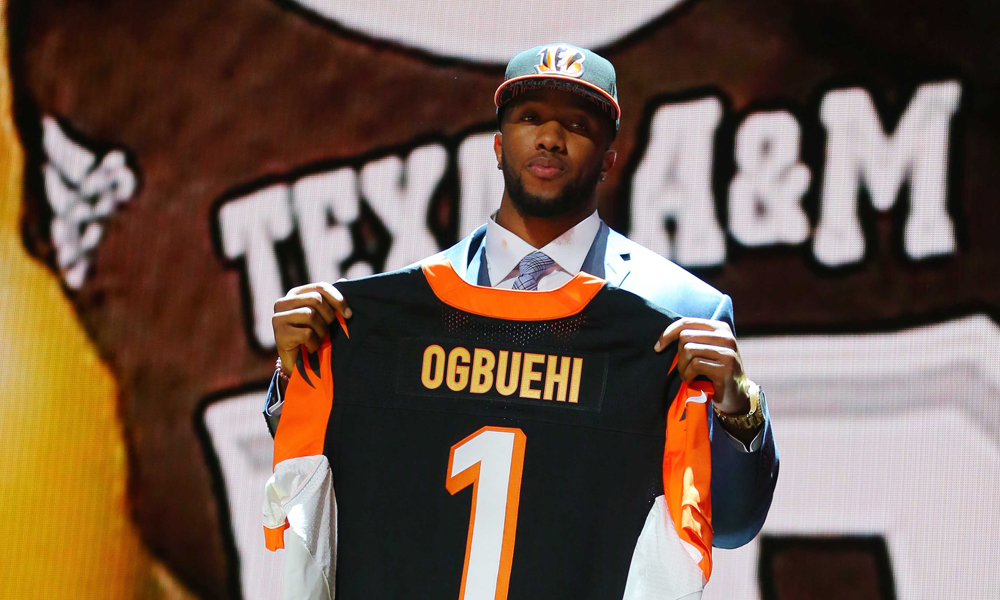 Ogbuehi and Bodine aren't the only ones struggling, nor are they the whole reason things have gone south for the passing game, but they aren't helping.
The impact of a shaky offensive line is that the rest of the offense suffers as well. Certainly Dalton isn't getting the time he needs to find his receivers, and a poor offensive line exacerbates the issue because if it's not giving a guy like AJ Green time to gain separation, what hope do Brandon LaFell, James Wright and rookie Tyler Boyd have?
So far it appears the answer is: very little.
The other impact is how it is hard a bad blocking line makes it on the run game. Of course, it's really hard to commit to the run when you're down 21 points in the first half, as Cincinnati was last week against Dallas.
The problem is that the run game isn't much better even when they're winning. Aside from the great game Jeremy Hill had in Week 3 against the Denver Broncos (which they lost anyway), the ground game has been weak and neither Hill nor Gio Bernard have cracked the 100 yard mark and have only done so once when their rushing yards are combined.
Some of that is on them, some of that is on the coaching and play selection, but some of it is on the offensive line as well.
Can they fix it? Well they won't find help out in the free agent market, so they had best hope that as the year continues, Ogbuehi and Bodine improve. It should, gradually, but the real question is whether it will in time to salvage the season. The AFC is wide open now that the Denver Broncos have lost two games in a row, but that doesn't make it easier considering the AFC North is as tough as it always is.
Buccaneers admit mistake, boot Aguayo
In the NFL, it's always better to admit a mistake than to compound it. For the Buccaneers, the decision to burn a 2016 second-round pick on kicker Robert Aguayo has proven to be a mistake. The Buccaneers made the definitive admission of their error on Saturday, cutting Aguayo. He exits with $428,000 in fully-guaranteed salary [
more
]
Source: Mike Florio of ProFootballTalk
Powered by WPeMatico
Did Bucs put too much pressure on Aguayo?
After the Buccaneers surprised everyone by taking a kicker with the 59th overall pick in the draft, G.M. Jason Licht explained the move by heaping superlatives on the player. "I was very excited along with my staff and coaches about Roberto for a very long time," Licht told PFT Live in May 2016. "It's not [
more
]
Source: Mike Florio of ProFootballTalk
Powered by WPeMatico
Broncos holding their breath on Derek Wolfe
Only two days after losing Billy Winn for the year with a torn ACL, the Broncos are now sweating out another potentially serious injury along the defensive line. Via multiple reports, Broncos defensive lineman Derek Wolfe was carted off the field during practice on Saturday. It's being described as a right ankle injury by coach [
more
]
Source: Mike Florio of ProFootballTalk
Powered by WPeMatico