Robert Griffin III's Future in Doubt After Injury
If Robert Griffin III can't return to play this season, will the Washington Redskins still be "his team" when he gets back?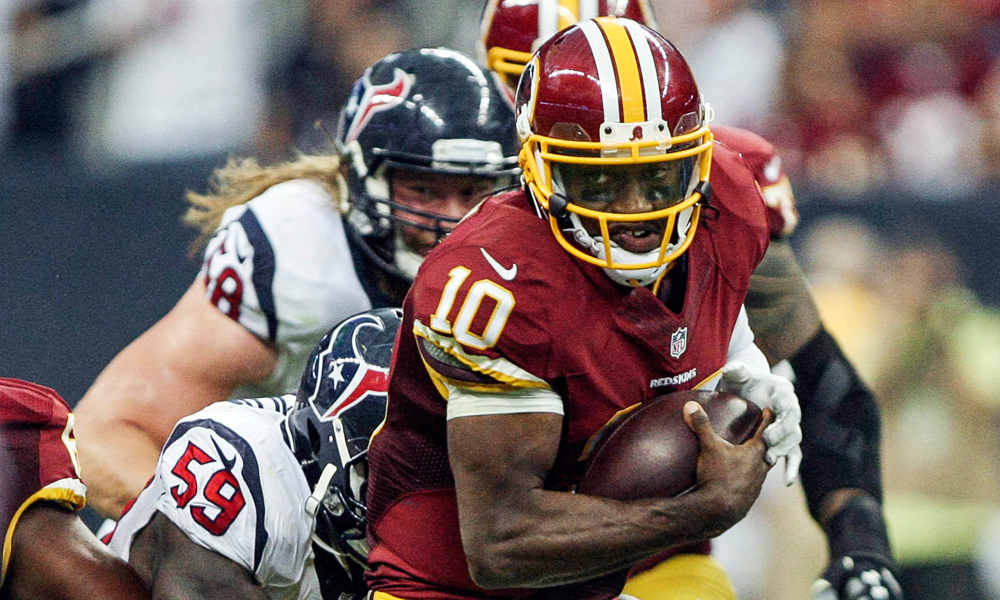 There was a rash of injuries across the NFL in week two, the worst of which could turn out to be the one sustained by Washington Redskins quarterback Robert Griffin III. And it could very well leave his future in doubt.
On a seemingly innocuous play, the third-year signal-caller was flushed from the pocket, rolled right and looked for a receiver. He tried to plant on his left leg and instead, rolled his ankle.
Well, "rolled" isn't really the word for it. His ankle actually dislocated as he planted, leaving him airborne with no hope of a soft landing. He strong-armed the throw for a completion, and then crumpled to the ground on the sideline, writhing in pain.
Many thought the nature of the injury was the awkward manner in which he landed, possibly blowing out his knee again. He was eventually taken off in a cart and did not return to the sideline the rest of the game.
Upon closer inspection of the replay, however, it was obvious. He simply planted too hard and ran right out of his own ankle joint. On the slow-motion replay, you can see his foot dangling as his body whips through the air, bracing for impact with the ground.
He did all this on a play with no contact from a defender.
This is the third serious injury Griffin has sustained in as many seasons. He suffered a concussion in his rookie campaign, then the infamous knee injury, which eventually blew out in the playoff game following the 2012 season against Seattle. Last year, he wasn't really right from the start and spent the season in "comeback mode" until former head coach Mike Shanahan benched him for the final three games of the season.
Griffin will undergo MRIs and tests this week, but a three-to-four month timetable for return on a dislocated ankle doesn't seem like it'll leave any time for him to make an impact this season for Washington.
That last point is critical. Both he and backup (now Redskins starter) Kirk Cousins were both part of the 2012 draft class and as such, are up for renewal of contracts at the conclusion of the 2016 season. Washington's front office is faced with an even tougher decision than they would have had otherwise.
They'll have all season to evaluate Cousins now, who hit his first 12 passes in relief of Griffin in a 41-10 dismantling of Jacksonville, but all they'll have to go on for Griffin is what he's done so far, which to be honest is a mixed bag of excellence, uncertainty and controversy.
They will also have to seriously weigh the fact that Griffin still hasn't played a complete season of football and carries the burden of three serious injuries in just two seasons and two games.
There might be no other fan base in the league that loves a good old fashioned quarterback controversy more than "Redskins Nation." They certainly have one on their hands now whether they like it or not.
Everyone's saying the right thing around the Redskins in the aftermath. Coach Jay Gruden and Cousins both said this is still Griffin's team. But if Griffin can't return to the field this season, will either still be so sure at the conclusion of the campaign?
Buccaneers admit mistake, boot Aguayo
In the NFL, it's always better to admit a mistake than to compound it. For the Buccaneers, the decision to burn a 2016 second-round pick on kicker Robert Aguayo has proven to be a mistake. The Buccaneers made the definitive admission of their error on Saturday, cutting Aguayo. He exits with $428,000 in fully-guaranteed salary [
more
]
Source: Mike Florio of ProFootballTalk
Powered by WPeMatico
Did Bucs put too much pressure on Aguayo?
After the Buccaneers surprised everyone by taking a kicker with the 59th overall pick in the draft, G.M. Jason Licht explained the move by heaping superlatives on the player. "I was very excited along with my staff and coaches about Roberto for a very long time," Licht told PFT Live in May 2016. "It's not [
more
]
Source: Mike Florio of ProFootballTalk
Powered by WPeMatico
Broncos holding their breath on Derek Wolfe
Only two days after losing Billy Winn for the year with a torn ACL, the Broncos are now sweating out another potentially serious injury along the defensive line. Via multiple reports, Broncos defensive lineman Derek Wolfe was carted off the field during practice on Saturday. It's being described as a right ankle injury by coach [
more
]
Source: Mike Florio of ProFootballTalk
Powered by WPeMatico