Dalton Has Bengals Off to Fast 2-0 Start
How ya like me now? Andy Dalton has Cincinnati Bengals off to fast 2-0 start.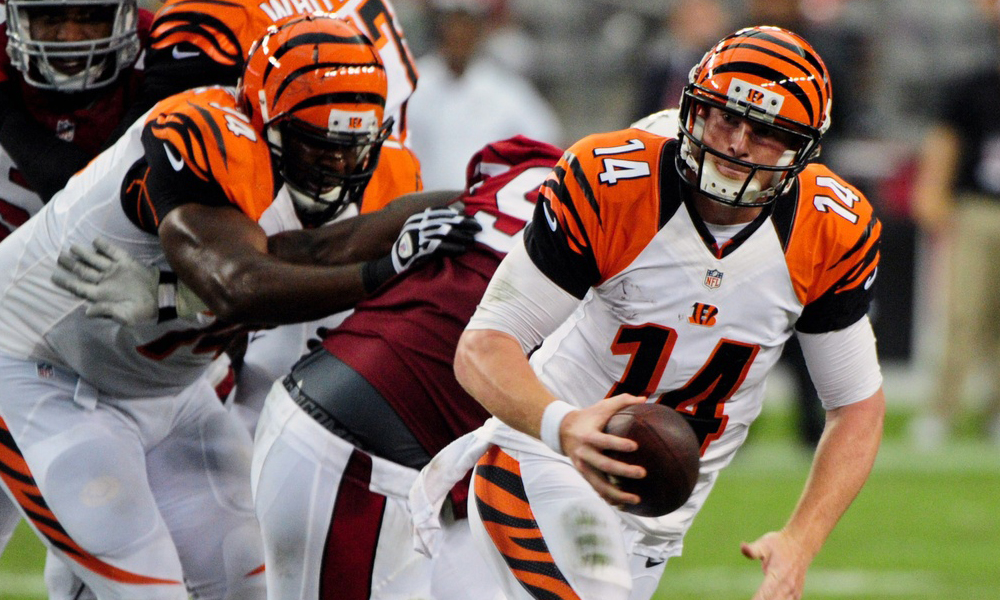 Kool Moe Dee sang, "How Ya Like Me Now," and after two weeks of play in the NFL, Cincinnati Bengals quarterback Andy Dalton might be adding that song to his iPod in the near future. Dalton led the Bengals to an opening day road win against the Baltimore Ravens, connecting with A.J. Green for a 77-yard touchdown pass with 4:58 left in the game.
In week two, Dalton was without Green, who left the game with a toe injury, and distributed the football to his running backs for seven receptions. He led his team over the Atlanta Falcons, 24-10, and helped the Bengals remain among the six undefeated teams in the NFL.
Dalton's scrutiny comes to fruition in the playoffs. It's where the regular season success has disappeared, leaving him to blame for the woes of a beaten down franchise over the years.
Green Bay Packers quarterback Aaron Rodgers is 1-3 in his last four playoff games, and 1-2 at Lambeau Field in that stretch. Take away the 4-0 run to the Super Bowl, in 2010, and Rodgers is 1-4 overall. Atlanta Falcons quarterback Matt Ryan is 1-4 in his playoff career. Dallas Cowboys quarterback Tony Romo is 1-3. Detroit Lions quarterback Matthew Stafford is 0-1, in the playoffs, entering his sixth season in the Motor City.
Then, there is Dalton.
Much was made about Dalton getting a new contract this past summer. Dalton hasn't exactly played his best in the postseason, carrying a 0-3 record. The Bengals are looking to reach elite status, and the question is can Dalton get Cincinnati deep into the playoffs? After locking down a six-year, $115 million extension with the Bengals, the hot seat Dalton sits on has never been so scalding hot. In his first three seasons, Dalton has 11,360 passing yards and 89 touchdowns, and he has led the Bengals to the playoffs each of those seasons. But the 0-3 record is why he is criticized.
Known as "The Red Rifle," for his fire-red hair, Dalton is just one of three quarterbacks in NFL history to have thrown for over 3,000 yards in each of his first three seasons, joining Cam Newton and Peyton Manning. Dalton is the only quarterback to lead the Bengals to three consecutive playoff berths, and just one of five quarterbacks to lead his team to the playoffs in each of his first three seasons.
But is he worth $19.2 million a year?
Yes, he is!
Like him or not, he gives the Bengals the best opportunity to win. Boo-birds will reign down on Dalton if he continues to throw interceptions, which need to be cut down, but fans thinking rookie A.J. McCarron is the better option should think twice. Only three quarterbacks started in 2014 that were drafted after the third round: Tom Brady, who went in the sixth, Ryan Fitzpatrick, who went in the seventh, and Tony Romo, who went undrafted.
The NFL is a quarterback-driven league and having one that is better than average means you are going to pay. Last season, Philip Rivers won his first playoff game since 2008, over none other than Dalton.
I'd give big money to Rivers, and every quarterback mentioned, in this piece.
It's the way the NFL is going. Get used to it, because there are other quarterbacks who deserve less that will get more than even the hotly debated Dalton.
Buccaneers admit mistake, boot Aguayo
In the NFL, it's always better to admit a mistake than to compound it. For the Buccaneers, the decision to burn a 2016 second-round pick on kicker Robert Aguayo has proven to be a mistake. The Buccaneers made the definitive admission of their error on Saturday, cutting Aguayo. He exits with $428,000 in fully-guaranteed salary [
more
]
Source: Mike Florio of ProFootballTalk
Powered by WPeMatico
Did Bucs put too much pressure on Aguayo?
After the Buccaneers surprised everyone by taking a kicker with the 59th overall pick in the draft, G.M. Jason Licht explained the move by heaping superlatives on the player. "I was very excited along with my staff and coaches about Roberto for a very long time," Licht told PFT Live in May 2016. "It's not [
more
]
Source: Mike Florio of ProFootballTalk
Powered by WPeMatico
Broncos holding their breath on Derek Wolfe
Only two days after losing Billy Winn for the year with a torn ACL, the Broncos are now sweating out another potentially serious injury along the defensive line. Via multiple reports, Broncos defensive lineman Derek Wolfe was carted off the field during practice on Saturday. It's being described as a right ankle injury by coach [
more
]
Source: Mike Florio of ProFootballTalk
Powered by WPeMatico