Reacting to the Polls – Week 9
Should there be four teams from the SEC West in the Top 5? Which teams' are overrated? We discuss inside.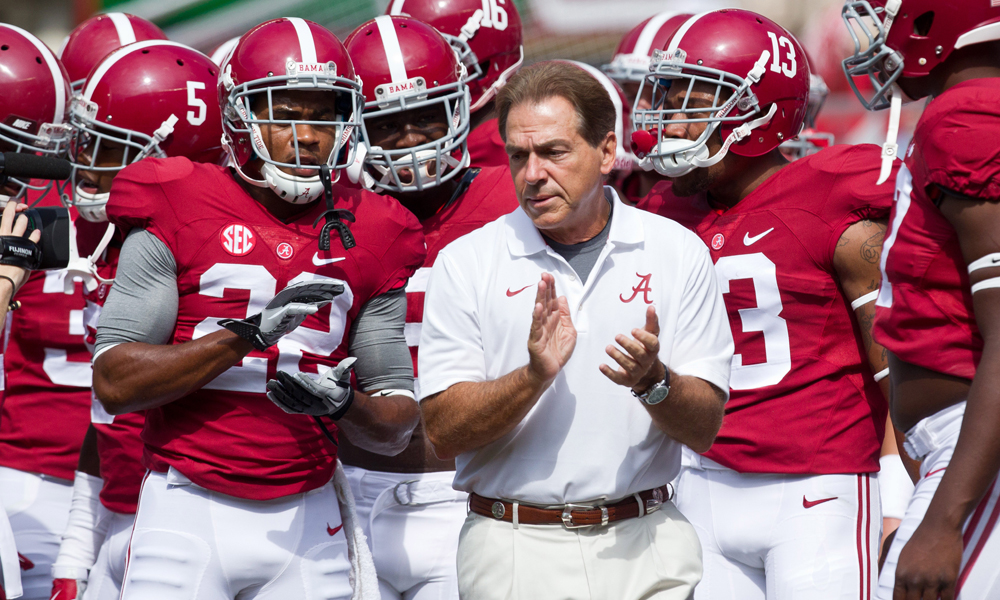 Week 8 of the college football season is in the books. The season has been crazy up to this point, with Mississippi State going from unranked to the top of the polls in just a few short weeks and a couple of teams (Stanford and South Carolina – some might even say Texas A&M) that were expected to compete for playoff berths have fallen out of the Top 25.
So, here are Football Insiders' reactions to the latest polls:
Four of the Top Five
As strange (so strange, in fact, that it had never happened before) as it is to have four teams from one conference – or, more specifically, one division of one conference: the SEC West – in the top five of the Associated Press Poll, it is hard to argue with the logic. The four teams (Mississippi State, Ole Miss, Alabama and Auburn) are a combined 25-2 and the only losses came against each other, with No. 1 Mississippi State providing the lone blemish on Auburn's resume and No. 3 Ole Miss handing Alabama its only loss.
As far as three, or even four, teams from the SEC getting into the playoffs, I don't see it happening. Mississippi State and Ole Miss play each other in the final game of their collective season, Ole Miss plays at LSU this week before Auburn in its next game and Alabama still has to Mississippi State before playing Auburn in the Iron Bowl. That mess will work itself out for the committee.
The fact is that those might be the four best teams in country but, even if they are, the SEC won't get more than two teams into college football's first Final Four. As a matter of fact, if Georgia (or whoever wins the SEC East… Who am I kidding? Georgia) can win the SEC Championship Game, only one team from the West will get in – and that might be the team that finishes second in the division.
UCLA (No. 25 Associated Press; No. 28 – if you'll allow the extrapolation – Coaches)
Coming off a surprisingly good season in 2013 with a high-profile coach (Jim Mora, Jr.), a quarterback who likely would've been a first-round pick had he declared for the 2014 NFL Draft (Brett Hundley) and a rising two-way star (Myles Jack), the Bruins were a popular choice by media-types and talking heads to win the Pac-12 and earn a playoff berth this season. The only problem is, UCLA hasn't even remotely lived up to those lofty expectations.
Hundley has performed admirably – completing 72.5 percent of his passes while averaging 9.1 yards per attempt, both of which are career highs – despite a lingering elbow injury (suffered against Texas on Sept. 13) and a porous offensive line that has allowed 26 sacks through six games. Outside of the play of Hundley, however little else has worked out as planned in Westwood.
UCLA looked beatable at best to start the season, struggling at Virginia before narrowly edging Memphis (at home) and escaping AT&T Stadium in Arlington, Texas with a last-second win over Texas.
Sure, Hundley and Company went on the road and beat then-No. 15 Arizona State 62-27 to improve to 4-0 but, despite piling up more than 600 total yards, the Sun Devils imploded in quarterback Mike Bercovici's first start (replacing the injured Taylor Kelly committing four turnovers.
The Bruins then lost a pair of home games to Utah (which is somehow ranked) and Oregon (which led 42-10 before UCLA scored three garbage-time touchdowns to make the score closer than the game actually was).
There is talent on the roster, but this team simply hasn't played well enough to justify being ranked at all.
Minnesota (No. 28 Associated Press; No. 24 Coaches)
The Golden Gophers are sitting at 6-1 and, considering how many ranked teams have lost in the last few weeks, the pollsters have to vote for somebody. But is Minnesota deserving? Let's take a peek at is resume.
Coach Jerry Kill's team has beaten exactly one team with a winning record this season (Middle Tennessee).
Minnesota was outplayed at home by Northwestern before Jalen Myrick's fourth-quarter, 100-yard kickoff return for a touchdown sealed the win for Minnesota on Oct. 11. A week later, the Golden Gophers needed a 52-yard field goal by Ryan Santoso with 4:59 left to pull out a 39-38 home win over Purdue.
In Minnesota's only game against a ranked opponent to this point, it committed five turnovers and was limited to 268 total yards in a 30-7 loss to TCU that was more lopsided than the score indicated.
You can only beat the teams on your schedule but the Golden Gophers have done very little, if anything, to resemble a team worthy of a Top 25 ranking. I mean, Grambling State has six wins. Should the Tigers be ranked, too?
For a look at the polls in their entirety, click here: http://stats.footballinsiders.com/football/ncaaf-team-rankings.aspx?page=/data/ncaaf/rankings/rankings.html
Buccaneers admit mistake, boot Aguayo
In the NFL, it's always better to admit a mistake than to compound it. For the Buccaneers, the decision to burn a 2016 second-round pick on kicker Robert Aguayo has proven to be a mistake. The Buccaneers made the definitive admission of their error on Saturday, cutting Aguayo. He exits with $428,000 in fully-guaranteed salary [
more
]
Source: Mike Florio of ProFootballTalk
Powered by WPeMatico
Did Bucs put too much pressure on Aguayo?
After the Buccaneers surprised everyone by taking a kicker with the 59th overall pick in the draft, G.M. Jason Licht explained the move by heaping superlatives on the player. "I was very excited along with my staff and coaches about Roberto for a very long time," Licht told PFT Live in May 2016. "It's not [
more
]
Source: Mike Florio of ProFootballTalk
Powered by WPeMatico
Broncos holding their breath on Derek Wolfe
Only two days after losing Billy Winn for the year with a torn ACL, the Broncos are now sweating out another potentially serious injury along the defensive line. Via multiple reports, Broncos defensive lineman Derek Wolfe was carted off the field during practice on Saturday. It's being described as a right ankle injury by coach [
more
]
Source: Mike Florio of ProFootballTalk
Powered by WPeMatico