Pretenders, Contenders at Halfway Point of Season
Find out which teams are true contenders.
Now that we're all the way through the first half of the NFL season, it's time to take a look at which teams are really good and which ones are faking it until they're making it.
Then probably faking it some more.
We're talking division leaders today, and which teams are winning with good luck and smoke and mirrors while which ones are the real deal.
We'll start off with an easy one.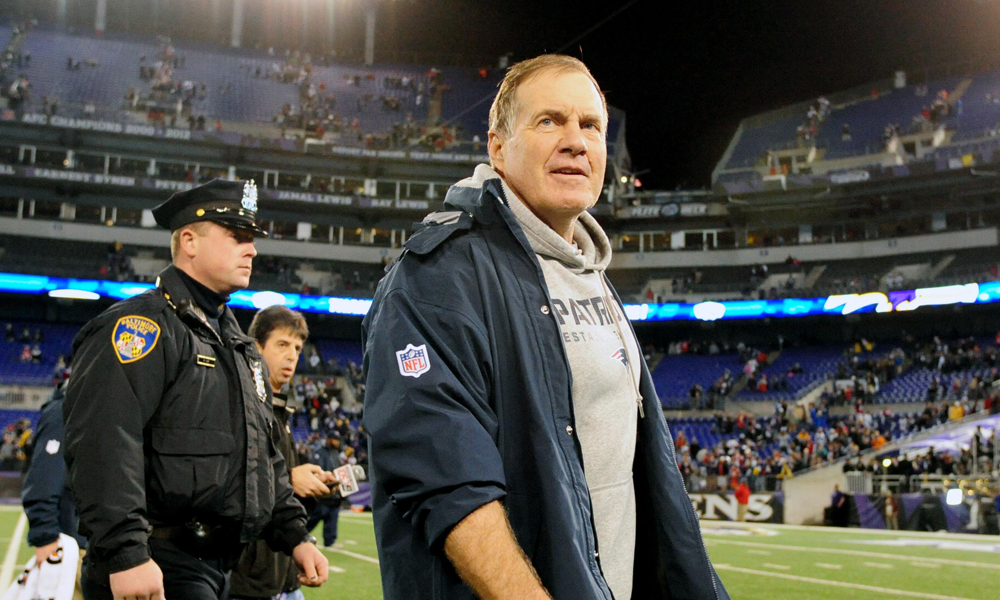 New England Patriots, AFC East: Contender
This one's easy, even if the decision to move Jamie Collins was an odd one. It's Bill Belichick though, and he has a supernatural sense of when players will decline rapidly, so we'll give him that one.
With Tom Brady back, the offense is humming and add that to a defense which, while not out there with the best of the best, gets the job done. It's hard to see anyone taking this team down. It's not a matter of smoke and mirrors—this is a well-coached team with a Hall of Fame quarterback who is ticked off and a bunch of players who believe in the scheme enough to execute it close to flawlessly.
They'll lose a game or two, but this is no pretender.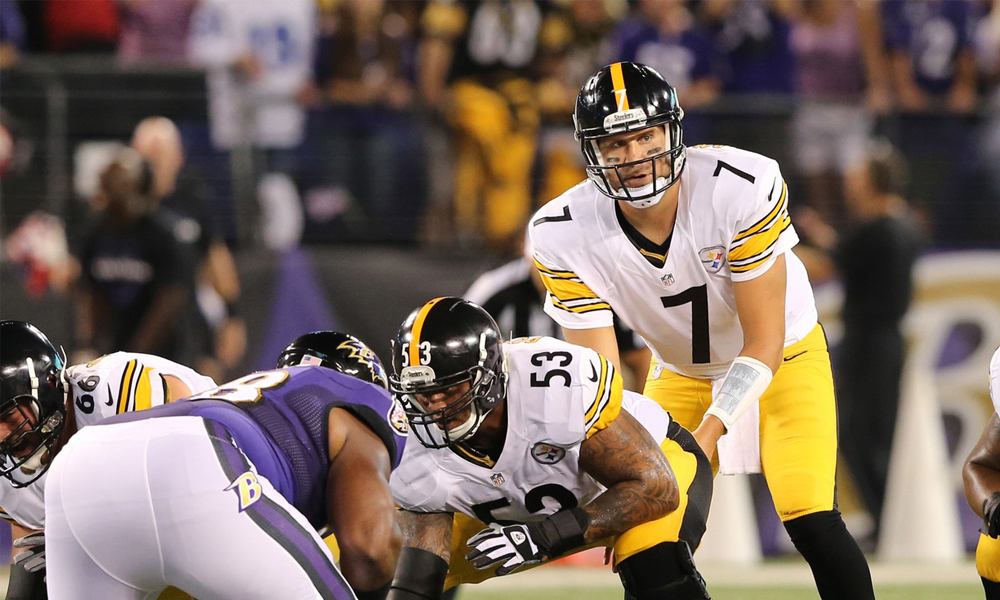 Pittsburgh Steelers, AFC North: Contender
It looks like quarterback Ben Roethlisberger is back, which is great news for Antonio Brown and LeVeon Bell. It's also good news for a middling defense that hasn't been able to get off the field the last two games.
This is the sort of thing we were just talking about—an elite offense can cover up a middling defense. The Steelers are a middling defense, statistically No. 16 against the run and allowing an average of 106.7 yards a game on the ground, while currently averaging 283.4 net passing yards per game, "good" for 26th in the NFL.
One thing the pass defense does well, though, is keep teams out of the end zone through the air. It's a "bend but don't break" philosophy which, statistically looks bad in total yards, but gets the job done in the red zone. The Steelers' eight passing touchdowns tie them for fourth-least in the NFL.
That, along with the return of Roethlisberger makes this team more contender than pretender. The defense isn't perfect, but the offense with Big Ben tilts the field in their favor.
The Steelers were Super Bowl picks for a lot of media, and while it's hard to see what Roethlisberger will look like coming back, there was good reason for the optimism in the first place.
We've seen them with the future Hall of Fame quarterback under center, and having him back solidifies that optimism again.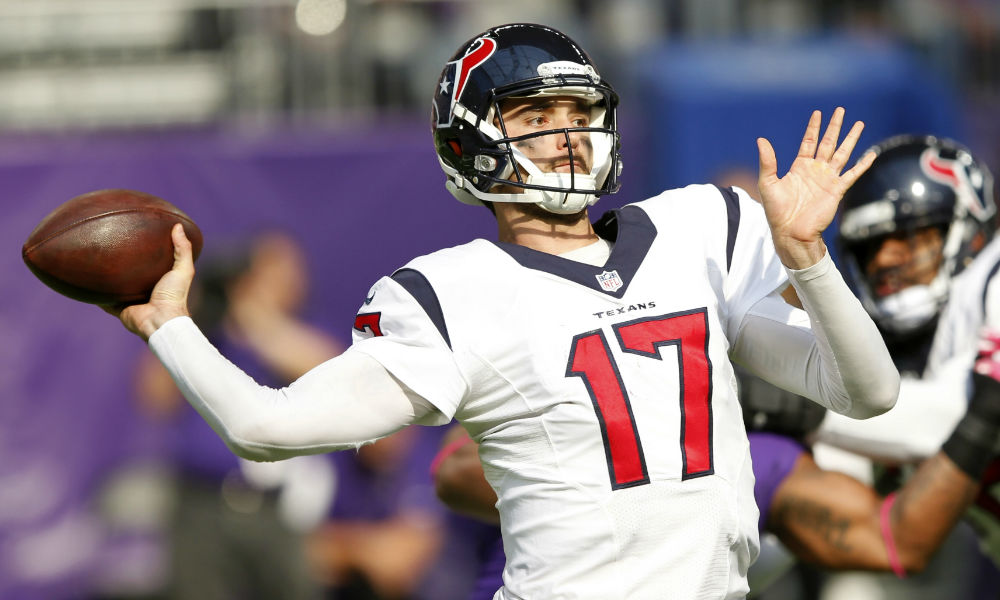 Houston Texans, AFC South: Pretender
The Houston Texans will probably make the playoffs and win their division. That's more an indictment of the weak AFC South than it is a statement about the Texans being good though.
There are two reasons why the Texans are not the real deal.
First of all, while their pass defense continues to be impressive, even without J.J.Watt, the run defense is brutal.
While it clamped down against the Detroit Lions last week, that's coming off a loss to the Denver Broncos, who sand-blasted the run defense with 190 yards and a pair of touchdowns. Before that, the Indianapolis Colts ran for 161 yards and a touchdown.
The Texans allow 125.8 rushing yards per game and have given up ten touchdowns on the ground, tying them for fourth most in the NFL so far.
Against a good stable of running backs, the Texans are really vulnerable.
What's more, the team seems to only win against mediocre to bad teams.  With the exception of Week 2 and a 19-12 win over the Kansas City Chiefs (who would dominate this division), they haven't won a game against a good team.
Yes, Colts fans, your team isn't good.
Add to it the incredibly underwhelming play of quarterback Brock Osweiler, and you've got quite a mess. Osweiler has yet to top 300 yards in a game, and that's with DeAndre Hopkins, Will Fuller and a very nice run game to support him. He's also thrown nine interceptions to go with nine touchdowns and has fumbled (and lost) the ball five times.
The Tennessee Titans are creeping up in the rear view mirror, and while the Titans are pretenders in their own right, the Texans might not even be able to hold them off.
This is a team held together by duct tape and good fortune and the definition of one and done if they limp into the playoffs.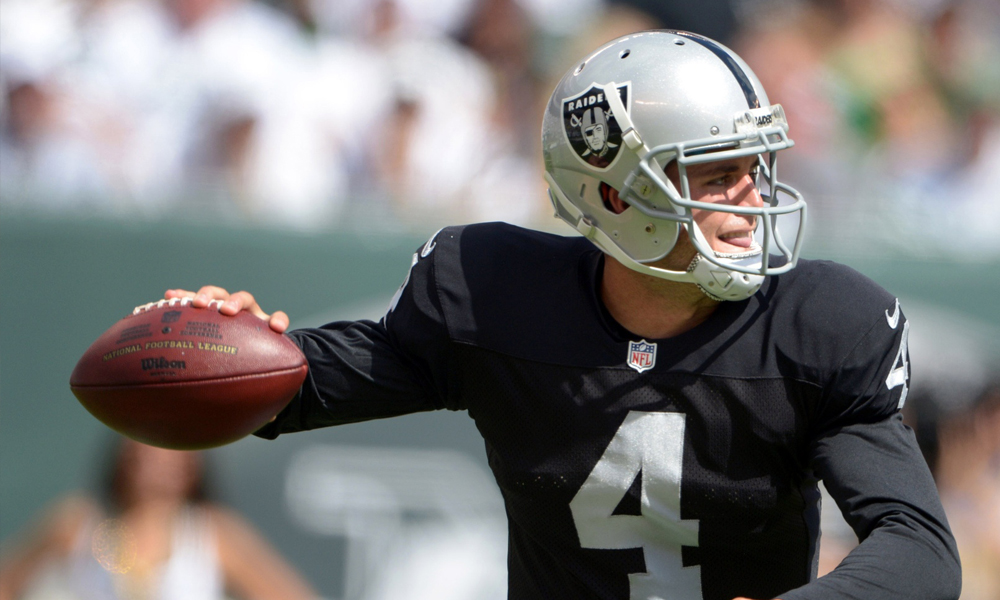 Oakland Raiders, AFC West: Pretender
Speaking of which—at the risk of angering Raider Nation, I have some legitimate concerns here. Yes, Derek Carr is rounding into an excellent quarterback (some would argue MVP worthy) and he has Amari Cooper to throw to, as well as Michael Crabtree. The run game is shaky and the offensive line is average at best, but ultimately it's not the offense which gives me pause.
It's the defense and that's what makes them pretenders.
It's not that you can't have a great offense overcome the foibles of a mediocre defense. It's that a very good offense cannot overcome a really bad defense. At some point you're going to be exposed. Granted, they have improved the last few weeks, allowing a lot less passing yards than their season average of 285.4. They've still allowed 15 passing touchdowns, while generated seven interceptions (a bright spot) and 11 sacks (not so much).
They've improved against the run as well, allowing closer to 100 yards allowed per game lately compared to their average of 125 rushing yards allowed per game.
Then again, they just beat up on Tampa Bay and Jacksonville, so those numbers might be a tad hard to trust.
Oh, and they broke a record for penalties last week with 23. Even figuring that never happens again, they get too many flags.
The offense makes this team a contender but until the defense shows it can play against some real teams again, the Raiders are contenders.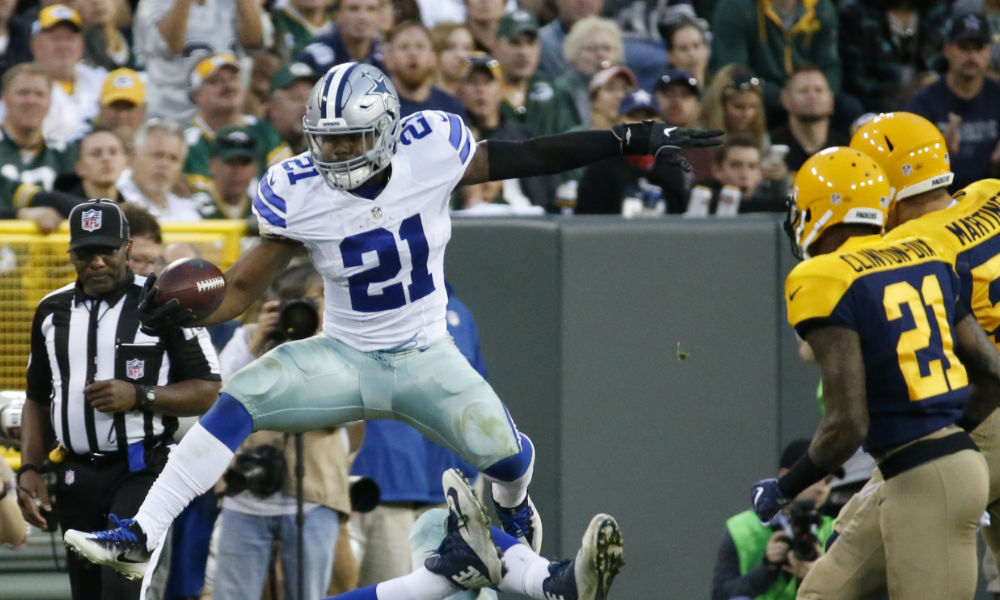 Dallas Cowboys, NFC East: Contender
The most impressive thing about the Dallas Cowboys isn't the fact that rookie Dak Prescott is making a strong case for keeping Tony Romo on the bench the rest of the season. No, it's that the defense has been playing so well.
Statistically, at least the pass defense doesn't look like world-beaters. They average 255.9 yards per game through the air, allowing 11 touchdowns compared to just four interceptions. One week they hold down rookie Carson Wentz (who had been pretty effective beforehand) to 194 yards and a touchdown, the next they let Aaron Rodgers throw for 294 yards (but still just one touchdown).
It does enough, though, and has managed to step up near the end of games in some big moments over the past three games.
Meanwhile, the Cowboys' rush defense is a stone wall. Ranked as the No. 9 rushing defense in the NFL, the Cowboys average just 92.9 yards allowed per game, and just three rushing touchdowns to date. That gets them tied for second-least in the NFL.
You can't run on these guys, which is the opposite of what defenses are discovering with rookie Ezekiel Elliott.
Thought we'd forgot about him?
No way. Elliott is definitely the engine running the offense and behind this offensive line, as long as he is healthy, teams are going to struggle to get off the field and defenses are going to be gassed in the fourth quarter.
Elliott and Prescott definitely benefit from a great offensive line, but both have proven they can carry the weight when it's needed.
Still, it's the defense which has stepped up and made the Cowboys a true contender.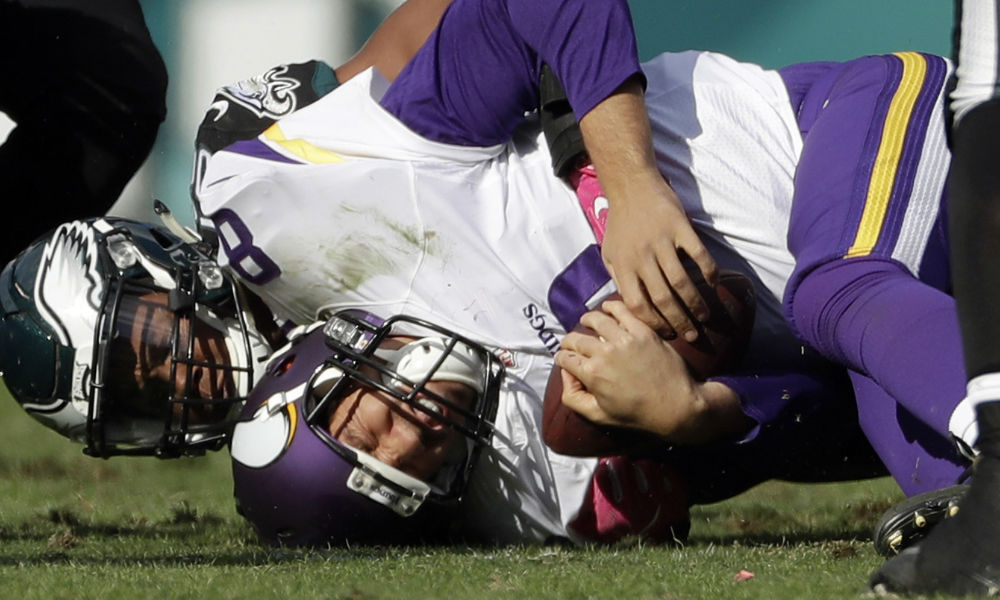 Minnesota Vikings, NFC North: Pretender
This one is kind of heartbreaking, because the Vikings have one of the best defenses in the NFL. That should be enough to carry them—if they even had a mediocre offensive line and offense.
Sam Bradford is discovering that at least in terms of the former, they don't.
And there's nothing you can do to fix the offensive line in terms of adding players, unless you wanted to trade a second round pick for Joe Thomas.  We looked at the offensive line issues in the loss to the Eagles, and everything we saw was still there against the Chicago Bears.
Yes, the lowly Chicago Bears. And that was when we realized that the Vikings were pretenders.
Maybe that changes with Pat Shurmur taking over the offensive reigns from Norv Turner. We've long thought Turner's focus on the run game and inability to innovate when called for would kill the offense, and that's what has happened.
Will Shurmur call more quick outs and slants to overcome the abomination of an offensive line not protecting Bradford? Even if he does, the line is still a mess. It has totally destroyed the run game and has made the vertical passing game which looked solid in the first few games of the season, a non-entity.
As the Green Bay Packers and the Detroit Lions improve, that offensive line issue may make it tough for the Vikings to even make those playoffs to begin with.
This defense might be able to carry the team to the playoffs—and we say "might" because they looked about as bad as any defense has ever looked Monday night—but the offensive line will continue to be this team's downfall.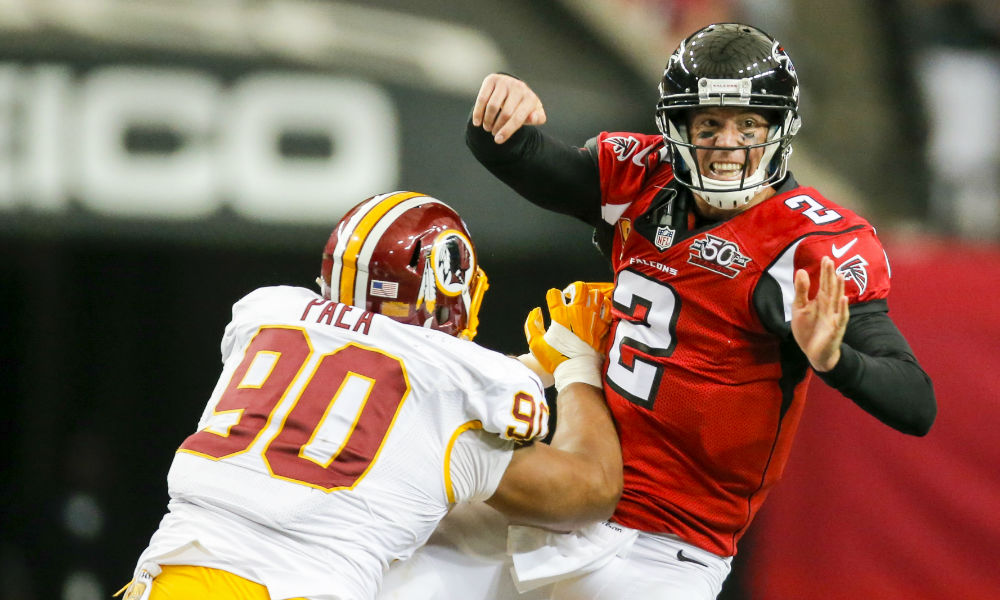 Atlanta Falcons, AFC South: Pretender
We've made the gunfighter analogy before, and it still seems to bear the weight of scrutiny.
The Falcons defense remains awful, especially the pass defense.
Last week was another perfect example, as the Green Bay Packers and Aaron Rodgers dropped 223 yards and four touchdowns on the secondary. Mind you, this was a Packers passing offense without Randall Cobb, which had been struggling all season and had no run support because the one guy who was good carrying the ball—wide receiver Ty Montgomery—was sick.
Atlanta is allowing 285.4 net passing yards per game (No. 27 in the NFL) and has let up 19 passing touchdowns to date, tying them for most allowed.
The run defense is marginally better, ranked as No. 11 in the NFL and 93.9 yards allowed per game, with seven rushing scores so far this year.
This team is all held together with offense, and honestly, it's an impressive offense.  Matt Ryan is having an MVP type of year, while Julio Jones, Devonta Freeman and Tevin Coleman (currently hurt) are incredibly effective. Even the role players like Mohamed Sanu have been stepping up.
It's a near thing each week though, and watching how the Seattle Seahawks and San Diego Chargers beat the Falcons—and Green Bay almost did—gives one pause.
This defense is bad. And as we have said before, at some point a gunslinger finds out he's not as fast as he used to be.
We think the Falcons have already shown they aren't and that's going to burn them in the playoffs, if not before.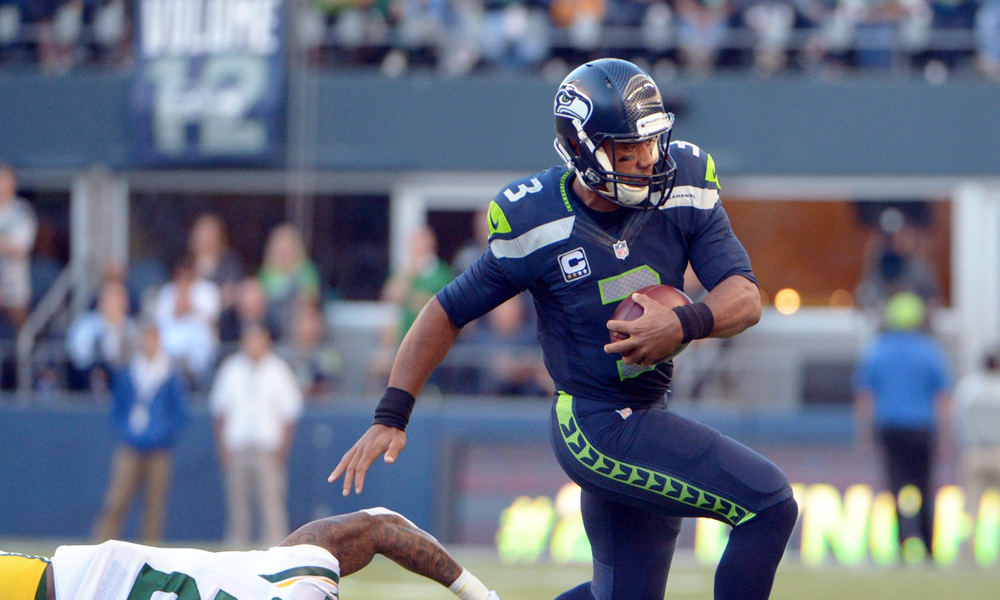 Seattle Seahawks, NFC West: Contender at home, Pretender on the road
Yeah, so we're splitting hairs, what of it?
The Seattle Seahawks are incredibly tough to beat at home…and not so much when traveling.
And it's hard to figure out what the heck is going on with that, other than to say that maybe this ranking should be for the fans at CenturyLink Field because they clearly make a huge difference.
The defense itself has played pretty well, allowing just 89.7 yards on the ground per game and 229.7 yards through the air. They've allowed just nine touchdowns total this year as well. They generally get the job done, though they struggled a bit in shootouts against Atlanta and New Orleans.
Interestingly, the win over Atlanta was at home, the loss to New Orleans was—you guessed it—on the road.
Sure most teams are better at home than on the road, but for Seattle the difference is very noticeable this season.
Which means if they have to play their playoff games on the road, they could be one and done. But if they play at home, in front of their crowd, there's no telling how far they can take it.
Broncos holding their breath on Derek Wolfe
Only two days after losing Billy Winn for the year with a torn ACL, the Broncos are now sweating out another potentially serious injury along the defensive line. Via multiple reports, Broncos defensive lineman Derek Wolfe was carted off the field during practice on Saturday. It's being described as a right ankle injury by coach [
more
]
Source: Mike Florio of ProFootballTalk
Powered by WPeMatico
Buccaneers admit mistake, boot Aguayo
In the NFL, it's always better to admit a mistake than to compound it. For the Buccaneers, the decision to burn a 2016 second-round pick on kicker Robert Aguayo has proven to be a mistake. The Buccaneers made the definitive admission of their error on Saturday, cutting Aguayo. He exits with $428,000 in fully-guaranteed salary [
more
]
Source: Mike Florio of ProFootballTalk
Powered by WPeMatico
Did Bucs put too much pressure on Aguayo?
After the Buccaneers surprised everyone by taking a kicker with the 59th overall pick in the draft, G.M. Jason Licht explained the move by heaping superlatives on the player. "I was very excited along with my staff and coaches about Roberto for a very long time," Licht told PFT Live in May 2016. "It's not [
more
]
Source: Mike Florio of ProFootballTalk
Powered by WPeMatico