We knew the offensive line woes would catch up to the Minnesota Vikings at some point. The sub-par play has been an issue for several seasons, and for the second year in a row even the mediocre linemen they have to employ got hurt, leading them to grab anyone they could—second year tackle T.J. Clemmings, an aging Jake Long—and throw them into the meat grinder.
Somehow, they had made it work for six weeks.
That ended against the Philadelphia Eagles, who inundated Sam Bradford with constant pressure and didn't even really need more than their base four down linemen to do it.
At some point, the Vikings just ran out of even middling talent.
Jake Long was especially bad against the Eagles, and has to be a cause for concern going forward. Not only is he a step—or five—slower, but there were times when his issues caused problems for other linemen.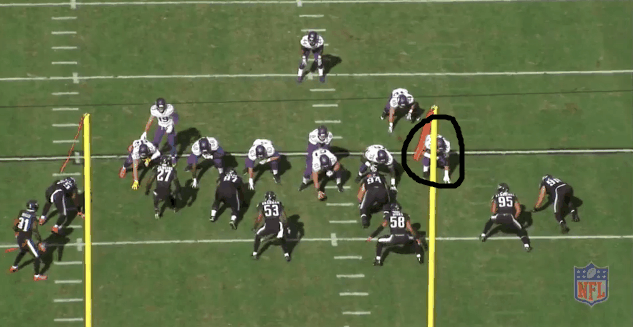 Long just cannot hang with the Eagles line, being forced backwards when run blocking and constantly on skates on pass plays as he was during the one below.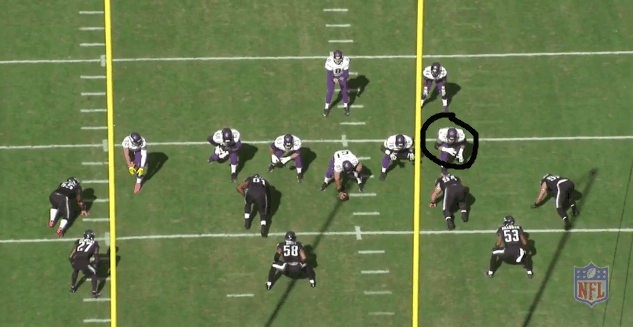 Note how Long finds a way to get into the guard's way, which frees up defensive tackle Beau Allen to pressure Bradford into an awful throw.
It's one thing to screw your assignment up. It's another to screw someone else's up in the bargain.
Long was instrumental in both of the two turnovers above. That can't keep happening, because as much as you want to fill in the usual Bradford narrative about being shaky under pressure, nobody can withstand the constant pass rush he saw and not cough the ball up.
Naturally, Long is just one issue in a long list of them.
Take a look at the run play below. There is so much going wrong on this play, it's hard to know where to start.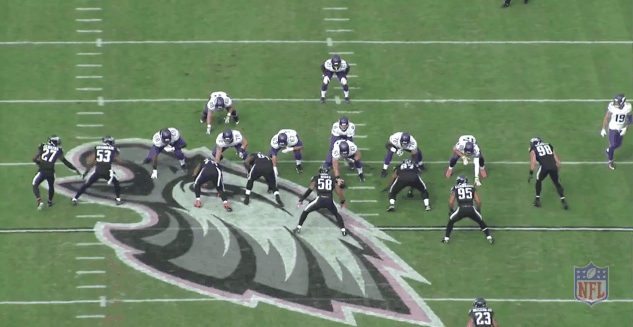 Let's start with the left guard, Alex Boone. At the snap, he pulls and runs to the right side of the line. Why? That's a great question since he barely makes contact when he arrives at the right tackle and allows safety Malcolm Jenkins to head into the backfield and make the tackle.
Even if he wasn't supposed to engage with Jenkins—a little far-fetched, but let's roll with it because we really don't know the assignment for sure—Boone barely does anything to the SAM linebacker, Nigel Bradham, when Boone gets where he's going.
It would have been beneficial had there been a hole for running back Jerick McKinnon to run through, in which case we'd have a better idea of what was supposed to happen with Boone. You'd need some blocking in order to create that sort of thing, and there's nothing close to blocking happening in front of the running back.
Right guard Brandon Fusco is absolutely destroyed by defensive tackle Fletcher Cox, who uses him as a piece of debris to close off the "A" gap. Right tackle Jeremiah Sirles is equally inept, getting ragdolled by defensive end Vinny Curry, and TJ Clemmings, set up as an extra offensive lineman on the right side basically gives what appears to be a comforting hug to Curry.
All that mess does is clog up what little running lane there was.
Oh, there is a fullback there as well, Zach Line, and he actually appears to execute a block. In fact, he's the guy blocking Bradham when Boone arrives on the scene to stand around.
What's truly staggering about this play is the run was supposed to go to the strong side—that's the one with the extra lineman in Clemmings, a pulling guard and a fullback. And yet that group of players—who had one person for each Eagles defender on the play—were pretty much overwhelmed.
This entire thing is a mess. Nobody seems to know what they are doing, they aren't coordinated at all and the line doesn't just fail to make things easier for McKinnon—they actively make things harder.
So what can the Vikings salvage this mess?
Certainly it's unlikely they can trade for a top-shelf offensive lineman, even though Cleveland seems to be willing to part with tackle Joe Thomas. The Vikings already coughed up two picks for Bradford, and as much as you want to protect your investment, dealing three picks for two players—two of them high picks—is a bad plan from a long-term standpoint.
Anyone cheaper isn't getting the job done—for an example, see the aforementioned foibles of Jake Long.
Plus, as we saw above, just adding more linemen doesn't seem to help. There are a few options, though.
First, the Vikings are likely going to have to take a page out of the Seattle Seahawks playbook and pull their tight ends in to block. MyCole Pruitt has been hurt, but Rhett Ellison saw the field last weekend and should see it more. He's a solid, if unspectacular, blocker and would help solidify whichever part of the line needed it most. Kyle Rudolph isn't much of a blocker though, so the other option at tight end is rookie David Morgan. While he hasn't played much this season, he can block and the Vikings need that desperately.
They also should have Line in and blocking for more than 15 of 76 offensive plays. Offensive coordinator Norv Turner would rather have receivers (or receiving options) out there than a warm body to block, but if he doesn't use Line more he's going to continue to get Bradford killed.
If not Line, at least use Matt Asiata or even McKinnon as another blocker.
Luckily for the Vikings, they aren't going up against the 1985 Bears this week on Monday Night Football, but they will see some better defenses after that in the form of Washington (at least a decent pass rush unit), Arizona, and eventually Green Bay again. Part of the success of the offensive line—or really, lack of failure—came from facing some lackluster pass rush units (including a JJ Watt-less Houston team).
They'll see more than a few teams like that going forward, but it's the good front lines which should worry them the rest of the way, and in particular in the post-season.
The Vikings have to figure out how to use the players they have to maximize and improve the blocking.
Otherwise, the Eagles' dismantling of the Vikings offensive line is just a taste of what is to come.