NFL Fun Stats – Week 15
The Seahawks' rushing attack of Russell Wilson and Marshawn Lynch are far and away the best in the league.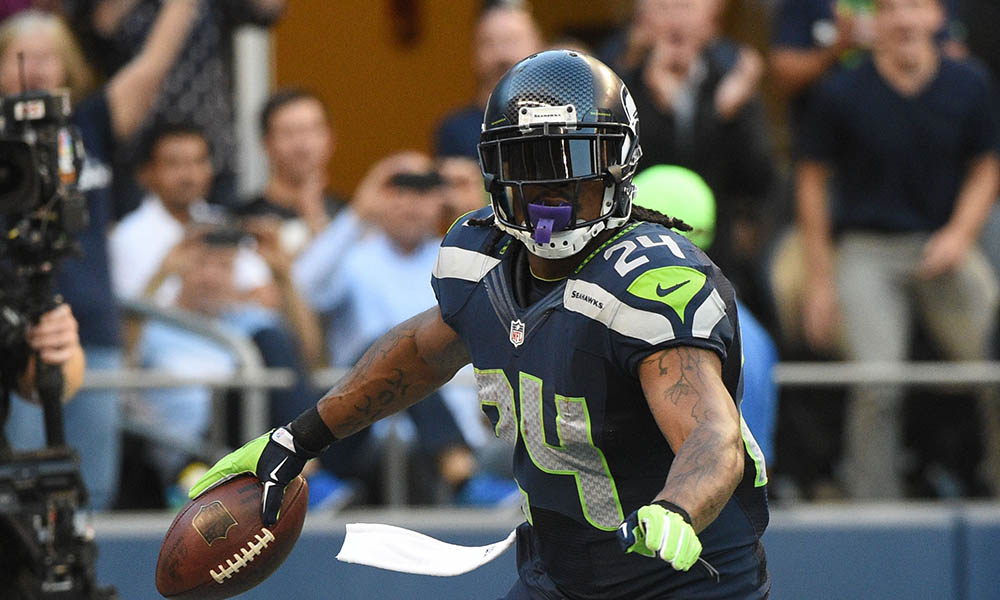 NFL Fun Stats is put together to provide a wide range of number-oriented morsels for those who crave the delicacy and geek-dom of NFL statistics, news and notes. If you're not quoting one note each week, I'm not doing my job. Here are your water cooler nuggets.
48
Sacks by the Buffalo Bills defense leads the in NFL after 13 games. The more popular defenses of the Pittsburgh Steelers and Seattle Seahawks have combined for 47 total sacks.
6
Straight games New York Giants rookie receiver Odell Beckham has hauled in more than 90 yards per game receiving. That streak is a rookie NFL record. Beckham has reached 100-yards receiving in four of his last six games and leads the Giants' in receptions (59), receiving yards (829), and is tied for the team lead with six touchdown catches. Even more impressive is Beckham missed the first four games due to a hamstring injury.
17
Straight games dating back to 2013 that the Kansas City Chiefs' quarterbacks have been unable to connect with a receiver for a touchdown. The Chiefs have gone over a season worth of games without a touchdown strike to their receiving unit. The last touchdown pass thrown to a receiver that resulted in six points by a Chiefs quarterback (regular season) was Week 12 in 2013 against the Denver Broncos. Junior Hemingway caught a 17-yard pass from Alex Smith in Kansas City's 35-28 loss to Denver.
9
Rushing yards by Pittsburgh Steelers running back Josh Harris in his first NFL game. Harris was signed to the active roster from the teams practice squad after the team waived backup running back Legarrette Blount. His nine yards rushing on four carries is not very note worthy, but it's worth noting that 2014 third-round pick Dri Archer was inactive in Week 14 while Harris was not. Archer had four total carries in the last six games he was active. Makes you wonder what Pittsburgh thinks of Archer at the moment.
23
Teams and every running back in the NFL rank behind Dallas Cowboys DeMarco Murray in rushing this season. Murray leads the league in rushing with 1,606 yards, and has proved to be the durable workhorse Dallas has needed since the glory days of Emmitt Smith. At his current pace averaging 123.5 yards per game, Murray would finish the season with 1,976 yards. It would rank as the eighth-best rushing season in NFL history. The seven single-season rushing totals that would rank above that mark (1,976) all have eclipsed the 2,000 yard barrier.
9
Houston Texans at the very least will record more sacks than rookie Jadeveon Clowney. The Texans' first-overall pick in 2014 underwent microfracture knee surgery Monday, and is expected to be sidelined nine months. Needless to say it's been a season to forget for Clowney who recorded zero sacks in 2014.
8
Different players have led the Oakland Raiders in receiving throughout the first 14 weeks of football. It is the opposite for the team that ranks first overall in total offense. The Indianapolis Colts T.Y. Hilton has led the team in receiving yards seven times this season. The possibility of Oakland taking a deep look at Heisman Trophy finalist, Alabama receiver Amari Cooper is very real. Check out the Football Insiders 2015 Mock Draft. 
7
Consecutive seasons will mark the end of Chicago Bears receiver Brandon Marshall's streak of reaching 1,000 receiving yards. He was hurt last Thursday night against the Dallas Cowboys after catching his third pass for 61 yards midway through the second quarter. He suffered broken ribs and a lung injury forcing him to go on the Bears' injured reserve ending his 2014 season.
5
Teams in the NFL could double their amount of rushing yards and still find themselves behind the Seattle Seahawks who lead the league with 2,211 rushing yards. The San Diego Chargers (1,101), Detroit Lions (1,093), Arizona Cardinals (1,038), Tampa Bay Buccaneers (1,025), and Oakland Raiders (955) are the five worst rushing teams in the NFL. All could double up and still not top the Seattle rushing attack.
60.6
Was the passer rating of Cincinnati Bengals quarterback Andy Dalton in their ugly 14-13 win over the Tampa Bay Buccaneers in Week 13. Dalton connected on 19 of his 27 pass attempts for 176 yards, one touchdown and three interceptions. Last week against the Pittsburgh Steelers Dalton had a passer rating of 128.8 and played one of his finest games of the year. He completed 21 of 29 passes for 302 yards and two touchdown passes. He added another rushing touchdown on his four carries for 22 yards. Cincinnati lost 42-21 and figured for a guy usually takes plenty of heat should get some relief after this particular loss.
Buccaneers admit mistake, boot Aguayo
In the NFL, it's always better to admit a mistake than to compound it. For the Buccaneers, the decision to burn a 2016 second-round pick on kicker Robert Aguayo has proven to be a mistake. The Buccaneers made the definitive admission of their error on Saturday, cutting Aguayo. He exits with $428,000 in fully-guaranteed salary [
more
]
Source: Mike Florio of ProFootballTalk
Powered by WPeMatico
Did Bucs put too much pressure on Aguayo?
After the Buccaneers surprised everyone by taking a kicker with the 59th overall pick in the draft, G.M. Jason Licht explained the move by heaping superlatives on the player. "I was very excited along with my staff and coaches about Roberto for a very long time," Licht told PFT Live in May 2016. "It's not [
more
]
Source: Mike Florio of ProFootballTalk
Powered by WPeMatico
Broncos holding their breath on Derek Wolfe
Only two days after losing Billy Winn for the year with a torn ACL, the Broncos are now sweating out another potentially serious injury along the defensive line. Via multiple reports, Broncos defensive lineman Derek Wolfe was carted off the field during practice on Saturday. It's being described as a right ankle injury by coach [
more
]
Source: Mike Florio of ProFootballTalk
Powered by WPeMatico