La'el Collins' NFL Draft Breakdown
La'el Collins is getting a lot of hype as a top pick, but he worth it? Find out inside.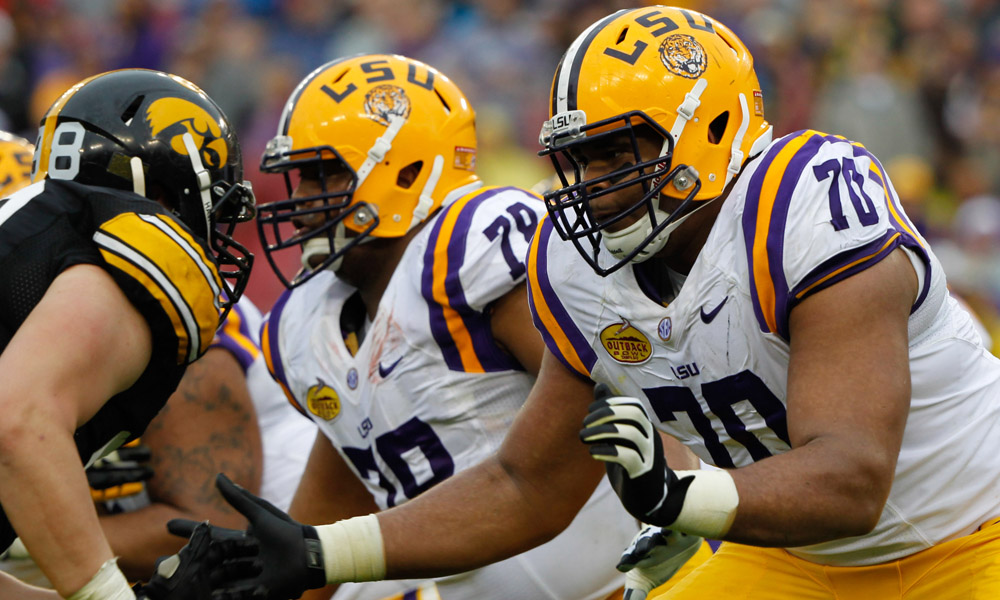 The quarterback is the most important player on any team. He is the player whose performance on the field has the biggest bearing on the result of a game; therefore, the players assigned to protect the quarterback are vital as well.
This is why there is such a high premium placed on left tackles as they protect a right-handed quarterback's blindside and generally face the best pass-rushers in the NFL, even though it is becoming more common for teams to place their best rusher on the right to create a mismatch.
However, It is exceedingly difficult to find quality offensive linemen, especially left tackles. One reason is "the planet theory" or that there are only so many people on the planet that are big enough and skilled enough to play offensive line at a high level in the NFL. It takes an enormous amount of skill and technique to be able to succeed in the trenches as an offensive lineman.
On nearly every single play, an offensive lineman is at an athletic deficit as defensive linemen may be the most athletic players in the NFL given their size. The only way for an offensive lineman to compensate for this deficit in athleticism is to master the techniques and nuances of offensive line play.
One of the top prospects in the 2015 NFL Draft who hopes to fill that scarcity of quality offensive tackles in the NFL is LSU offensive tackle La'el Collins who just won the coveted SEC Jacobs Blocking trophy for being the best offensive lineman in the SEC. Collins is a massive man as he is listed at 6-foot-5 and 321 pounds with what appears to be long arms.
Collins has been extremely productive, as he has had 219 knockdowns in 2,482 career snaps. This means he knocks down an opposing defender on 11.3 percent or one out of every 11 snaps he is on the field, which is a truly staggering number.
Despite that fact, it is impossible to tell how good an offensive lineman is based on stats since there are just not many of them out there.
Therefore, let's take a look Collins' tape and see if he deserves the label of a first-round pick.
Collins' first trait that jumps out on film is his initial punch. Collins may have the strongest punch out of the entire draft-eligible offensive lineman in the draft. The purpose of an initial punch is to redirect or severely limit the defensive lineman's force or momentum.
This play is a great example of La'el's great punch: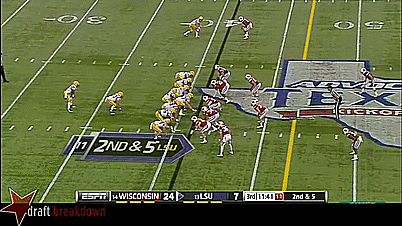 Collins is lined up at the left tackle with a tight end to his left with a defensive end slightly shaded to his outside. After the ball is snapped, Collins takes a 45-degree lead step to his left. He remains balanced as he moves to his left with his hand cocked and ready to fire. He then fires his hands inside, which jolts the defensive end's pads and creates a ton of movement at the line of scrimmage. He gets great arm extension and pushes the defensive end back two yards with his punch alone.
The ability to create this much movement with his punch alone is extremely rare among offensive lineman in today's game. Last year, Greg Robinson was able to create movement with his punch alone and Collins follow in his footsteps with this exceptional trait this year. When offensive linemen can create movement like the play above, it leads to huge holes that any running back can run through.
The next trait that Collins exemplifies is leg drive. Once an offensive lineman engages at the point of attack with a defender they must keep their feet moving to generate the necessary amount of force to move the opposing defender. In a base drive or "power" block, an offensive lineman's first step his his lead step, while his second is his attack step, which engages him with the defender. The only way for the offensive lineman to finish the block is to keep his feet moving through the contact or all his prior steps and punch will be wasted.
Here is a great example of Collins' great leg drive: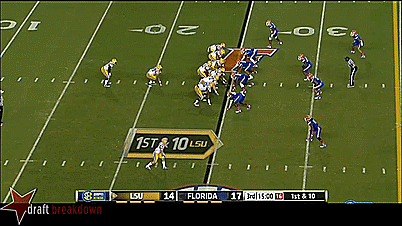 Once again, Collins is lined up at left tackle with a tight end to his left. However, this time Dante Fowler, one of the best defensive ends in college football, is lined up shaded to his outside. After the snap, Collins takes a slight lead step with his left foot followed by an attack step with his right foot. Fowler does a great job getting off the ball quickly, which limits Collins' ability to get a good initial punch. This initially causes a stalemate at the line of scrimmage. However, Collins drives his feet at the point of attack, while Fowler doesn't, which allows him create a ton of movement as he pushes Fowler four yards off the line of scrimmage.
Collins' strength, punch and leg drive allow him to dominate in drive or power blocks in a man-blocking scheme. However, it also manifests itself when he performs zone blocks as well. While La'el does a better job of moving vertically in the run game, he displays enough lateral mobility and foot speed to execute blocks on any outside zone or stretch plays.
Here is an example of Collins' performing a reach block on an outside zone run: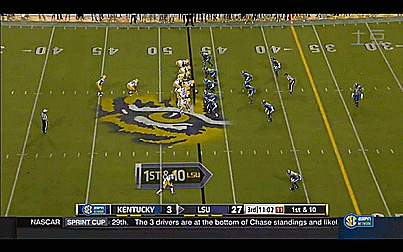 Collins is at the left tackle position with a tight end to his left and in a three-point stance as a defensive end is lined up head up on him. After the snap, he executes a slide step to his left, which allows him to gain leverage on the defensive end. Then, he does a great job of getting his outside hand on the outside number of the defensive end with his punch that jolts the defender. He does an excellent job of driving his feet through the contact and turning the defender to give his running back a clear lane to run through.
Collins not only does great work at dominating opposing defenders at the line of scrimmage, but he is surprisingly adept at blocking in space for someone his size. Most massive offensive linemen look awkward moving in space, but Collins looks relatively smooth when you compare him with them. Collins doesn't move as smoothly as some of the smaller, athletic tackles like Ty Sambrailo, but he is smooth enough to get the job done. Collins shows great mental processing in space as well. He does a great job of deciphering where and who to block in space and the best way to do it.
This is a great example of Collins working to the second level and blocking in space: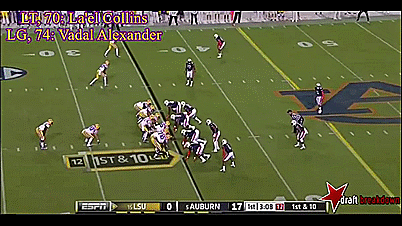 Collins is again at the left tackle position with a tight end to his left; however, on this play he is not covered by a defensive lineman. After the snap, the Collins takes a lead step with his right foot to perform a combination block on the defensive tackle with the left guard. As the seal blocker, his job is to hit the defender, so that the guard can perform his block, and to work to the second level and block the weak-side linebacker. Collins comes down and gets a great push, which knocks the defensive tackle down and basically eliminates him from the play. Collins then works to the second level and turns his head toward the linebacker on the weak side. Collins gets in range and performs a powerful punch that jolts the linebacker back a yard and give the running back room to get a sizable gain.
Collins has shown all the traits to be a dominant run-blocker in the NFL. However, offensive tackles in the NFL aren't paid to be run-blockers, they are paid to be great in pass protection. While Collins thrives in run blocking, he is no slouch in pass protection either.
Collins does a good job of getting out of his stance and into his pass set where he can mirror defenders extremely well. In the SEC, he has faced a number of premier edge rushers, like Alvin "Bud" Dupree, Dante Fowler and Preston Smith, and he has done exceptionally well.
This play showcases Collins' ability to mirror his opponents: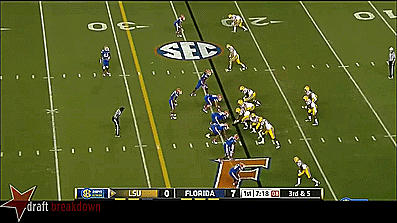 On this play, La'el is lined up at the left tackle in a two-point stance with Dante Fowler lined up as an outside linebacker opposite him. After the snap, Collins does a fantastic job of pushing off his inside foot and into his kick slide as Fowler explodes of the ball. Collins stays balanced in his kick slide and doesn't give Fowler a decent route to the quarterback. He stays patient and executes a great punch, which eliminates any opportunity for Fowler to generate pressure.
Even though the above play was a quick pass, it still shows the traits that allow Collins to thrive in pass protection. He gets into his kick slide quickly and balanced and stays square to the line of scrimmage so that Fowler doesn't have an opportunity for an inside counter move.
The last trait that makes Collins an exemplary offensive tackle prospect is his strong hands. Once he gets his hands on defenders its over, as it is extremely difficult to disengage off Collins' strong grips.
This play showcases Collins' strong hands: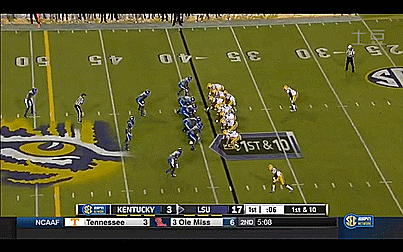 LSU is lined up in an unbalanced left formation. Therefore, Collins is lined as the left tackle with one tackle and a tight end to his left (he is the second person from the left of the center). After the snap, Collins performs a soft kick slide as he pushes off his inside foot and takes a short jab step backwards at a 45-degree angle to his left. Once Alvin Dupree (No. 2) gets in range, Collins shoots his hands inside and grabs Dupree's breastplate. Dupree tries as hard as he can to disengage off Collins, but he can't, which results in Dupree flailing around as Collins easily controls him.
While Collins is an upper-echelon tackle prospect, he does have one fundamental flaw in his game that he will need to fix. The one area where Collins doesn't make his blocks or where he gets beat are where he overextends or gets his weight over his toes. This leads to Collins losing balance and ending up on the ground far too often.
Here is an example of Collins overextending: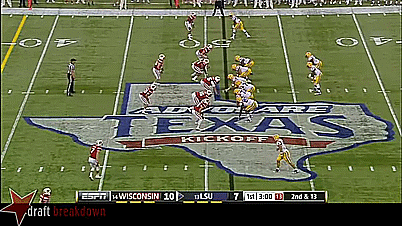 Collins is again lined up at the left tackle position with a tight end to his left. After the snap, Collins takes a slide step to his left to try to perform a get to the outside of the defensive end and turn him. However, Collins lunges at the defensive end and gets his pads over his toes, which allows the defensive end to easily execute a swim move over Collins who gets completely off balanced and falls to the ground.
Collins first punch is so good that sometimes he gets too eager to fire it off at defender, which causes him to lunge and loose his balance. If Collins overextends at the next level, he will get beat badly by the elite pass rushers he will face.
Overall, Collins' skill set best fits on a team that employs a power-running scheme where Collins can fire off the ball, move forward and dominate his man. Nevertheless, Collins has the ability to do a great job for a team that uses a zone-blocking scheme, but it would be utilizing him to the best of his ability. Collins would best be served as a right tackle initially as he cleans up some of his flaws in year one; before he is moved over to the left tackle position in year two or three just like the Dallas Cowboys did with Tyron Smith.
In a league that is in desperate need of quality offensive lineman, La'el Collins may be the first one off the board when April 30th rolls around.
Projection: Round 1
Games watched: Wisconsin (2014), Kentucky (2014), Auburn (2014), Mississippi State (2014), Florida (2014), Ole Miss (2014), Alabama (2014), Texas A&M (2014)
Buccaneers admit mistake, boot Aguayo
In the NFL, it's always better to admit a mistake than to compound it. For the Buccaneers, the decision to burn a 2016 second-round pick on kicker Robert Aguayo has proven to be a mistake. The Buccaneers made the definitive admission of their error on Saturday, cutting Aguayo. He exits with $428,000 in fully-guaranteed salary [
more
]
Source: Mike Florio of ProFootballTalk
Powered by WPeMatico
Did Bucs put too much pressure on Aguayo?
After the Buccaneers surprised everyone by taking a kicker with the 59th overall pick in the draft, G.M. Jason Licht explained the move by heaping superlatives on the player. "I was very excited along with my staff and coaches about Roberto for a very long time," Licht told PFT Live in May 2016. "It's not [
more
]
Source: Mike Florio of ProFootballTalk
Powered by WPeMatico
Broncos holding their breath on Derek Wolfe
Only two days after losing Billy Winn for the year with a torn ACL, the Broncos are now sweating out another potentially serious injury along the defensive line. Via multiple reports, Broncos defensive lineman Derek Wolfe was carted off the field during practice on Saturday. It's being described as a right ankle injury by coach [
more
]
Source: Mike Florio of ProFootballTalk
Powered by WPeMatico