NFL AM: Who Are The Top Trade Targets?
Find out which players could be dealt this weekend, as well as what the Titans will get with their new gunslinger.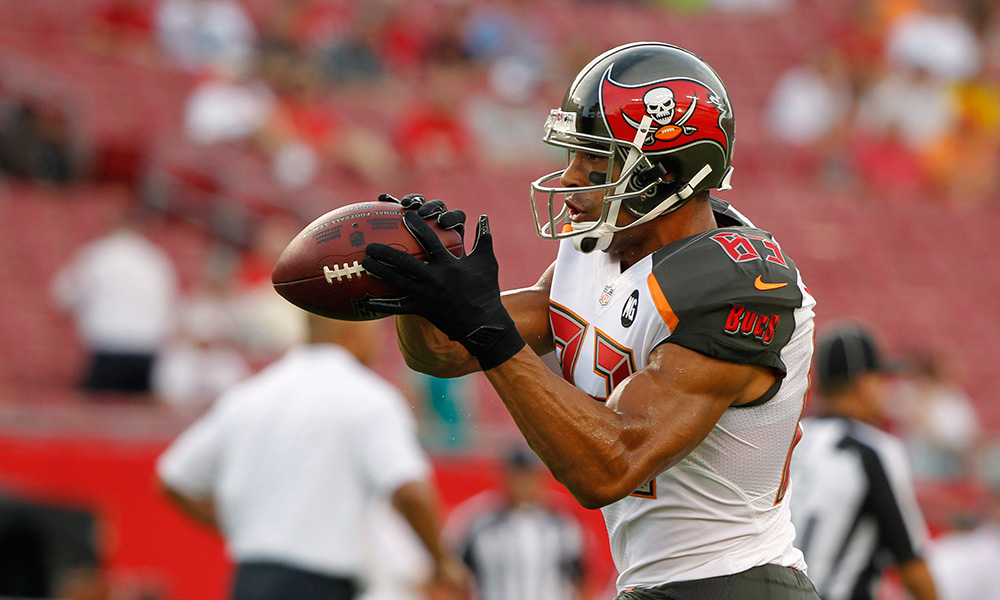 Possible Trade Targets
The NFL trade deadline isn't quite as active as what we see with MLB or the NBA. There usually isn't a flurry of deals as teams will usually call another team's bluff if they sense they're unhappy with a player, waiting for said player to be released (as there are no guaranteed contracts).
We've already seen one deal that can't be considered anything more than minor as the Tennessee Titans shipped linebacker and former second-round pick Akeem Ayers as well as a 2015 seventh-round pick to the New England Patriots for a sixth-round pick.
It's expected that we might see another deal or two prior to Monday's trade deadline. We're going to look at a few players who may be dealt.
Vincent Jackson, WR, Tampa Bay Buccaneers
"We finished in last place with you; We can finish in last place without you," former Pittsburgh Pirates general manager said to his star second baseman Ralph Kiner when Kiner asked for more money.
This type of logic can probably be applied by the Tampa Bay Bucs regarding Pro Bowl wide receiver Vincent Jackson. Jackson is the perfect deadline type of target. He's an elite wide receiver whose game doesn't depend on speed and he's a perfect locker room guy. The Bucs are going nowhere quickly and they can use a middle-round draft pick in exchange for a player who they've already drafted the replacement for.
"We like our football team that we're going with and have here right now," Buccaneers head coach Lovie Smith said. "We're not trying to shop any players to answer any questions out there. And if people call about some of their players, we take all calls. We don't say, 'Nope, this area code, we're not going to take this call.' We don't do that. We listen to what everyone has to say and we go from there. You saw who was on our roster today, and I would just kind of go with that."
Although Smith claims that he's not shopping any of his guys, one would assume that he and general manager Jason Licht would have to listen to offers.
Potential trading partners: New England Patriots, Cincinnati Bengals, Kansas City Chiefs, New York Giants, Seattle Seahawks.
Jake Locker, QB, Tennessee Titans
With the season all but lost, the Titans officially benched their former first-round pick in favor of sixth-round draft pick Zach Mettenberger. Locker doesn't figure to be in the Titans' plans and it wouldn't take very much for a team to kick the tires on the oft-injured 26-year-old.
Potential trading partners: Houston Texans, Washington Redskins, Tampa Bay Buccaneers, St. Louis Rams.
Darren McFadden, RB, Oakland Raiders
The days of former first-round pick Darren McFadden being a three-down back are far from over, but he still has value for someone as a receiver out of the backfield and despite having a disappointing start to the season, he has a pair of touchdowns. McFadden is playing on a one-year deal so a conditional late-round pick should be enough for someone to add McFadden to their backfield.
Potential trading partners: Buffalo Bills, New York Giants, Baltimore Ravens, Denver Broncos, Minnesota Vikings.
Arthur Brown, LB, Baltimore Ravens
In just his second season, Arthur Brown has seemingly fallen out of favor with the Baltimore Ravens. Brown is undersized at 6'0, 235 pounds, but he was a very active player at Kansas State. Brown lost his job to first-round pick C.J. Mosley, who has been excellent. Baltimore reportedly attempted to deal Brown prior to the start of the season.
Potential trading partners: Jacksonville Jaguars, Kansas City Chiefs, New York Giants, Dallas Cowboys, Detroit Lions, New Orleans Saints.
Broncos Take Control Of The AFC West
The Denver Broncos put some distance between them and the rest of the AFC West with their 35-21 victory over the San Diego Chargers on Thursday night football.
Peyton Manning added to his NFL touchdown passing record by tossing three more scores, all to wide receiver Emmanuel Sanders to put his career total up to 513. Before arriving in Denver, Sanders had no 100-yard receiving games. He's had four in the past six games. Sanders caught nine passes for 120 yards and a career-high three touchdowns on Thursday evening.
With the victory, Denver moved to 6-1 and is now two games ahead of San Diego (5-3) in the loss column with head-to-head victories over the Chargers and the Kansas City Chiefs (4-3).
Mettenberger Prepared To Let It Rip
As suggested by Football Insiders, the Tennessee Titans have effectively thrown in the towel on their miserable 2014 season and have named sixth-round pick Zach Mettenberger as their starting quarterback on Sunday when they take on the Houston Texans.
"We are going to go with Zach at QB this week," Titans head coach Ken Whisenhunt said. "We were still waiting to see where Jake's hand was going to be as far as whether he was going to be the backup or not depending on if he could do that… That's the order in which we're going to go from this point."
With a 2-5 record, the Titans aren't going anywhere and this decision is confirmation that first-round pick Jake Locker is no longer in the team's plans.
"We feel like it's an opportunity to see what Zach can do just like a number of our younger players that have already started to contribute," Whisenhunt added. "We're looking forward to seeing where we go from here."
So what kind of player under center will they get with the rookie from LSU? A fearless one.
"You've got to take risks in this game," Mettenberger said. "You're probably going to misquote me. But to play in this league 10 years, you've got to throw it to your guys. Something coach (Cam Cameron) taught me last year (at LSU) is, I'm the guy with the ball, if I view a guy as open, he is open. So throw it to our guy, away from theirs.
"I think the term gunslinger gets thrown around a little too much. If you turn the ball over I guess that can be kind of a label you get. But I am trying to avoid that. I don't want to be a gunslinger, I want to be a quarterback."
During his senior season at LSU, Mettenberger completed nearly 65 percent of his throws for better than 3,000 yards with 22 touchdowns and eight interceptions while leading the Tigers to a 9-3 regular season record before spraining his ACL and MCL, which caused him to miss the team's Outback Bowl victory over Iowa as well as the Senior Bowl.
Mettenberger played fairly well in the preseason as a member of the third-team offense. He completed nearly 70 percent of his throws for a league leading 659 yards with two touchdowns and a pair of interceptions. The Texans are likely to have first-overall pick JaDeveon Clowney back from a knee injury he suffered in Week 1. The Texans' defense ranks 26th overall and 11th in scoring, allowing 21.4 points per game.
Buccaneers admit mistake, boot Aguayo
In the NFL, it's always better to admit a mistake than to compound it. For the Buccaneers, the decision to burn a 2016 second-round pick on kicker Robert Aguayo has proven to be a mistake. The Buccaneers made the definitive admission of their error on Saturday, cutting Aguayo. He exits with $428,000 in fully-guaranteed salary [
more
]
Source: Mike Florio of ProFootballTalk
Powered by WPeMatico
Did Bucs put too much pressure on Aguayo?
After the Buccaneers surprised everyone by taking a kicker with the 59th overall pick in the draft, G.M. Jason Licht explained the move by heaping superlatives on the player. "I was very excited along with my staff and coaches about Roberto for a very long time," Licht told PFT Live in May 2016. "It's not [
more
]
Source: Mike Florio of ProFootballTalk
Powered by WPeMatico
Broncos holding their breath on Derek Wolfe
Only two days after losing Billy Winn for the year with a torn ACL, the Broncos are now sweating out another potentially serious injury along the defensive line. Via multiple reports, Broncos defensive lineman Derek Wolfe was carted off the field during practice on Saturday. It's being described as a right ankle injury by coach [
more
]
Source: Mike Florio of ProFootballTalk
Powered by WPeMatico