NFL AM: Tough Market For Hoyer
Brian Hoyer will have a tough time finding a new starting job, and the safest picks in the draft aren't all that safe.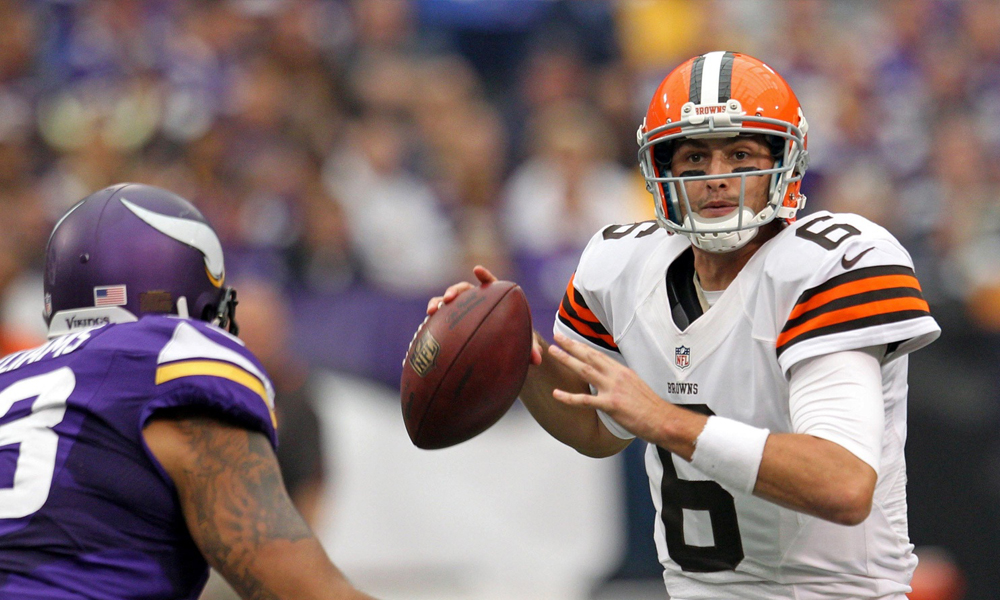 Hoyer Holds On To His Job
Cleveland Browns head coach Mike Pettine announced Wednesday that Brian Hoyer would continue to be his starting quarterback. This comes just three days after Hoyer was benched in the Cleveland's 26-10 loss.
"You almost look at it like a risk-reward situation," Pettine said, according to the Browns' Web site. "There's a lot of unknown [with Johnny Manziel]. And we've known we've been very effectively offensively, at times. We are hopeful we can get back to those times when we were efficient moving the ball and eating up the clock.
"We're going to get Brian playing better. He knows there's some things he needs to work on. He's shown the ability to bounce back from things that have happened negatively in the past. Just look internally at the Atlanta game … he made the mistakes he made and was able to bounce back. We're confident he'll be able to do that this week."
The non-move to stick with Hoyer makes sense on the surface as the Browns are 7-5 and in playoff contention for the first time in seven years. The problem is that Cleveland has a first-round investment in Johnny Manziel and Hoyer simply isn't good enough to get the Browns or anyone else where they need to go.
Although Pettine may be staying with Hoyer now, it's certain that he will have the shortest of leashes. That brings us to the next issue, which will be Hoyer's impending free agency and which team's might be interested in him.
With an impending divorce between Robert Griffin III and the Washington Redskins, as well as a minimum of two quarterbacks that will be selected in the first round of next April's draft, the landing spots for Hoyer are getting more and more difficult to target.
"I can't imagine there will be much interest in Hoyer as a starter," an AFC scout told Football Insiders. "He has average tools and a thin body of work."
The days of the placeholder quarterback are numbered. It's tough to imagine that any team would see Hoyer as "the answer" to their quarterback problem with an average arm, no real mobility and a tendency to make mistakes. If and when Cleveland let's him walk, it will speak volumes that the team chose to trade up to draft a quarterback that 20 teams passed on and are opting for him over Hoyer.
Just because Andy Dalton received $15 million per year doesn't mean that every mediocre passer will get that sort of money. Hoyer is a relic that's entering the market at a bad time.
The New York Jets, Tennessee Titans, Tampa Bay Buccaneers, Washington Redskins and St. Louis Rams are expected to address their quarterback situations in the offseason. With at least two and most likely three signal callers expected to become first-round picks, and Robert Griffin III and Mark Sanchez also expected to be available, Hoyer's value at this time is at the lowest point since the 2014 season began.
Are Safe Picks Really Safe?
We've seen a recent trend in the draft as teams are taking offensive linemen early in the first round. The reason behind it is not only the concept of "large human beings," but also that they are considered "safer" draft picks.
That perception doesn't entirely appear to be reality as we've seen plenty of Top 10 busts on the O-line.
2014 Top-10 picks Greg Robinson and Jake Matthews have made very little positive impact in their rookie campaigns. There were five linemen selected with the first 10 picks in 2013 (Eric Fisher, Luke Joeckel, Lane Johnson, Jonathan Cooper and Chance Warmack) and not a single one of them has looked like a future Pro Bowler, and Joeckel has looked like a complete bust.
Out of the 19 Top-10 picks since 2004, you can make a legitimate case that only Joe Thomas, Trent Williams and Tyron Smith have been worth the selection. Although there's still plenty of time for some of the younger guys to improve, it appears overwhelmingly that the "safe" offensive line picks haven't really been safe at all.
Broncos holding their breath on Derek Wolfe
Only two days after losing Billy Winn for the year with a torn ACL, the Broncos are now sweating out another potentially serious injury along the defensive line. Via multiple reports, Broncos defensive lineman Derek Wolfe was carted off the field during practice on Saturday. It's being described as a right ankle injury by coach [
more
]
Source: Mike Florio of ProFootballTalk
Powered by WPeMatico
Buccaneers admit mistake, boot Aguayo
In the NFL, it's always better to admit a mistake than to compound it. For the Buccaneers, the decision to burn a 2016 second-round pick on kicker Robert Aguayo has proven to be a mistake. The Buccaneers made the definitive admission of their error on Saturday, cutting Aguayo. He exits with $428,000 in fully-guaranteed salary [
more
]
Source: Mike Florio of ProFootballTalk
Powered by WPeMatico
Did Bucs put too much pressure on Aguayo?
After the Buccaneers surprised everyone by taking a kicker with the 59th overall pick in the draft, G.M. Jason Licht explained the move by heaping superlatives on the player. "I was very excited along with my staff and coaches about Roberto for a very long time," Licht told PFT Live in May 2016. "It's not [
more
]
Source: Mike Florio of ProFootballTalk
Powered by WPeMatico