NFL AM: The Good, The Bad And The Jaguars' Offense
The Patriots are peaking, Mike Smith is sinking and the Jaguars offense has set football back half a century.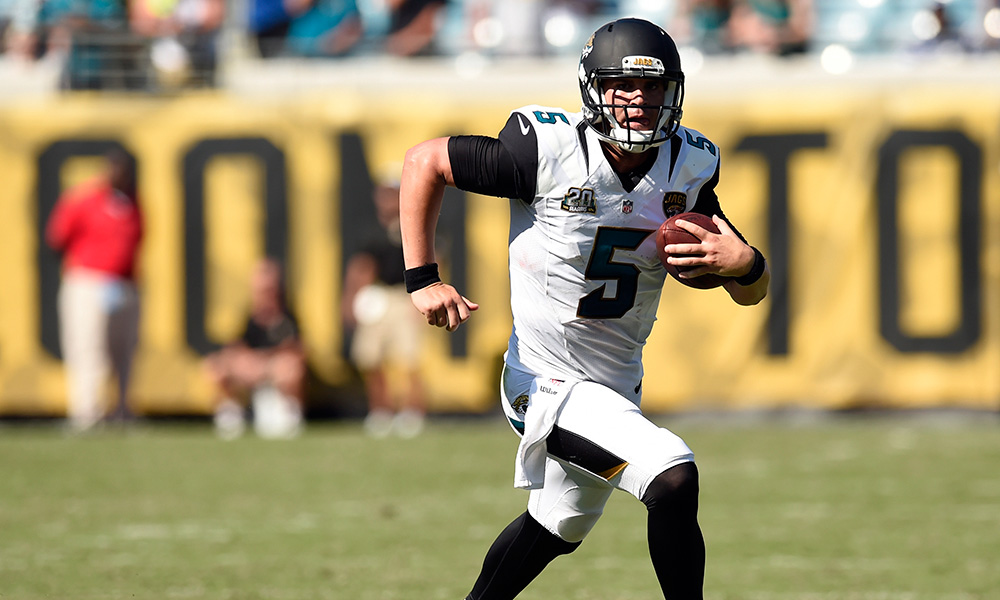 The Patriots Are A Cut Above
The New England Patriots have found their stride as they're riding a seven-game winning streak. On Sunday, New England disposed of the former NFC North leading Detroit Lions, 34-9 in a game which wasn't nearly as close as the final score would indicate.
"Everyone is linked together," Patriots' quarterback Tom Brady said, "so we all feed off each other — offense, defense, special teams."
All three phases dominated on Sunday as New England outgained Detroit by over 100 yards and kept the Lions out of the end zone for the second straight game.
"I am not concerned," Lions wide receiver Calvin Johnson said of his team's offensive struggles. "We still have time to get things going."
Detroit ran into the buzzsaw which is the New England Patriots. Since their 41-14 loss in Week 4 against Kansas City, the Patriots haven't lost and are averaging just shy of 40 points per game. New England has won 15 straight home games and it's clear that they look like the best team in the NFL.
New England puts their winning streak on the line next week as they travel to Lambeau Field to take on Aaron Rodgers and the Green Bay Packers.
Mike Smith Is Clueless With the Clock
There is no shame in losing to the Cleveland Browns this season. Cleveland is a more than respectable 7-4 and they do a lot of little things correctly.
A coach shouldn't be fired for losing to the Browns.
Atlanta Falcons head coach Mike Smith will probably lose his job for Sunday's loss against the Cleveland Browns.
The job of the head coach is to put his team in the best possible position to win a football game. Mike Smith did anything but that on Sunday as he once again botched the final minute of the Falcons' 26-24 loss to Cleveland.
With Atlanta driving down the field trailing 23-21, running back Steven Jackson ran for a first down on the other side of the two-minute warning. Faced with a third-and-2 on the Cleveland 35-yard line, Mike Smith inexplicably called a timeout with 55 seconds remaining.
"We wanted to get our best play for third-and-2 to try and earn the first down," Smith said. "That was our thought. We were right on the edge in terms of where we wanted to be in terms of field goal range. We wanted to get a first down."
We wouldn't be speaking of the timeout if the Falcons made a first down, but a long pass for Devin Hester fell incomplete, stopping the clock and allowing the Browns to engineer a drive without valuable seconds left and all of their timeouts.
"The look that they gave us said to throw the ball, and we did," Smith said. "And we didn't convert it."
To put it simply, Falcons head coach Mike Smith couldn't have done much more to assist the Cleveland Browns in winning Sunday's game.
Losing to Cleveland doesn't matter. Losing at home in November doesn't matter. Wins are difficult to come by in the NFL and giving your opponent additional opportunities to beat you is yet another example in the long line of botched in-game management by Falcons' head coach Mike Smith.
That matters.
The Jaguars Offense Reaches New Depths
The Jacksonville Jaguars knew when that when they inserted rookie quarterback Blake Bortles into their Week 3 loss to the Indianapolis Colts that there would be some growing pains with a young quarterback. The pains have grown to aches and after eight starts the young signal caller seems to be more confused than ever and the league's worst offense has taken yet another step back.
"It was hard," Jaguars quarterback Blake Bortles said after Sunday's 23-3 loss. "The defense played really well. They stood up when we put them in some bad situations, and they got some turnovers, so that was good. I thought they did a really good job and obviously we weren't able to capitalize on it. We had two turnovers on our own in the first half. It's a good team. The Colts are a good team and we had some good opportunities and didn't capitalize on them."
The Jaguars defense forced three Indianapolis takeaways in the first 16 minutes of the game and all the offense could muster was three points.
"Yeah, I would have liked to turn those into points," Jaguars head coach Gus Bradley said. "Give yourself a chance and those opportunities against them. They're the No. 1 ranked offensive team in the league. If we give them pressure and you're getting the ball and you got opportunities and you're on a roll, all those good things happen, we have to take advantage of them."
Sunday's loss was especially frustrating as the Jaguars had a bye week to prepare for a Colts' team that was blown out by New England last week. During their earlier blowouts, the Jaguars had the excuses of a confused defense, bad matchups and a quarterback who was brand new.
In the 23-3 loss, the Jaguars offense looked as bad as it ever has in franchise history. Receivers had no separation, the offensive line looked dumbfounded when the Colts' defensive line stunted and Blake Bortles looked like a deer in headlights. Bortles first throw of the game was intercepted, and although that was his only turnover in the game, he looked utterly confused and tentative, as if he was simply trying not to make mistakes.
"I actually just try to think about the ball and not turning the ball over, but if I see something and there's something I like or something that looks good, I'm going to throw it. So there's not really a problem with that," Bortles said after being asked about being afraid to turn the ball over.
The final offensive statistics show the Jaguars with 194 yards of total offense, 11 first downs, two turnovers and just three third-down conversions. 92 of their yards came on the team's final possession where it wasn't just garbage time, it was "hot garbage time."
The Jaguars did the right thing by getting their future started early with Blake Bortles. Unfortunately, due to injuries and an overall lack of roster talent the team can't put him in a situation where any quarterback would be successful, especially a rookie quarterback who started just a year and a half in college.
Buccaneers admit mistake, boot Aguayo
In the NFL, it's always better to admit a mistake than to compound it. For the Buccaneers, the decision to burn a 2016 second-round pick on kicker Robert Aguayo has proven to be a mistake. The Buccaneers made the definitive admission of their error on Saturday, cutting Aguayo. He exits with $428,000 in fully-guaranteed salary [
more
]
Source: Mike Florio of ProFootballTalk
Powered by WPeMatico
Did Bucs put too much pressure on Aguayo?
After the Buccaneers surprised everyone by taking a kicker with the 59th overall pick in the draft, G.M. Jason Licht explained the move by heaping superlatives on the player. "I was very excited along with my staff and coaches about Roberto for a very long time," Licht told PFT Live in May 2016. "It's not [
more
]
Source: Mike Florio of ProFootballTalk
Powered by WPeMatico
Broncos holding their breath on Derek Wolfe
Only two days after losing Billy Winn for the year with a torn ACL, the Broncos are now sweating out another potentially serious injury along the defensive line. Via multiple reports, Broncos defensive lineman Derek Wolfe was carted off the field during practice on Saturday. It's being described as a right ankle injury by coach [
more
]
Source: Mike Florio of ProFootballTalk
Powered by WPeMatico