NFL AM: Suh Playing Out The String With Detroit
A look at the final days of Ndamukong Suh in Detroit, Tony Sparano's tough task and why you won't have to worry about blackouts any longer.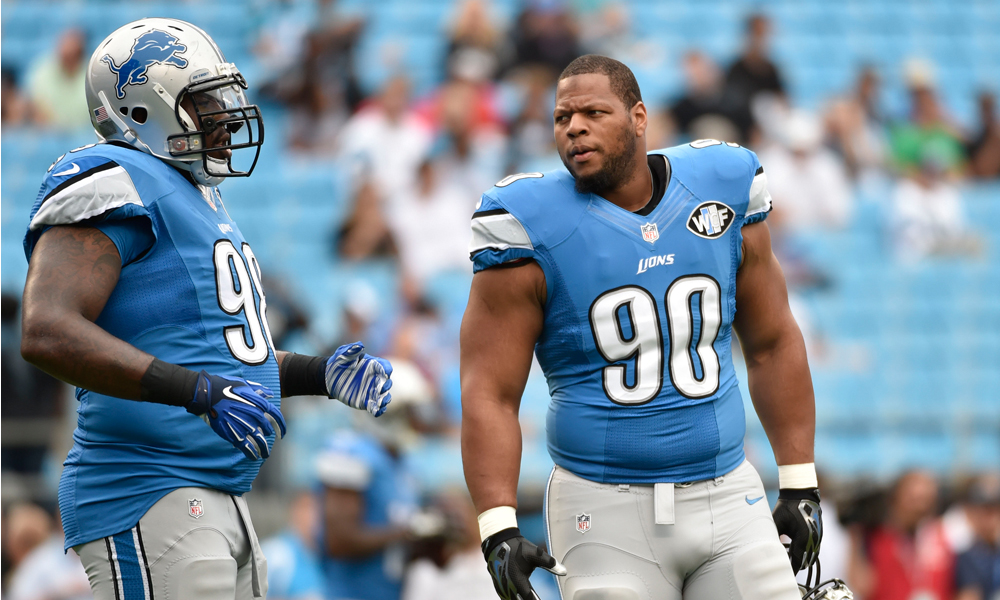 Suh Playing Out The String
The Detroit Lions are enjoying a defensive renaissance. After spending year after year with a unit that simply hoped to get enough stops so the offense could win a shootout, the Lions are leading the way with their defense as they are currently ranked fifth in the NFL in total yards allowed.
A main reason for this resurgence has been the play of former second-overall pick Ndamukong Suh. The 27-year-old Suh has been a fixture in the middle of the defense as he sucks up blocks and allows others to make plays.
"He's a guy you have to pay attention to," Lions head coach Jim Caldwell said of his Pro Bowl defensive tackle. "He certainly warrants double-teams in almost every facet, which opens up the opportunity for some other guys to make plays, whether it's pass rush or in the run game where they can't afford to single-block him, necessarily.
"So he gets a lot of attention and I think I mentioned last week if it was hockey, he'd lead the league in assists. He's certainly a very important guy for us."
As great as Suh has been, the Lions should enjoy it while they can because Suh's rookie contract expires at the end of this season and it's being rumored that the Lions are resigned to the fact that there will be a parting of ways.
Caldwell was asked about Suh's contract situation after Sunday's 24-17 victory over the New York Jets and he didn't want any part of the question.
"I'm not going to talk about those kinds of things," Caldwell said. "I think it was addressed early on in the season when [team president] Tom [Lewand] made the last statement he made in regard to it. Other than that, I'm not going to talk about any issues."
If the Lions are to do a 180-degree turn on their stance with Suh, they'll have to do it without the benefit of the franchise tag. Under Suh's current deal, a franchise tender would cost Detroit $27 million, therefore that option will be off the table.
The Lions need to enjoy the final 12 regular season games and hopefully some postseason action while Suh is wearing the Honolulu Blue.
Sparano Takes Over In Oakland
After an 0-4 start that saw Dennis Allen's career record fall to 8-28, the Oakland Raiders decided to make a coaching change. Stepping in on an interim basis is former Miami Dolphins head coach Tony Sparano.
Sparano takes over a team that has dropped 10 straight games and 12 of their last 13 overall. They have a rookie quarterback who is currently hurt and no singular position group that stands out as anything above mediocre.
"We've got a lot of good players here," Sparano said. "We need to let them do what they do best."
Still, Sparano is in a no-lose situation. If the Raiders continue to lose under his guidance, nobody will blame him; they'll blame the general manager and organizational chaos. If he can somehow turn this group around, his value will skyrocket to either get the job permanently or possibly a better job somewhere else.
"I'm excited," Sparano said at his introductory press conference. "Very excited about where we're going right now, what we're trying to do."
It appears that nobody in NFL circles is blaming Allen for the losing that occurred in Oakland. Still, his 8-20 record is damning and 10 losses by double-digits just since the start of last season obviously signals that something wasn't working.
"This is obviously a bittersweet moment for me right now in that a great friend of mine and a person I respect a great deal in Dennis Allen was let go," Sparano said. "That's unfortunately part of our business but this is the situation we're in right now."
It's now Sparano's turn to try and reverse a culture of losing.
FCC Overturns Blackout Rule
Despite the NFL's opposition for years, the Federal Communications Commission has overturned the blackout rule that stops teams from preventing games to be shown on local television unless a certain number of tickets were sold.
"NFL teams have made significant efforts in recent years to minimize blackouts," the league said in a statement. "The NFL is the only sports league that televises every one of its games on free, over-the-air television. The FCC's decision will not change that commitment for the foreseeable future."
Blackouts really haven't been an issue for the NFL in recent years. There hasn't been a game blacked out in 2014 and just two of 256 games were blacked out last season. More and more teams have been buying up the remainder of their seats so they can grow their fan-bases by being on local television. It appears that teams such as Tampa Bay, Oakland, Miami and San Diego will no longer have to do that.
Buccaneers admit mistake, boot Aguayo
In the NFL, it's always better to admit a mistake than to compound it. For the Buccaneers, the decision to burn a 2016 second-round pick on kicker Robert Aguayo has proven to be a mistake. The Buccaneers made the definitive admission of their error on Saturday, cutting Aguayo. He exits with $428,000 in fully-guaranteed salary [
more
]
Source: Mike Florio of ProFootballTalk
Powered by WPeMatico
Did Bucs put too much pressure on Aguayo?
After the Buccaneers surprised everyone by taking a kicker with the 59th overall pick in the draft, G.M. Jason Licht explained the move by heaping superlatives on the player. "I was very excited along with my staff and coaches about Roberto for a very long time," Licht told PFT Live in May 2016. "It's not [
more
]
Source: Mike Florio of ProFootballTalk
Powered by WPeMatico
Broncos holding their breath on Derek Wolfe
Only two days after losing Billy Winn for the year with a torn ACL, the Broncos are now sweating out another potentially serious injury along the defensive line. Via multiple reports, Broncos defensive lineman Derek Wolfe was carted off the field during practice on Saturday. It's being described as a right ankle injury by coach [
more
]
Source: Mike Florio of ProFootballTalk
Powered by WPeMatico