NFL AM: New Orleans Saints Lose Jairus Byrd
Find out how big of a loss Jairus Byrd is to the New Orleans defense, and what's next for former Broncos kicker Matt Prater.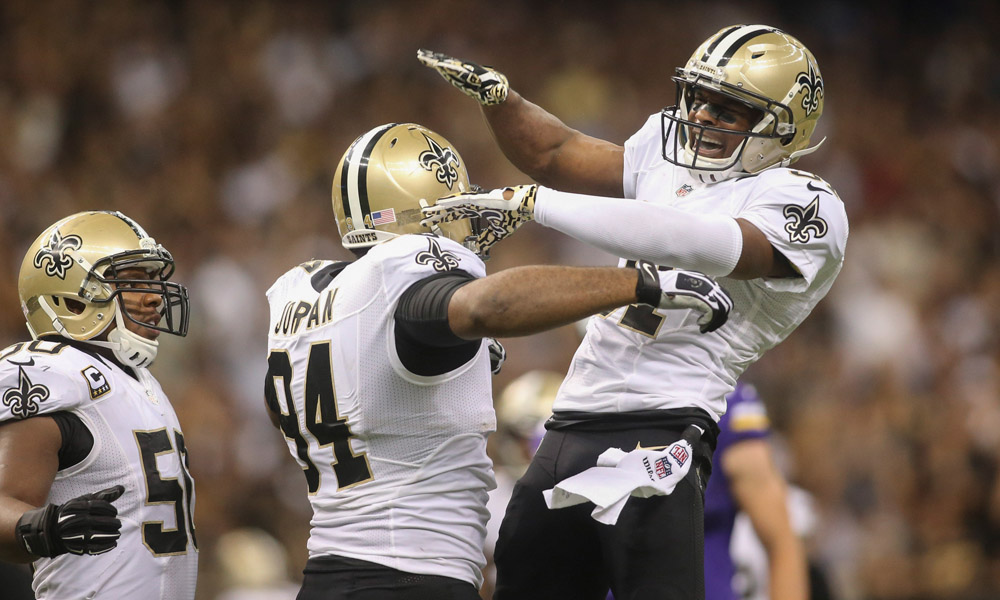 In this edition of NFL AM, the New Orleans Saints are down their best defensive back, the Denver Broncos say goodbye to a Pro Bowl kicker and Rob Bironas was legally drunk at the time of his crash.
Saints Lose Byrd For The Season
Outside of using a first-round pick on wide receiver Brandin Cooks, not a lot has materialized from the Saints' offseason. They decided to part ways with running back Darren Sproles, who is having an MVP caliber start to his season in Philadelphia. They also let former first-round pick Malcolm Jenkins go, also to Philadelphia, and he already has three interceptions and a touchdown for the Eagles.
New Orleans let Jenkins go to sign former Buffalo Bills Pro Bowl safety Jairus Byrd, who inked a six-year, $54 million deal with New Orleans. Byrd hasn't made much of an impact on the Saints' defense, as they are currently ranked 28th in total defense and pass defense.
Byrd tore his lateral meniscus during Thursday's practice and will be placed on season-ending injured reserve.
"You know, it's terrible for the young man," Saints defensive coordinator Rob Ryan said. "He worked so hard, and he's getting ready to play a big game against his father [Tampa Bay Buccaneers cornerbacks coach Gill Byrd]. That's tough. But for us, in football, it's the tough part of this business. Guys get injured, and you have to step up and move on. And that's what we've done. He's loved by his teammates and his coaches. … But we'll be ready to go."
First round draft pick Kenny Vaccaro will have to take on a bigger role without the three-time Pro Bowler.
"Byrd's not just a great player, he's a great teammate," Vaccaro said. "It's gonna be unfortunate to not have him around. It's hard, but the way we were playing, we had so many different issues, we had so many things to fix, that it's like, 'All right, we're gonna have to overcome all these other things anyway.'"
Byrd will be replaced by Rafael Bush, a third-year pro who has filled in by making seven starts over the past two seasons. New Orleans thought enough of Bush to match a restricted free agent offer he had from the Atlanta Falcons this offseason.
Broncos Part Ways With Prater
The Denver Broncos have released long-time kicker Matt Prater, just prior to the end of his four-game suspension for violating the league's substance abuse policy.
Prater had been a fixture in Denver, signing with the Broncos in 2007, and drilling kick after kick from long range in the mile-high elevation. In 2013, Prater missed just one kick and led the NFL in touchbacks, earning him his first Pro Bowl selection.
"Parting ways with Matt Prater — the longest-tenured player on our roster — was a very difficult football decision," General Manager John Elway said. "On behalf of our entire organization, I want to thank Matt for his seven seasons with the Broncos and wish him well going forward."
The Broncos traded for Brandon McManus from the New York Giants, an undrafted rookie from Temple. McManus has made all three field goal attempts and each of his extra points through three games this season.
Prater had a few things working against him in Denver. He was the second-highest paid kicker in the NFL and due $4 million in 2015. Prater was also due some guaranteed money if he was on the roster when his suspension ended. With his alcohol suspension, he was one slip-up away from being suspended for a year. The Broncos dealt with an embarrassing alcohol situation last year with front office members Tom Heckert and Matt Russell suspended for DUI charges and Wes Welker's situation this year, so the team didn't need another potential suspension.
Prater should be on the short list for free agent kickers if and when a team will be looking for an upgrade. Washington is a team to keep an eye on as their kicking game with Kai Forbath has been erratic.
Bironas Toxicology Report Shows Him Legally Drunk
Former Tennessee Titans kicker Rob Bironas died last week in Tennessee in a one-car crash. The results of his toxicology report from the Davidson County Medical Examiner's office showed a blood-alcohol level of 0.218, nearly three times the legal limit of .08.
Bironas was married to Rachel Bradshaw, son of Steelers Hall of Fame quarterback Terry Bradshaw.
Broncos holding their breath on Derek Wolfe
Only two days after losing Billy Winn for the year with a torn ACL, the Broncos are now sweating out another potentially serious injury along the defensive line. Via multiple reports, Broncos defensive lineman Derek Wolfe was carted off the field during practice on Saturday. It's being described as a right ankle injury by coach [
more
]
Source: Mike Florio of ProFootballTalk
Powered by WPeMatico
Buccaneers admit mistake, boot Aguayo
In the NFL, it's always better to admit a mistake than to compound it. For the Buccaneers, the decision to burn a 2016 second-round pick on kicker Robert Aguayo has proven to be a mistake. The Buccaneers made the definitive admission of their error on Saturday, cutting Aguayo. He exits with $428,000 in fully-guaranteed salary [
more
]
Source: Mike Florio of ProFootballTalk
Powered by WPeMatico
Did Bucs put too much pressure on Aguayo?
After the Buccaneers surprised everyone by taking a kicker with the 59th overall pick in the draft, G.M. Jason Licht explained the move by heaping superlatives on the player. "I was very excited along with my staff and coaches about Roberto for a very long time," Licht told PFT Live in May 2016. "It's not [
more
]
Source: Mike Florio of ProFootballTalk
Powered by WPeMatico