Chip Kelly Pointing Fingers Despite 3-1 Start
The Eagles are 3-1, but Head Coach Chip Kelly isn't happy with the play of his offensive line, but could Kelly be part of the problem?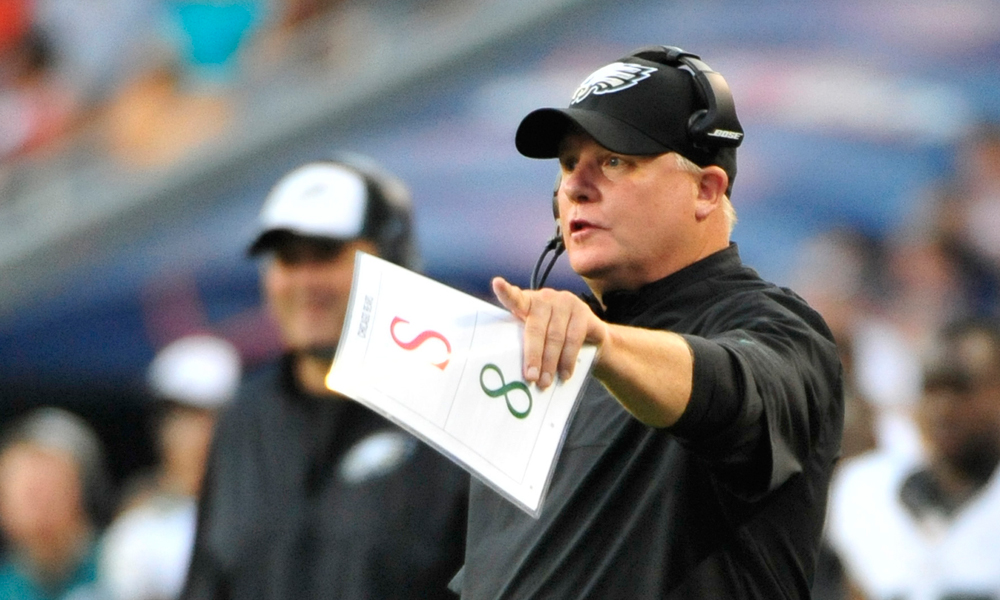 You rarely see 3-1 football teams pointing fingers after suffering their first loss of the season, but this week Philadelphia Eagles Head Coach Chip Kelly didn't hesitate to lay the blame for his team's lack luster rushing performance. Last season, LeSean McCoy led the league in rushing, finishing with 1607 yards which was 250 yards more than the next leading rusher, Matt Forte. This year McCoy is off to a very slow start, and Kelly believes he knows where the problem lies.
A year ago McCoy averaged 5.1 yards per carry, while catching 52 passes for another 539 yards. Through four games, McCoy has averaged just 2.7 yards per carry and has only amassed just 256 yards from scrimmage. To put it into perspective, McCoy is on pace to gain 1,024 yards from scrimmage, less than half of the 2,146 yards the Eagles back racked up in 2013.
McCoy's best performance of the new season was his 79-yard day against the Indianapolis Colts, but the holes have been steadily closing ever since. McCoy ran the ball 19 times for just 22 yards against the Washington Redskins, and 10 times for just 17 yards Sunday against the San Francisco 49ers. Kelly made it perfectly clear that the Niners didn't employ any special packages that took the Eagles by surprise.
"They played a lot of zone, the same thing we thought they were going to do. Kelly explained about the 49ers defense. "They matched their front against our guys up front and they created pressure with just three and four man rush. They played a tone of zone and didn't do anything. A lot of base defense today.
The 49ers didn't do anything special, and for Kelly, the Eagles did so little, that he couldn't hold back his frustration with the unit he held responsible, the offensive line.
"We just got whooped up front. We're not very good up front right now," Kelly said about his offensive line. "We've got a lot of guys banged up and that's not an excuse it's just the reality of it. [ T] Jason Peters is the only guy who is playing the position that he started the season at. [G/T] Todd [Herremans] moved out, we got three new guys inside and when you play against a front like that, [DT] Justin Smith one of the best players in the game, [LB] Patrick Willis, [NT] Ian Williams, [DT Ray] McDonald, that group we got beat. When your front can handle and stop the run game but generate a pass rush then you can sit back and play zone and not give up a lot of big plays. That's kind of been their M-O."
A lot of coaches wouldn't be so quick to criticize their team after such a closely fought loss, especially if their football team was 3-1, but Chip Kelly knows if the Eagles are going to stay atop the NFC East come winter, the run game is going to have to start working. With the Cowboys and Giants playing good football and running the ball well, Philadelphia is going to need to be able to win those tough NFC East games in New Jersey and Texas. Even the November match up in Washington should be less of a high-flying affair than their Week 3 dance.
Chip Kelly stressed how much he needs the offensive line to improve moving forward, and didn't budge when pressed about if it really all comes back on the offensive line.
"I think. I mean we couldn't get anything going up front so it was very tough sledding for anybody up there," Said Kelly. "It wasn't like if you put [RB] Darren [Sproles], then Darren's running up the field you know it's on [RB] LeSean [McCoy]. I mean running the football is a cooperative deal, it's got to be everybody. We just didn't get it done."
While Kelly's frustration is understandable, it would be as understandable if he was a little more patient with the group as well. After all, the Eagles are 3-1, and the line has been hampered by injuries to guard Evan Mathis and Center Jason Kelce. Those injuries are made worse by the fact that the team has been without last year's first round pick, starting right tackle Lane Johnson. The Eagles get Johnson back before week their week 5 matchup with the St. Louis Rams which Kelly can only hope will strengthen this banged up unit.
"We hope it's one of those things coming out of the San Francisco game at least there's help on the way so we'll get Lane [Johnson] in here and see what we can do," Kelly explained. "Maybe that adds a little bit of stability to it but we really need to get it figured out up front right now."
Every team has injuries, but the question has to be asked if the fast paced offense Kelly wants his team to run, along with practice habits that have already been called into question by veteran cornerback Cary Williams, if Kelly is some of the challenges in his team's war of attrition. While Kelly's frustration with his offensive line is obvious, you have to wonder if he should be pointing the finger back at himself. A lot of teams are speeding things up, but the pace he wants to keep isn't easy on an offensive line. This isn't college, and running 300 pound men into the ground will lead to an offensive line looking like the Eagles line does now.
Buccaneers admit mistake, boot Aguayo
In the NFL, it's always better to admit a mistake than to compound it. For the Buccaneers, the decision to burn a 2016 second-round pick on kicker Robert Aguayo has proven to be a mistake. The Buccaneers made the definitive admission of their error on Saturday, cutting Aguayo. He exits with $428,000 in fully-guaranteed salary [
more
]
Source: Mike Florio of ProFootballTalk
Powered by WPeMatico
Did Bucs put too much pressure on Aguayo?
After the Buccaneers surprised everyone by taking a kicker with the 59th overall pick in the draft, G.M. Jason Licht explained the move by heaping superlatives on the player. "I was very excited along with my staff and coaches about Roberto for a very long time," Licht told PFT Live in May 2016. "It's not [
more
]
Source: Mike Florio of ProFootballTalk
Powered by WPeMatico
Broncos holding their breath on Derek Wolfe
Only two days after losing Billy Winn for the year with a torn ACL, the Broncos are now sweating out another potentially serious injury along the defensive line. Via multiple reports, Broncos defensive lineman Derek Wolfe was carted off the field during practice on Saturday. It's being described as a right ankle injury by coach [
more
]
Source: Mike Florio of ProFootballTalk
Powered by WPeMatico