NFL AM: Miami Dolphins Gain Ground in AFC Playoff Race
The Dolphins stay squarely in the playoff hunt; the Giants have a likely coaching change on the horizon; and the Rams make some sort of statement.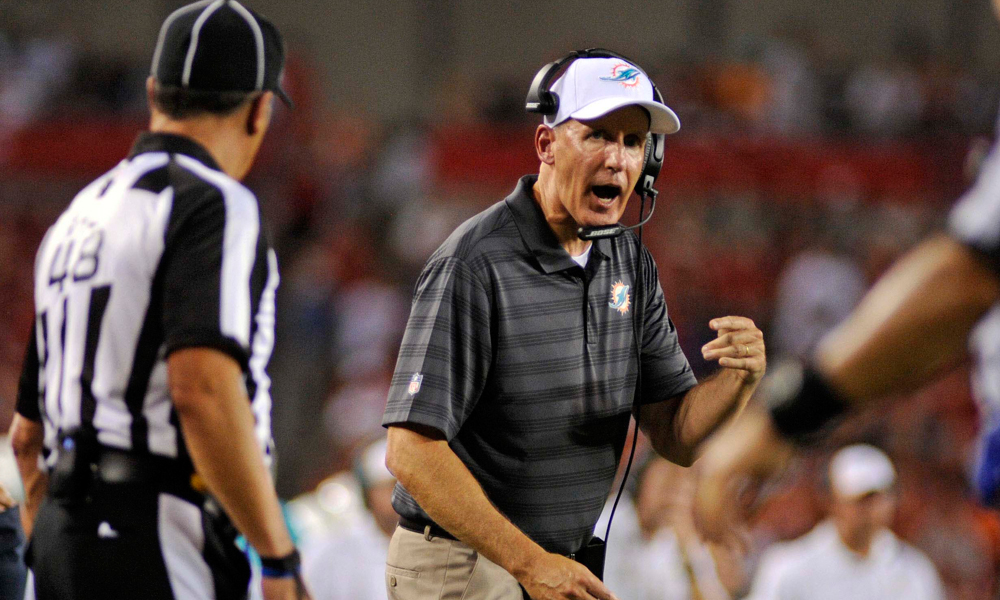 Dolphins Exploit Sloppy Jets
It is not often you see a head coach play keep-away from his own quarterback, but that's exactly what Rex Ryan did with Geno Smith in his team's 16-13 loss to the Dolphins on Monday Night Football. The Jets ran the ball 49 times for a whopping 277 yards — including a 20-yard touchdown on a reverse by receiver Greg Salas — while allowing Smith to pass only 13 times.
The 13 attempts were the fewest in the league this season, yet Smith still managed to toss an interception, which came on his final drive of the game with his team needing a field goal to send the game to overtime.
New York kicker Nick Folk missed two of his four field-goal attempts as the Jets continue to do whatever it takes to give away games.
"I feel sick," said Ryan after the game. "We played great for the most part in a lot of areas. Dang, we can't buy a win."
For the Dolphins, this game was starting to give some bad feelings of déjà vu, as it was just last year Miami missed the playoffs because of inexplicable late-season losses to the Bills and Jets. Coach Joe Philbin's team refused to be done in by the Jets again, outscoring New York 10-0 in the fourth quarter to rally for a win Miami absolutely had to have to stay in the playoff race.
In fact, with the victory the Dolphins ascended all the way to the No. 6 spot in the AFC and into the driver's seat for the second wild-card spot. That thanks to the rough week by almost every team that started the week 7-4, as the Ravens, Steelers, Browns and Chiefs all lost.
The 7-5 logjam will clear up a little bit this week, as the Dolphins will host the Ravens in a game where the loser may very well be done as a legitimate playoff contender.
"It's a long season. Every game is important," Coach Philbin said. "Obviously, in December they become magnified and even more important. We have a very, very good football team coming to town on Sunday. We're going to have to take a look at the tape and make some corrections quickly. We're not going to have a lot of time to go over this tape because we're going to have to get moving onto Baltimore, who's a very good team."
Coughlin Accepts Blame for New York's Other Mess
The Jets are not the only New York team playing through an implosion. The Giants have lost seven games in a row, including blowing big leads in each of the last two weeks. Sunday's loss to the previously 1-10 Jaguars, in which the Giants squandered a 21-0 lead, seems to be the tipping point that will lead to the G-Men making a coaching change at the end of the season.
"I am responsible," Coughlin said on Monday. "I accept the full responsibility and whatever price has to be paid for that responsibility, it starts right here with me."
This is not a situation like San Francisco, where the organization seemingly cannot wait to get rid of its head coach. Couglhin, who won a pair of Super Bowls in New York, is well respected by the Giants organization. It is likely he will sit down with team owner John Mara and GM Jerry Reese after the season and discuss whether a fresh start is in everybody's best interests.
If Coughlin steps aside, the Giants job will be one of the most appealing openings available (right there with San Francisco and possibly Chicago).  Eli Manning — despite being inconsistent and occasionally turnover prone — is still a franchise quarterback squarely in his prime. And there are other cornerstone players on both sides of the ball. The offense features weapons like Victor Cruz, Odell Beckham Jr. and Larry Donnell. On defense, the rebuild starts around players such as Jason Pierre-Paul, Mathias Kiwanuka, Prince Amukamara and Dominique Rodgers-Cromartie.
There is also the fact the Giants organization is one of the most stable in all pro sports, which is a huge selling point in an industry where continuity is hard to come by (we're looking at you, Raiders).
If the Giants make a change, Jim Harbaugh would certainly be a leading candidate (assuming he is let go by the 49ers, or that San Francisco does not seek much in return via trade). Another interesting name to watch is Adam Gase, the Broncos offensive coordinator who has done a masterful job teaming with Eli's older brother in Denver.
No Fine for Rams Silent Protest
The NFL announced on Monday it will not discipline the five Rams players who held up their hands during their pre-game entrances on Sunday in a silent show of support for protesters in Ferguson, Mo.
"We respect and understand the concerns of all individuals who have expressed views on this tragic situation," NFL spokesman Brian McCarty said in a statement.
The five players involved — Kenny Britt, Jared Cook, Tavon Austin, Chris Givens and Stedman Bailey — surely had great intentions. Unfortunately, the "hands up, don't shoot" protest doesn't make a ton of sense, because if Michael Brown had simply put his hands up and said "don't shoot," this whole incident never would have happened.
Who knows? Maybe it wasn't even a protest. Maybe instead of "don't shoot" the players were saying, "I'm open!" in preparation of begging for attention from QB Shaun Hill. The Rams starting QB has completed less than 60 percent of his passes this season; his accuracy ranks him No. 33 among quarterbacks with at least 50 attempts.
The St. Louis Police Officers Association issued a statement claiming it was "profoundly disappointed" by the demonstration and calling for the players involved to be disciplined and the team to issue a public apology, neither of which will happen.
If you think the Police Officers Association is offended, imagine how the Raiders feel? Oakland followed up its first win of the season by getting on the wrong end of a 52-0 whooping. Rodger Saffold, who agreed to a free-agent deal with the Raiders this offseason that was negated by a failed physical, prompting his return to the Rams, said afterwards he wished the Rams put 76 points on the board. Seventy-six is Saffold's jersey number.
Now that would have been a more appropriate statement to make.
Want to talk more about these or other headlines? Join Michael Lombardo for his weekly NFL Chat on Friday at 2pm EST. But you don't have to wait until then … ask your question now! 
Buccaneers admit mistake, boot Aguayo
In the NFL, it's always better to admit a mistake than to compound it. For the Buccaneers, the decision to burn a 2016 second-round pick on kicker Robert Aguayo has proven to be a mistake. The Buccaneers made the definitive admission of their error on Saturday, cutting Aguayo. He exits with $428,000 in fully-guaranteed salary [
more
]
Source: Mike Florio of ProFootballTalk
Powered by WPeMatico
Did Bucs put too much pressure on Aguayo?
After the Buccaneers surprised everyone by taking a kicker with the 59th overall pick in the draft, G.M. Jason Licht explained the move by heaping superlatives on the player. "I was very excited along with my staff and coaches about Roberto for a very long time," Licht told PFT Live in May 2016. "It's not [
more
]
Source: Mike Florio of ProFootballTalk
Powered by WPeMatico
Broncos holding their breath on Derek Wolfe
Only two days after losing Billy Winn for the year with a torn ACL, the Broncos are now sweating out another potentially serious injury along the defensive line. Via multiple reports, Broncos defensive lineman Derek Wolfe was carted off the field during practice on Saturday. It's being described as a right ankle injury by coach [
more
]
Source: Mike Florio of ProFootballTalk
Powered by WPeMatico