NFL AM: Jobs On the Line in London
In this edition of NFL AM, we look at how one specific result Sunday can lead to the first head coach firing; More evidence that the NFL lied about Ray Rice and Eli Manning is back to being a future Hall of Fame quarterback.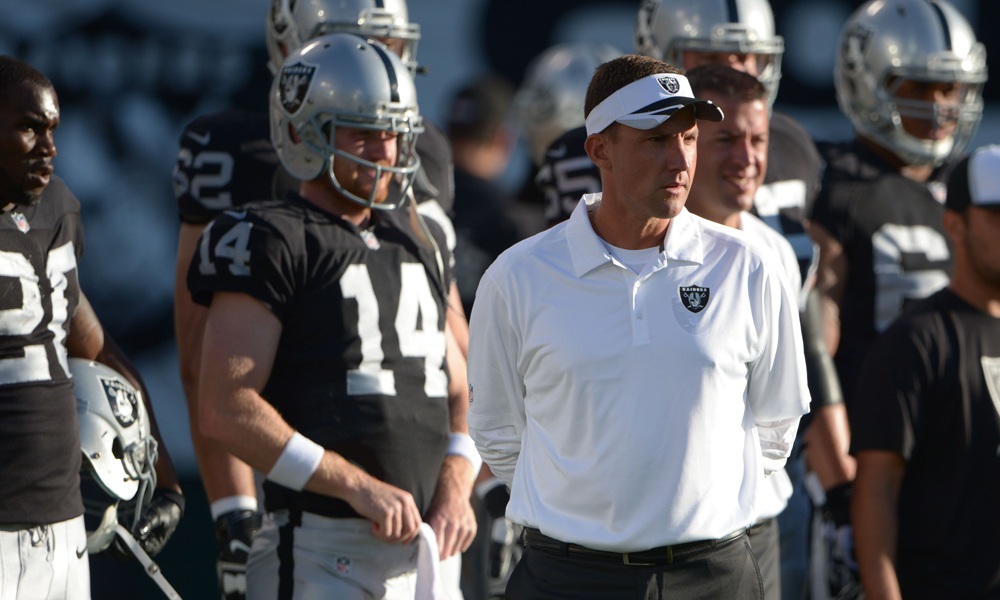 In this edition of NFL AM, we explore the first "win or else" coaching pink slip game of the 2014 season, some more evidence that the NFL saw the Ray Rice elevator video and we look at how the New York Giants look like a completely different team than a few weeks ago.
Pink Slip Game In London
There is more on the line than usual when the 0-3 Oakland Raiders take on the 1-2 Miami Dolphins this Sunday in London. With the struggles that these two franchises have had since Dennis Allen and Joe Philbin took over the respective teams before the 2012 season, it's more than likely that the loser will soon be exploring his employment options elsewhere.
"This game is all about momentum and confidence, Raiders head coach Dennis Allen said. "That's what winning does, it builds momentum and builds confidence. That's what our primary focus is. That's what we're trying to do. We'll put a good game plan together. Hopefully we'll go out and perform as well as we can and hopefully we will get that win this week."
This is Dennis Allen's first stint as head coach at any level and the results have been less than impressive. Allen's Raiders have won just eight of 35 games and although the team has played hard, the final results haven't been there. With a bye week looming after the London game, it would be an opportune time for the Raiders to make a change.
Meanwhile in Miami, the luster has worn off Joe Philbin after he earned "hot coordinator" status by navigating the Green Bay offense with Aaron Rodgers. Like Dennis Allen, Philbin took over the Dolphins prior to the 2012 season and although he's fared better with a 16-19 record, many believed the team would be considerably further along than they actually are, considering they spent a high first-round pick on quarterback Ryan Tannehill as well as countless millions of dollars on free agent spending.
Joe Philbin was on watch (or not actually on watch) during last year's embarrassment where the Dolphins incubated the bullying scandal which made them a laughing stock of the NFL. It appears that this season's Philbin gaff is the way he's handling quarterback Ryan Tannehill, as he won't admit to the media that he's indeed the starting quarterback. This less than spectacular move is fueling more doubt to a young quarterback that needs confidence.
"We are going to get our 46 best players to the game and we are going to utilize them the best way possible," Philbin told reporters when asked about Tannehill's status.
"Obviously, it doesn't feel good," Dolphins quarterback Ryan Tannehill said of how Philbin has handled the questions. "It creates a bunch of stir [and] a bunch of distraction in the locker room — mostly from the outside coming in and guys having to deal with the distraction of it. So it's not a good feeling."
Although they won't admit it, there aren't a lot of football games that feel winnable for the Raiders. This Miami game on a neutral site is one of them. For a team with some playoff aspirations like the Dolphins, this seems like a game that they have to have.
With both owners keeping a watchful eye, this is a game that will likely decide which head coach gets let go, and it could happen as early as next week.
More Evidence Against NFL, Goodell
–
Despite Roger Goodell asserting that he, nor anyone in the NFL offices had seen the infamous Ray Rice elevator video which shows Rice punching out his then fiancee, another report speaks to the contrary.
The Associated Press is reporting that law enforcement had sent NFL League Security Chief Jeffrey Miller the video in question back in April.
The official said that he doesn't know whether or not Miller saw the DVD or opened the package, but he did receive a 12-second voicemail on April 9th from league offices confirming receipt of the package, in which a woman states, "You're right. It's terrible."
This is more damning evidence against Roger Goodell and the NFL, and the real question behind the alleged cover-up is simply, "why?" It doesn't make sense for the league to protect a single player, especially a running back like Ray Rice. Now it seems as if a lie was told and the entire story is unraveling.
No matter what comes of this, let's try to remember that Ray Rice, not Roger Goodell is the real villain. He's the one who punched out his future wife and stood over her body showing absolutely no remorse. Roger Goodell, Ravens owner Steve Bisciotti, general manager Ozzie Newsome and company certainly look less than forthcoming and frankly a little bit slimy but much of the public anger seems to be misguided.
Did The Real Eli Show Up?
After struggling over the past nearly two seasons to the point where fans and media were asking questions about sending Giants quarterback Eli Manning to the bench, the New York gunslinger appears to be bouncing back.
Fueled by great offensive line play, Eli Manning was nothing short of sensational in Thursday night's 45-14 victory over the Washington Redskins. Manning completed 28 of 39 throws for 300 yards with 4 touchdowns and just 1 interception.
"That was the whole thing, to be able to leave here tonight and be 2-2 and 1-0 in the division. That was huge," Giants head coach Tom Coughlin said. "It's exciting to be in the hunt, and by being able to come out of here with a win, hopefully we have a chance to be."
Eli found what could be a new favorite target in tight end Larry Donnell, who was the recipient of three Manning touchdown tosses. Donnell's huge night caused fantasy football players around the world to feverishly claim him on waivers.
"You set your goals high," Donnell said of his surprising play. "I didn't expect it to come so quick, but it has."
A defense which allowed big play after big play in the team's season opening loss to Detroit was able to force five Kirk Cousins turnovers, including four interceptions.
"I've got to look at my play," Redskins quarterback Kirk Cousins said, "because that was killing us at the end there."
With last night's blowout victory, the Giants have a new lease on life. They now have a few extra days of rest before hosting the Atlanta Falcons a week from Sunday.
Buccaneers admit mistake, boot Aguayo
In the NFL, it's always better to admit a mistake than to compound it. For the Buccaneers, the decision to burn a 2016 second-round pick on kicker Robert Aguayo has proven to be a mistake. The Buccaneers made the definitive admission of their error on Saturday, cutting Aguayo. He exits with $428,000 in fully-guaranteed salary [
more
]
Source: Mike Florio of ProFootballTalk
Powered by WPeMatico
Did Bucs put too much pressure on Aguayo?
After the Buccaneers surprised everyone by taking a kicker with the 59th overall pick in the draft, G.M. Jason Licht explained the move by heaping superlatives on the player. "I was very excited along with my staff and coaches about Roberto for a very long time," Licht told PFT Live in May 2016. "It's not [
more
]
Source: Mike Florio of ProFootballTalk
Powered by WPeMatico
Broncos holding their breath on Derek Wolfe
Only two days after losing Billy Winn for the year with a torn ACL, the Broncos are now sweating out another potentially serious injury along the defensive line. Via multiple reports, Broncos defensive lineman Derek Wolfe was carted off the field during practice on Saturday. It's being described as a right ankle injury by coach [
more
]
Source: Mike Florio of ProFootballTalk
Powered by WPeMatico