NFL AM: Cardinals, Browns Look to Sustain Success
Drew Stanton is back under center against his former team; the Browns try to sidestep another trap game; and the NFC South is as muddled as ever.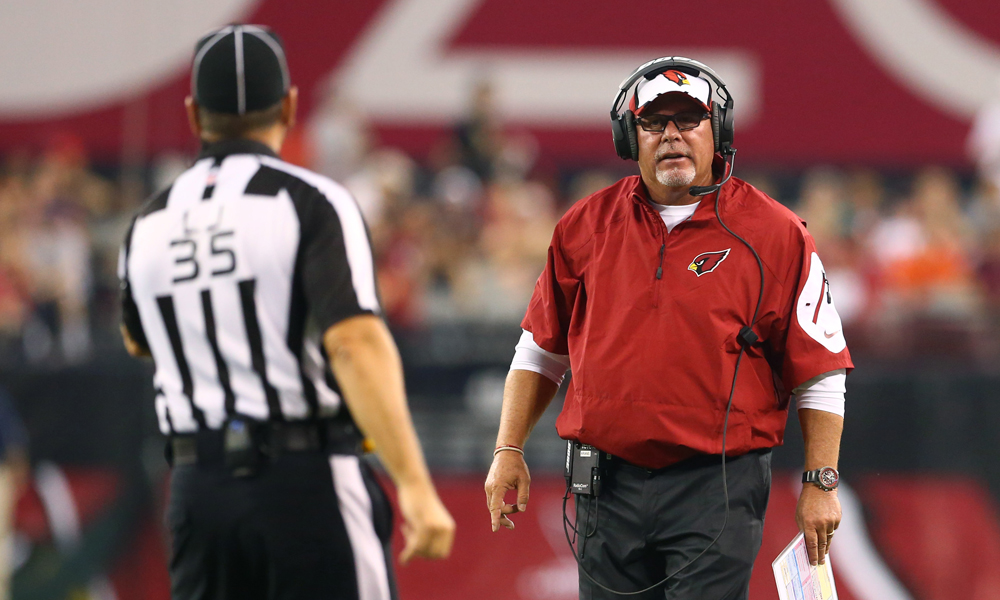 Stanton Back Under Center Against Former Team
Drew Stanton gets a chance to continue his renaissance season against the team that brought him into the NFL as a second-round pick in 2007: the Lions.
Stanton is now atop the depth chart for the league-leading Cardinals (8-1) after Carson Palmer tore his ACL in last week's win over the Rams. Stanton has shown he can keep the wins coming for Arizona, winning two of three starts this season and leading the team to another victory in relief.
Stanton has not posted gaudy numbers (he has completed less than half of his passes and averaged just 6.6 yards per attempt), but he protects the ball and keeps the offense on schedule.
"Nothing is changing because we're playing with a different quarterback," Cardinals coach Bruce Arians said. "We've already been down this road. We've had three weeks of preparation in case something like this happened and we're more than ready for it."
Stanton leads the Cardinals against the Lions (7-2) in a battle for the top spot in the NFC. Detroit comes in with the league's No. 1 defense, but Stanton is familiar with some players on that side of the ball from his time with Detroit (2007-2011).
The Lions were a laughingstock during Stanton's time there. After missing his rookie season with a knee injury, he returned and saw action in spot duty as Detroit went 0-16 in 2008 and 2-14 in 2009. He started three games in 2010, winning two of them, and then did not start another game until this season with the Cardinals.
Arians was always high on Stanton. He was willing to make Stanton his starter going into last season until the team swung a trade for Palmer a month after free agency had opened. Now, Stanton has a chance to show everyone what Arians saw in him … and show the Lions what they're missing.
Can the Browns Handle Success? 
How is this for a stark reality: Cleveland is in first place in the toughest division in football.
The Browns (6-3) are coming off one of their best performances of the season, a 24-3 win over the Bengals. That win came on Thursday Night Football, giving Cleveland 10 days to prepare for this week's home game against a Texans team that has lost four of its last five games.
It seems like an easy road to 7-3, but things are rarely as easy as they seem in the NFL. It was just last month that the Browns followed up a 31-10 win over the Steelers with a 24-6 loss to the previously winless Jaguars. Learning to win is a process all young teams must go through; the Browns are still learning.
The key for Cleveland is dominating the run game on both sides of the ball. On offense, the Browns will try to repeat their success from the Cincinnati game, when they ran for 170 yards. That will keep Brian Hoyer out of obvious passing situations, which is where J.J. Watt wreaks havoc. On defense, the Browns will load up against the run — even with Arian Foster considered a long-shot to play because of a groin injury — and force first-time starter Ryan Mallett to beat them through the air.
"He's not a rookie, but it's his first time starting and playing live action," said Browns safety Donte Whitner of Mallett. "He might be a little jittery and make a few bad reads, and if he does that we want to make him pay for that."
If the Browns execute their game plan at a high level, they will maintain their spot in the AFC North's pole position. But if they start to believe their own hype, they will be forced to swallow another Texas-sized disappointment.
Short Climb to the Top
Usually, a mid-November match-up between two three-win teams is of little significance. But that is not the case on Sunday when the Falcons and Panthers meet in Carolina, as both teams trail the first-place Saints by just a game in the win column.
Cam Newton is coming off his worst performance of the season in a 45-21 loss to the Eagles. He played so poorly it forced a debate about whether the Panthers are lying about his health or if he is simply mired in a mental frenzy. If there is to be any redemption for Newton and the Panthers in 2014, it must start with a strong performance against a Falcons defense that ranks dead last against the pass (280.8 yards per game).
The Falcons are coming off a 27-17 road win over the Buccaneers, burying at least one team in the league's worst division, and now look for a second straight divisional road win to salvage their season. Atlanta already has a win over the Saints and will play in New Orleans in Week 16, which means the Falcons technically control their own destiny in the NFC South despite having twice as many losses as wins.
"It's kind of different how this season has shaken out, specifically within our division," Falcons quarterback Matt Ryan said. "I think at this point, it's exciting. We're in November. We're right in the mix. Obviously, we would have liked to have played better up to this point, but it is what it is. We're right in the mix. We've got everything we want right in front of us."
The Saints have a tough game on Sunday, hosting a talented Bengals team that will come out on fire after laying an egg against the Browns. This mess of a division could be even more muddled by the time this week is in the books.
Want to talk more about these and other headlines? Join Michael Lombardo for his weekly NFL Chat on Friday at 2pm EST. Don't feel like waiting? Ask your question now! 
Buccaneers admit mistake, boot Aguayo
In the NFL, it's always better to admit a mistake than to compound it. For the Buccaneers, the decision to burn a 2016 second-round pick on kicker Robert Aguayo has proven to be a mistake. The Buccaneers made the definitive admission of their error on Saturday, cutting Aguayo. He exits with $428,000 in fully-guaranteed salary [
more
]
Source: Mike Florio of ProFootballTalk
Powered by WPeMatico
Did Bucs put too much pressure on Aguayo?
After the Buccaneers surprised everyone by taking a kicker with the 59th overall pick in the draft, G.M. Jason Licht explained the move by heaping superlatives on the player. "I was very excited along with my staff and coaches about Roberto for a very long time," Licht told PFT Live in May 2016. "It's not [
more
]
Source: Mike Florio of ProFootballTalk
Powered by WPeMatico
Broncos holding their breath on Derek Wolfe
Only two days after losing Billy Winn for the year with a torn ACL, the Broncos are now sweating out another potentially serious injury along the defensive line. Via multiple reports, Broncos defensive lineman Derek Wolfe was carted off the field during practice on Saturday. It's being described as a right ankle injury by coach [
more
]
Source: Mike Florio of ProFootballTalk
Powered by WPeMatico