Crashing Through The Rookie Wall
Find out which rookies are breaking through instead of slowing down.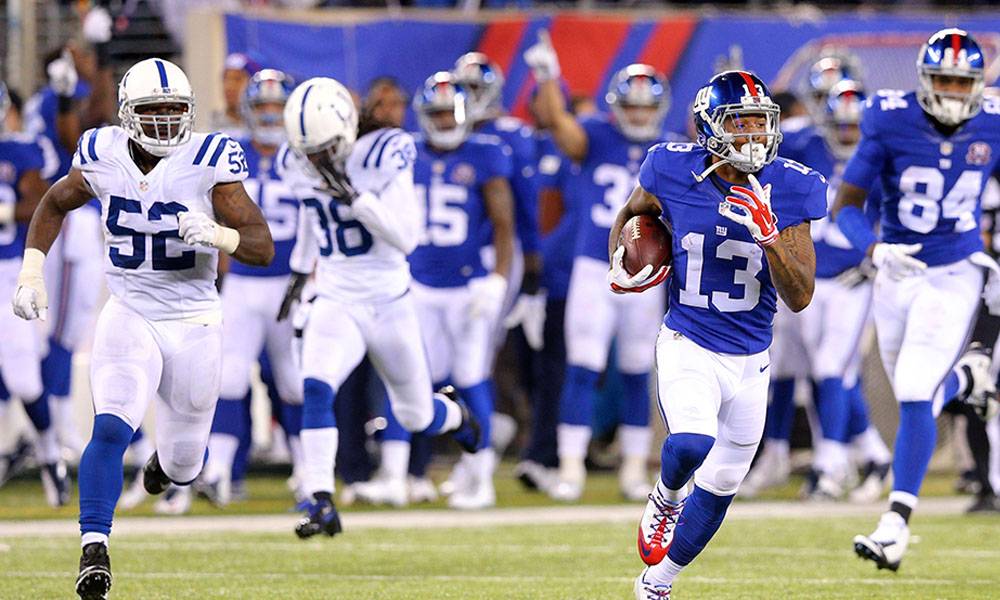 We hear about it every year. The dreaded rookie wall that has famously slowed down first-year players who aren't used to the rigors of a 17 week regular season. However, some rookies break through or leap over the rookie wall and excel or stay consistent throughout their rookie campaigns. Let's take a look at a few rookies who seem poised to stay strong for their teams during the final stretch of the season.
Odell Beckham Jr
Beckham struggled to find the field after being selected by the New York Giants with the 13th overall pick in May's draft. Hampered by a hamstring, Beckham didn't see a snap during any of the Giants five preseason games, and he didn't make his NFL debut until Week 5. Beckham's debut against the Atlanta Falcons started slowly, but his impact was felt immediately as the rookie receiver scored the game winning touchdown and changed the Giants offense with his presence. Trailing at the half, the Giants made a concerted effort to make Beckham a larger part of the game plan in the second half, and they were rewarded with several big plays including a pass interference call that turned out to be a pivotal play in the game. It was clear, Beckham was ready to be a major contributor for the New York offense. A week later it was clear the Giants would need Beckham to become a major contributor quickly when the team lost Victor Cruz for the season in Philadelphia. While Beckham's talent was obvious, his emergence took some time. Over his first three games, Beckham had 10 receptions for 106 yards. In the two games since, Beckham has emerged as a favorite target of quarterback Eli Manning, racking up eight receptions for 156 yards against the Indianapolis Colts, and another seven grabs for 108 yards against the Seattle Seahawks.
Beckham has shown quickly that he has the confidence to step into his larger role with the Giants, and that even a secondary as good as the Seahawks secondary won't intimidate the rookie receiver. The Giants attacked Seattle through the air, and even went straight at Richard Sherman whom many consider to be the best in the game.
"We didn't look and say, 'We're going to throw it at Sherman,'" Beckham commented. "It was just whoever was on that side and whatever play we called…It didn't really matter who it was. When you go up against a great defense like that, you can't just sit back and not try to attack anything. You have to go at them."
The Giants did go at the Seahawks secondary, and it was clear that Beckham earned the respect of the Legion of Boom.
"Beckham is a great player, so they had to depend on him and take risks and take shots in games like this," Sherman said about the Giants rookie. "He was able to get one earlier, which was a great play by him."
Beckham didn't just get the attention of one the NFL's best cornerbacks, but it was clear the entire Seahawks team was paying attention to where he was lining up. One of the league's best safeties was quick to heap praise on the Giants wide out also.
"Thirteen is a great player," said Seahawks star safety Earl Thomas. "They tried to move him in the slot, the Z receiver, and the X receiver just to get him open. He did a great job making big plays for them."
Just five games into his NFL career, Odell Beckham Jr looks like one of the best route runners on the Giants, and he looks to have a skill set that's arguably greater than any Giants receiver before him. It's ridiculously early to say this, but it's not crazy to think that if he can stay healthy, Beckham has an opportunity to be just that, greater than any Giants receiver before him.
Bradley Roby
The 2013 Denver Broncos were so good that it was difficult to find many areas the team needed to improve. What was perhaps the most glaring spot where the Broncos needed to improve was the cornerback position. It was a great move grabbing DeMarcus Ware for a pass rush that was less than stellar, but the return of Von Miller was going to help that cause anyway. The unit that clearly needed the most outside help was the secondary, and while the Broncos did a good job bolstering that secondary in free agency with guys like T.J. Ward and Aqib Talib. They also attacked that weakness in the draft, spending the 31st overall pick on Bradley Roby.
Roby has played a significant role all season for the Broncos, even making a season high seven tackles in the opener against the Colts. Roby has worked hard to maintain a high standard since his rookie season began, and it's not being lost on his teammates.
"Roby's playing the nickel from the start of the season. That's tough to do," said veteran corner Chris Harris. "We're looking for Roby to shut down the inside. I think he did a good job. He's done a great job catching on."
Catching on was important for the rookie corner from Ohio State. The Broncos are a veteran team with Super Bowl aspirations, and with stakes that high, it's unlikely that John Fox would be as patient with a young player's growing pains as a team in the midst of rebuilding would. For Roby it seems the pressure of starting his career on a team with high expectations hasn't bothered him a bit. Instead, it sounds like the rookie cornerback is already preparing like many of the pros around him.
"You can see him getting more and more comfortable in the scheme, in the fundamentals, where he fits in coverage as far as leverage," said Broncos head coach John Fox. "It's a tribute to him how he's gone about his preparation."
Roby's preparation has paid off. As it's become clear to coach Fox that his preparation has Roby ready to contribute on of the NFL's best teams, his preparation is paying off on the field in the way of big plays. Roby recorded the first sack of his career in Week 6 against the New York Jets, and the first two interceptions of his career two weeks ago against the Patriots, and last week against the Oakland Raiders.
At this point it looks like the rookie wall won't be much of a challenge for Roby. He and the Broncos should hope it doesn't, because it's likely he'll have a longer rookie season than most.
Mike Evans
The Tampa Bay Buccaneers made a lot of mistakes this offseason, but it's beginning to look more and more like first-round draft pick Mike Evans was not one of them. In a season that has seen veteran wide receiver Vincent Jackson follow up a disappointing drop-filled 2013 with another disappointing drop-filled year, Evans has already supplanted his veteran teammate as the Buccaneers number one receiver.
Despite the play of those around him, Evans hasn't caught fewer than four passes in any of his eight NFL starts. After recording five receptions in his first game, Evans caught four passes in each of his next five starts. The last two games, Evans has become an even more integral part of the passing attack pulling in seven receptions in each and three of his five touchdowns on the season. Evans had 124 yards and two touchdowns against the Cleveland Browns, but he could have easily gone for over 200 yards in that game if not for some woefully thrown balls by Mike Glennon.
It's clear to anyone watching the Buccaneers that Evans is the team's best offensive player, and it's all coming together for him on the field.
"Just like anything else, it's just brand new and he's really taking a step, it seems, every week and we're excited about that because obviously he's a difference-maker and we'll continue to push him and help him and try and guide him in a way that can really propel him into where he wants to be," said head coach Lovie Smith.
Evans hasn't just continued to stay consistent on a team loaded with players having disappointing seasons, but he's instead grown into a more polished player as the season has gone on. Earlier this year Evans' routes weren't as crisp, and he seemed like a player with a lot of untapped potential. The rookie from Texas A & M is just beginning to tap into his many resources as an NFL receiver, but his progression has been more evident over the past few weeks.
Evans has proven to be not just talented enough to make it at the NFL level, but he's also shown that he's tough. Evans was one of the Buccaneers' stand-outs in the team's only victory this season as he finished with four catches for 65 yards and a touchdown. Unfortunately for Evans and the Buccaneers, he also finished the game with a groin injury that the team originally feared would cause Evans to miss up to three weeks. Evans sat out with the injury in Week 5, only to return a week later, returning in Week 6, despite the fact the Buccaneers would be on a bye Week 7. Evans returned after just a week and recorded four catches for 55 yards and a touchdown against the Baltimore Ravens.
Despite the Buccaneers' lost season, Evans pushed himself back from injury and has continued to excel and grow into a top notch NFL wide receiver while it seems most of his teammates are floundering. It's certain that the Bucs will make quite a few changes  in the direction of their club before the 2015 season begins, but just as certain is however the offense looks in 2015, the passing game will revolve around the big 6-foot-5 kid from Texas A&M.
John Brown
How many times this season have you heard someone bring up Arizona Cardinals rookie receiver John Brown only to follow it up with an explanation of exactly who John Brown is? That won't be happening for long. The rookie wide receiver is quickly becoming a dangerous weapon for the Cardinals, and he's already drawing comparisons to former greats like Marvin Harrison. Brown is part of one of the deepest receiving classes in the history of the NFL draft, but he'd be unlikely to last into the third round if teams could redo May's draft.
Considering Brown has had four two-reception games this season, you might be surprised to learn that Brown is third on the Cardinals with 29 catches, and third on the team with 399 receiving yards. While Brown has had some quiet games, he's getting yards in bunches, and is one of the Cardinals more explosive offensive weapons.
Brown is becoming a huge part of the Cardinals offense in large part because he's been ready to compete at the NFL level from day one. Cardinals' veteran quarterback Carson Palmer, who's now out for the season with a torn ACL, saw Brown's confidence right away.
"The one thing that jumped out is nothing is too big for him," Palmer said. "Whether we are at the facility and no one is around or there is 10,000 people in the stands and we are in pads and you are going against Patrick Peterson, all that, nothing is too big for him. He doesn't have big eyes in the huddle, looking around nervously."
While the Cardinals are happy with Brown being third in receptions and receiving yards, there's another statistic which shows just how much of an impact Brown is having on his new team. Brown leads the Cardinals with five touchdowns, or as many as Larry Fitzgerald, Michael Floyd, and John Carlson combined. Like the other players in this article, Brown hasn't slowed down a bit as the season has progressed. Instead, Brown has been targeted 23 times in the Cardinals last three games and he came up with a couple of key touchdowns in the Cardinals victories over the Dallas Cowboys and St. Louis Rams.
Brown may not be a big possession receiver that the team looks for on 3rd-and-7 over the middle, but he's an explosive offensive weapon with a nose for the end zone. The Cardinals are winning with defense this season, but if they want to go deep into the playoffs, the offense is going to have to put points on the board. It's clear when they need to that Brown is a player they can rely on to get it done.
Did Bucs put too much pressure on Aguayo?
After the Buccaneers surprised everyone by taking a kicker with the 59th overall pick in the draft, G.M. Jason Licht explained the move by heaping superlatives on the player. "I was very excited along with my staff and coaches about Roberto for a very long time," Licht told PFT Live in May 2016. "It's not [
more
]
Source: Mike Florio of ProFootballTalk
Powered by WPeMatico
Broncos holding their breath on Derek Wolfe
Only two days after losing Billy Winn for the year with a torn ACL, the Broncos are now sweating out another potentially serious injury along the defensive line. Via multiple reports, Broncos defensive lineman Derek Wolfe was carted off the field during practice on Saturday. It's being described as a right ankle injury by coach [
more
]
Source: Mike Florio of ProFootballTalk
Powered by WPeMatico
Buccaneers admit mistake, boot Aguayo
In the NFL, it's always better to admit a mistake than to compound it. For the Buccaneers, the decision to burn a 2016 second-round pick on kicker Robert Aguayo has proven to be a mistake. The Buccaneers made the definitive admission of their error on Saturday, cutting Aguayo. He exits with $428,000 in fully-guaranteed salary [
more
]
Source: Mike Florio of ProFootballTalk
Powered by WPeMatico