NFL AM: Bridgewater Impresses In Starting Debut
We look at the sensational start by the Vikings rookie, as well as a great game by A-Rod and the Eagles offense getting shut out.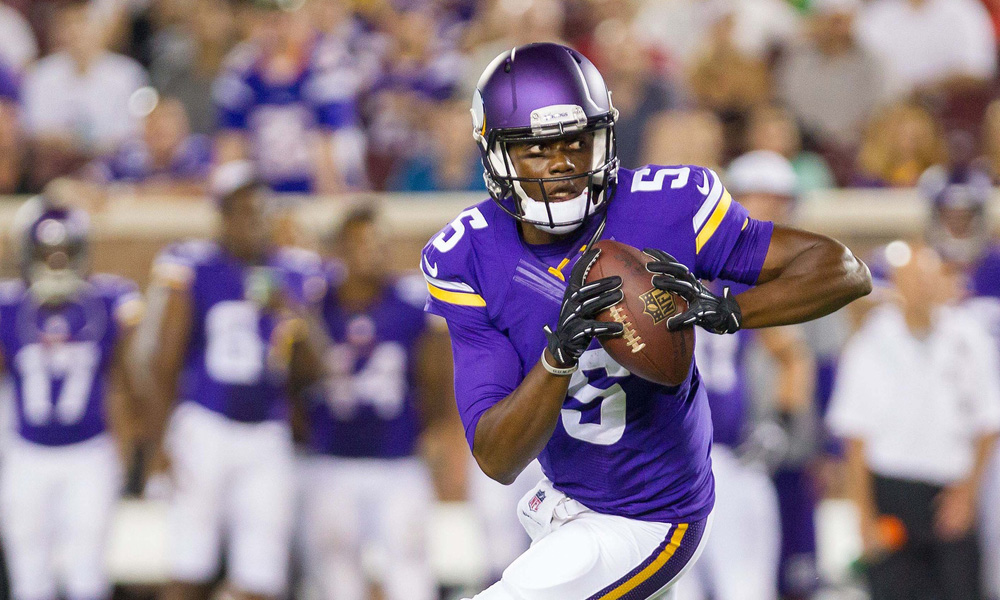 In this edition of NFL AM, we look at the resurgence of Aaron Rodgers, Teddy Bridgewater breathing new life into Minnesota and the Chip Kelly's offense doing a disappearing act.
The Pack Is Back
With Green Bay losing to Detroit last week, the Packers really couldn't afford to drop back-to-back games in the division. Going up against a high-powered Chicago Bears offense on the road, Green Bay needed a vintage Aaron Rodgers performance and that's exactly what they received.
Earlier in the week, Rodgers went on a radio show and gave a message to Packers fans as he spelled out the word, "R-E-L-A-X."
"I just wanted to remind everybody that it's a long season, and at some point, we're going to get this thing figured out," Rodgers said following the game.
Rodgers completed 22 of 28 throws for 302 yards with four touchdowns and no interceptions en route to the Packers 38-17 victory.
"I don't feel like I need to prove anything, but it sure is nice when people start doubting us to go out and have a performance like this," Rodgers said.
With the victory Green Bay has evened their record at 2-2 with another NFC North tilt against Teddy Bridgewater and the Vikings in just three days.
Super Teddy To The Rescue
After Matt Cassel's season-ending foot injury, the Minnesota Vikings were forced to start their future early as they turned their quarterback fortunes to the final pick in the first round, Teddy Bridgewater.
Teddy Bridgewater was simply brilliant in his first start as he completed 19 of 30 passes for 317 yards with a rushing touchdown in Minnesota's 41-28 victory over Atlanta.
"I think it sets the bar pretty high," Bridgewater said of his 300-yard game. "But coach Norv Turner, he always talks about playing a week better, playing better than the week before. For me, I just have to try to build off the momentum that I have."
Bridgewater stayed within himself and made plays when he had to as he directed the Vikings offense to six of 13 on third downs.
"I was confident in the play calling. I was confident in the guys. And I felt that they were still confident in me," Bridgewater said.
Unfortunately, what Teddy started he could not finish as the young quarterback left the game with an ankle injury. He's scheduled to have an MRI on Monday.
"I told him he would be fine," Vikings head coach Mike Zimmer said.
The 41 points scored by the Vikings was the second-highest total since the 2009 season, when they were led at quarterback by future Hall of Famer Brett Favre.
Eagles Offense Disappears
The Philadelphia Eagles entered Sunday's game with the San Francisco 49ers as one of just three unbeaten teams remaining. They not only left with a loss, but left with some major question marks about the leader of their offense.
The Eagles were basically spotted 21 points stemming from a blocked punt and recovery for a touchdown, an 82-yard Darren Sproles punt return touchdown and a Malcolm Jenkins pick-six. The offense, which had averaged better than 31 points per game coming in added….zero.
"We just didn't execute, it's as simple as that," Eagles quarterback Nick Foles said. "I'm not going to break it down or anything."
Foles had better break it down this week because he was simply terrible on Sunday. Foles completed just 21 of 43 throws for 195 yards with a pair of interceptions, bringing his season total to four, twice the amount he had all of last year.
"As an offense, we have to look at this and we're going to be better for it," Foles said. "I've got to give the guys an opportunity to make a play and I didn't do that."
Nick Foles has put up reasonably good stats this season for the undefeated Eagles, but his pocket presence has been lacking. Foles has been sacked six times this season and has fumbled three times in addition to his four interceptions.
When the running game hasn't been effective, neither has Foles. LeSean McCoy struggled mightily as he gained just 17 yards on 10 carries and the team had just 22 yards on 12 total carries.
"We couldn't get anything going up front," Eagles head coach Chip Kelly said when asked about his team's rushing attack. "It was tough sledding for anyone in there."
With the Eagles offensive line issues early on, the 49ers may have given the rest of the NFL a blueprint to stop them. Play zone, get pressure with three or four guys and confuse Nick Foles.
Buccaneers admit mistake, boot Aguayo
In the NFL, it's always better to admit a mistake than to compound it. For the Buccaneers, the decision to burn a 2016 second-round pick on kicker Robert Aguayo has proven to be a mistake. The Buccaneers made the definitive admission of their error on Saturday, cutting Aguayo. He exits with $428,000 in fully-guaranteed salary [
more
]
Source: Mike Florio of ProFootballTalk
Powered by WPeMatico
Did Bucs put too much pressure on Aguayo?
After the Buccaneers surprised everyone by taking a kicker with the 59th overall pick in the draft, G.M. Jason Licht explained the move by heaping superlatives on the player. "I was very excited along with my staff and coaches about Roberto for a very long time," Licht told PFT Live in May 2016. "It's not [
more
]
Source: Mike Florio of ProFootballTalk
Powered by WPeMatico
Broncos holding their breath on Derek Wolfe
Only two days after losing Billy Winn for the year with a torn ACL, the Broncos are now sweating out another potentially serious injury along the defensive line. Via multiple reports, Broncos defensive lineman Derek Wolfe was carted off the field during practice on Saturday. It's being described as a right ankle injury by coach [
more
]
Source: Mike Florio of ProFootballTalk
Powered by WPeMatico