NFL AM: Another Thursday Night, Another Blowout
We discuss how and why Thursday night football games have been so unwatchable as well as a new venue and time for the NFL Draft.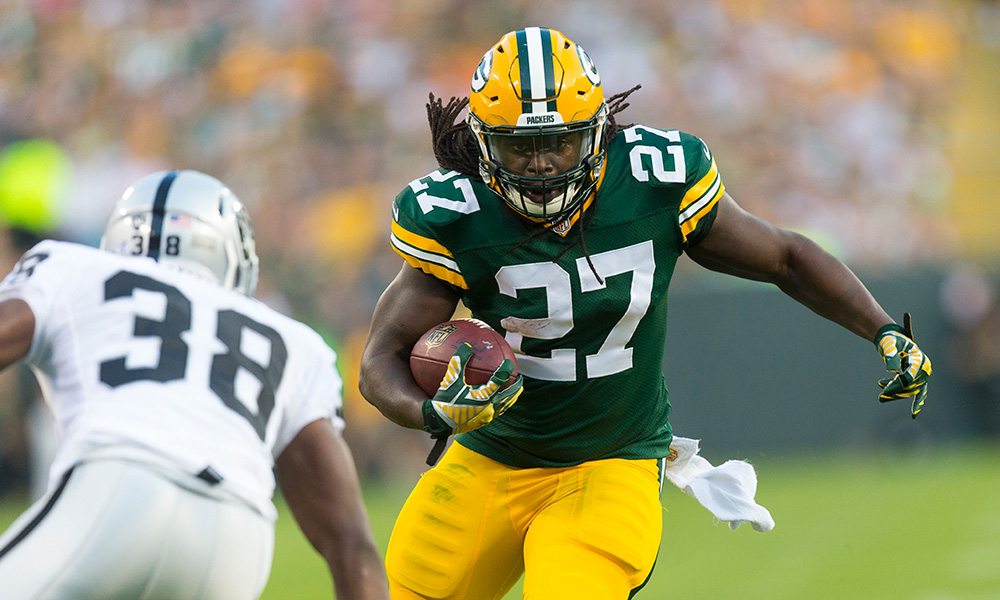 In this edition of NFL AM, we discuss why Thursday night football games have been so one-sided as well as the NFL Draft moving to the midwest.
CBS Isn't Getting Their Money's Worth
They say the only things guaranteed in life are death and taxes. We might want to add blowouts on Thursday night football to that list. As most expected, the Green Bay Packers handled the Minnesota Vikings, 42-10.
We've seen a disturbing trend for these short rest Thursday night affairs. The games have been out of hand early and pretty much unwatchable. The results thus far have been margins of 20, 42, 31, and now 32 points. Those last three weeks have produced the three largest blowouts since Thursday night football began in 2006.
On paper, the Thursday night games have appeared to be pretty good matchups. The first short-rest game, Pittsburgh vs. Baltimore had produced five consecutive outcomes of three points or less entering their Week 2 game and one would have reason to believe those are pretty evenly matched teams. The Falcons and Buccaneers both finished last season with identical 4-12 records. The Giants went on the road and pounded a Washington team that was actually favored, and the only real mismatch was Thursday night's Minnesota-Green Bay game, mainly due to Vikings starting quarterback Teddy Bridgewater being unavailable.
Former Washington Redskins and Denver Broncos Super Bowl winning lineman Mark Schlereth tweeted his opinion on the Thursday night blowouts.
"Thursday night football. Old players are t0 beat up to perform well young players don't get to practice game plan = bad Football."
CBS has reportedly paid $275 million for the 2014 season to broadcast these Thursday night games in conjunction with the NFL Network.
"The NFL is the most powerful programming in television," said Sean McManus, chairman for CBS Sports. "To add a primetime NFL package to our successful Sunday AFC package further strengthens our position in the sports marketplace."
With outcomes in hand by 9:30 p.m. Eastern Standard Time, it's difficult to imagine that the network is getting its money's worth.
NFL Draft Leaves Broadway
The NFL has announced that they're moving the annual draft from Radio City Music Hall in New York City to the Auditorium Theatre of Roosevelt University in Chicago.
"We are excited to have fans from throughout the midwest experience the NFL Draft," said NFL Commissioner Roger Goodell. "We look forward to returning the event to the city of Chicago and working with the city, Choose Chicago, and the Chicago Sports Commission to create a week-long celebration of football for our fans. Mayor Emanuel and the city of Chicago presented us with numerous ways to enhance the Draft experience for our fans and incoming players."
The NFL Draft was held in Chicago in 1938, 1942-44, 1951 and 1962-64.
"Chicago is pleased to welcome the 2015 NFL Draft to America's heartland," said Mayor Emanuel. "Next year, NFL fans from across the country will travel here or tune in as the future of their team is decided in Chicago. We look forward to working with the Chicago Bears, the NFL, and our neighborhood partners to make this an event that highlights our world class city and reinvests in our communities."
The Draft will return to primetime for Rounds 1-3. Round 1 will take place on Thursday, April 30 while Rounds 2-3 will be held on Friday, May 1. The Draft will conclude on Saturday, May 2 with Rounds 4-7.
Round 1 festivities will include incoming prospects walking the red carpet on Michigan Avenue, while 32 former players who are members of the NFL Legends community, one representing each team, will be on hand for Round 2 to announce selections. In addition to the event inside Auditorium Theatre, the Draft will expand outside to Grant Park and Congress Plaza. There will be an outdoor fan festival for all three days where fans of all teams can follow the Draft, enjoy interactive exhibits and autograph sessions with current and former players. Tickets will be free for all fans.
The 125-year-old Auditorium Theatre opened in 1889 and has hosted operas, concerts, musicals and ballets. Presidents Theodore Roosevelt and William McKinley gave speeches at the theatre, which has also hosted shows by performers such as Ray Charles, The Doors, Aretha Franklin, Jimi Hendrix, Elton John, Frank Sinatra and Stevie Wonder. The theatre also hosted Les Miserables and Phantom of the Opera.
Coverage of the 2014 NFL Draft on NFL Network, ESPN & ESPN2 reached 45.7 million people across the three days, topping the previous record set in 2010 (45.4 million), according to The Nielsen Company. First-round coverage on ESPN and NFL Network drew a combined total viewership of 32.0 million viewers, making it the most-viewed Round 1 ever, according to Nielsen. Round 1 was the most-watched program on cable and the second most-watched program on television that Thursday night (The Big Bang Theory, CBS).
New York had hosted the NFL Draft in several different venues every year since 1965.
Buccaneers admit mistake, boot Aguayo
In the NFL, it's always better to admit a mistake than to compound it. For the Buccaneers, the decision to burn a 2016 second-round pick on kicker Robert Aguayo has proven to be a mistake. The Buccaneers made the definitive admission of their error on Saturday, cutting Aguayo. He exits with $428,000 in fully-guaranteed salary [
more
]
Source: Mike Florio of ProFootballTalk
Powered by WPeMatico
Did Bucs put too much pressure on Aguayo?
After the Buccaneers surprised everyone by taking a kicker with the 59th overall pick in the draft, G.M. Jason Licht explained the move by heaping superlatives on the player. "I was very excited along with my staff and coaches about Roberto for a very long time," Licht told PFT Live in May 2016. "It's not [
more
]
Source: Mike Florio of ProFootballTalk
Powered by WPeMatico
Broncos holding their breath on Derek Wolfe
Only two days after losing Billy Winn for the year with a torn ACL, the Broncos are now sweating out another potentially serious injury along the defensive line. Via multiple reports, Broncos defensive lineman Derek Wolfe was carted off the field during practice on Saturday. It's being described as a right ankle injury by coach [
more
]
Source: Mike Florio of ProFootballTalk
Powered by WPeMatico