NFL 10 Big Things: Week 3
Here are 10 stories that will impact games across the NFL in week three.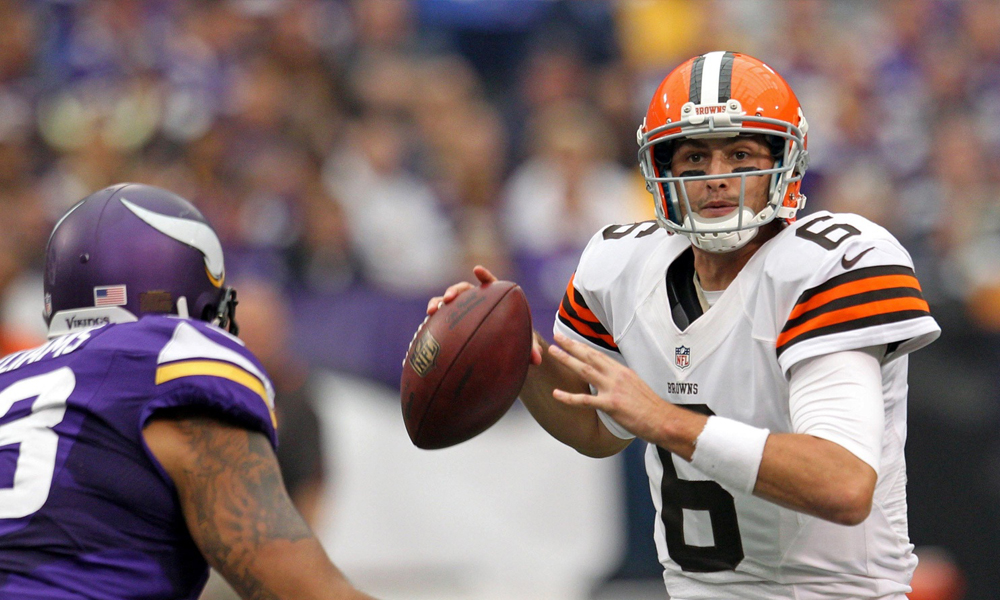 Each week, we'll give you 10 things to keep an eye on during the week's upcoming games. From one-on-one match ups to players on the mend, we'll talk about 10 things that could have an impact on your favorite team, or your fantasy team.
1. San Diego's offense vs. Buffalo's defense: Despite a hiccup in week one against the Arizona Cardinals, San Diego's offense looks to be versatile enough to compete with anyone. Ryan Mathews will miss several weeks with a sprained MCL, but Donald Brown looks prepared to step right into the role, and Antonio Gates is back to looking like Antonio Gates, and as the Seattle Seahawks learned last weekend, that's a tough match up for anyone.
While the Bills' defense is without last year's Defensive Rookie of the Year Kiko Alonso, they're still off to a very solid start. They gave up plenty of yards to the Chicago Bears, but were able to stiffen when it counts, holding the Bears to 20 points and intercepting Jay Cutler twice in their week one victory. Bill Lazor's offense seemed to be working just fine during the preseason and during the Miami Dolphins' 33-20 opening week victory over the New England Patriots, but couldn't seem to catch stride against Buffalo as the Bills dominated their week two match up, 29-10.
2. Peyton Manning vs. Seattle's defense: Surely, as you read this, Manning is somewhere watching film of everything his buddy Philip Rivers did to the Legion of Boom in the Chargers' shocking upset of the Seahawks in week two. The demise of the Seahawks is greatly exaggerated, but last week we learned that they are vulnerable if you can protect the quarterback. Sure, Peyton may employ something that worked for San Diego last weekend, but the biggest difference in this weekend's Super Bowl rematch will be the offensive line starting in front of Manning. The return of Ryan Clady makes Denver better across the line, and Peyton will be sure to have more time this Sunday than he did back in February.
3. Cordarrelle Patterson in the backfield: In week one, Patterson ran three times for 102 yards and a touchdown. Even though the team was without Adrian Peterson a week ago, they didn't give the ball to Patterson out of the backfield one time. The result? The Vikings ran the ball for just 54 yards in their week two loss to the New England Patriots, averaging just two yards per attempt. The Vikings are always looking for ways to get the ball to Patterson, and the lack of a run game is going to give them another excuse to line him up in the backfield.
4. Tom Brady taking out his poor start on the Oakland Raiders: Just like Peyton Manning, expect to see a highly motivated Tom Brady when the Patriots host the Raiders. Brady has thrown for 398 yards and two touchdowns through two weeks. That's a single-game performance in most years for the Patriots' signal caller, but look for him to bounce back in a big way against Oakland. The Raiders are a punching bag, and don't be surprised if Brady takes out some of his early season frustrations on the Silver and Black.
5. Arizona could take early lead in NFC West: The San Francisco 49ers have been so inconsistent on offense that it's not entirely out of the question that they fall to the Arizona Cardinals this weekend, even if Carson Palmer isn't back. According to Bruce Arians, Palmer could miss a day, or a month. The St. Louis Rams gave up 185 yards rushing to the Minnesota Vikings, and another 157 in their week two match up with the Tampa Bay Buccaneers. This weekend, the Rams welcome in the Dallas Cowboy and the league's leading rusher DeMarco Murray. To be kind, the results could be ugly. The defending Super Bowl champion Seattle Seahawks host Peyton Manning and the Denver Broncos on Sunday, and a healthy Broncos line suggests it won't look anything like February. If the Cardinals can pull off the victory against the 49ers this weekend, and the Rams and Seahawks fall, the Cardinals could take a two-game lead in the division.
6. The Cleveland Browns are exciting and could compete in the AFC North: Yes, you read that correctly. The Cincinnati Bengals unquestionably look like the best team in the North, but after the Bengals, each team in the division has some warts. After storming back from a 27-3 halftime deficit in Pittsburgh to fall just short, the Browns played the role of comeback kids again against the New Orleans Saints, this time pulling off the comeback victory. A victory over the Baltimore Ravens, who looked impressive in their defeat of the Steelers last Thursday, would go a long way to proving they can compete for a playoff spot in the AFC North.
7. Kirk Cousins starting a quarterback controversy: Bruce Allen is still the Washington Redskins' GM, and he probably doesn't want to admit the ridiculous haul he gave up for Robert Griffin III was a massive mistake. New head coach Jay Gruden, however, doesn't have such concerns. He also doesn't have Griffin III for the next several weeks after he dislocated his ankle last Sunday against the Jacksonville Jaguars. All Cousins did was throw for 250 yards and two touchdowns while looking in greater command of the offense than Griffin III has since the preseason began. To many, Cousins outperformed Griffin III all preseason, and if he continues to look like a better fit for Gruden's offense, it's going to make for a very difficult decision when Griffin III does get healthy.
8. The slow starting Eagles offense: We all love a good comeback, but I'm sure Chip Kelly wouldn't mind the Eagles scoring a couple of first half points. The Eagles have found a way to come back from big deficits each of the first two weeks, but they can't keep playing from behind. The Eagles were able to score 34 second half points after trailing the Jacksonville Jaguars 17-0 at halftime and 24 second half points after trailing 17-6 in Indianapolis, against the Colts. This weekend, Kelly will certainly have something up his sleeve when the Eagles host the Washington Redskins and former receiver DeSean Jackson to be sure his offense starts working a little faster.
9. The offensive explosion in Detroit: The Detroit Lions and Green Bay Packers have mirror offenses, literally. Former Packers quarterbacks coach Joe Lombardi brought much of what he learned in Green Bay to his new job as offensive coordinator for the Lions. There's part of you that wonders if these two teams knowing so much about each other's offenses would lead to a chess match between the Lions and Packers. Then, there's common sense, which reminds you about each team's defense. Both of these offenses in a dome should lead to a pretty entertaining game to watch.
10. DeMarco Murray against the Rams: If the Dallas Cowboys are going to be successful at all in 2014 it will be on the back of a strong running game led by DeMarco Murray. Murray leads the NFL in rushing after two weeks of action with 285 yards while averaging over 5.5 yards per carry. As mentioned above, the Rams have given up 342 rushing yards through two weeks. Only the Pittsburgh Steelers, Green Bay Packers and Oakland Raiders have given up more rushing yards than the Rams.
A year ago these teams also met in week three, and it was a big game for Murray, who racked up 175 yards on the ground. Rams coach Jeff Fisher remembers the game more vividly than he'd like. "We missed too many tackles," Fisher said. "We had some run misfits. We've got our work cut out for us this week because it seems like yesterday that mess happened in Dallas last year."
Buccaneers admit mistake, boot Aguayo
In the NFL, it's always better to admit a mistake than to compound it. For the Buccaneers, the decision to burn a 2016 second-round pick on kicker Robert Aguayo has proven to be a mistake. The Buccaneers made the definitive admission of their error on Saturday, cutting Aguayo. He exits with $428,000 in fully-guaranteed salary [
more
]
Source: Mike Florio of ProFootballTalk
Powered by WPeMatico
Did Bucs put too much pressure on Aguayo?
After the Buccaneers surprised everyone by taking a kicker with the 59th overall pick in the draft, G.M. Jason Licht explained the move by heaping superlatives on the player. "I was very excited along with my staff and coaches about Roberto for a very long time," Licht told PFT Live in May 2016. "It's not [
more
]
Source: Mike Florio of ProFootballTalk
Powered by WPeMatico
Broncos holding their breath on Derek Wolfe
Only two days after losing Billy Winn for the year with a torn ACL, the Broncos are now sweating out another potentially serious injury along the defensive line. Via multiple reports, Broncos defensive lineman Derek Wolfe was carted off the field during practice on Saturday. It's being described as a right ankle injury by coach [
more
]
Source: Mike Florio of ProFootballTalk
Powered by WPeMatico