Le'Veon Bell Quickly Becoming One of NFL's Best RBs
Le'Veon Bell is quickly becoming one of the league's best running backs.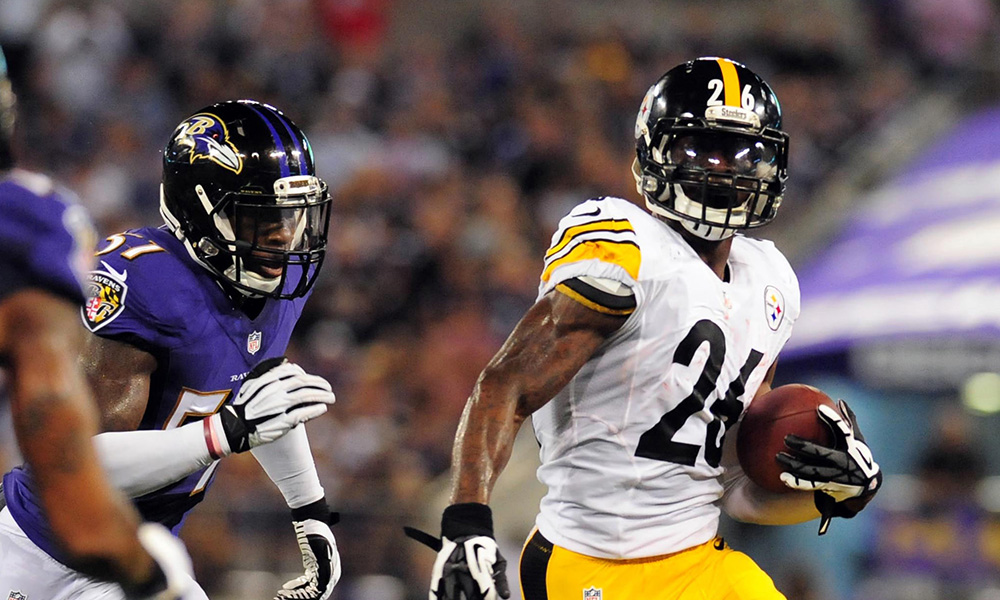 Is Barry Foster about to get some company?
Maybe you forgot who Foster is exactly. He's the only Pittsburgh Steelers running back since the AFL-NFL merger in 1970 to lead the league in rushing yards. In 1992, Foster set a team record with 390 carries for 1,690 yards. Twenty-two other times, Pittsburgh has had a 1,000-yard rusher, but none have led the league or even worn the AFC rushing crown.
Is that about to change? Second-year running back Le'Veon Bell is on pace to join Foster after four games.
Currently, Bell leads the AFC in rushing with 378 yards and trails only Dallas Cowboys running back DeMarco Murray (534) for the lead in the NFL. Watching the former Michigan State, it's clear that this is just the tip of the iceberg of this enormous talent.
Standing at 6-foot-1 and 225 pounds (20 pounds lighter than last season), Bell does things that other running backs his size simply cannot. Bell has impressive power and speed. He glides for a player his size and doesn't rumble violently down the field looking for contact like most big backs we're accustomed to seeing. However, he is also smooth and patient, waiting for the play to develop then hitting the corner, shifting gears and before breaking away.
"He obviously took this offseason very seriously," Steelers offensive coordinator Todd Haley said. "He worked hard on his own before he even got here. He has worked hard out here every day. I think anybody that watches can see that he is running extra. Every time he touches it, he finishes to the length of the field."
That extra effort was evident against the Carolina Panthers in Week 3, when Bell took one carry 81 yards before being tackled. After four weeks of play, no other running back has a carry longer than Bell's 81 yards.
Last week, former NFL great LaDainian Tomlinson praised Bell on on NFL Network.
"Right now, I would take Le'Veon Bell over any running back in the league," Tomlinson said. "He has it all."
Those are pretty strong words coming from a guy who led the league in rushing twice – in 2006 with 1,815 yards and 2007 with 1,474 yards. Tomlinson also led the league in all-purpose yards in 2003 with 2,370.
Bell is the only player in the league with at least 300 yards rushing (378) and 100 yards receiving (192). He ranks second in all-purpose yards with 570, again behind only Murray who leads the league with 602.
"The bottom line is that he is giving himself the best chances to succeed," Haley said. "And I am happy for him and us that you are seeing some of that show up on Sundays."
Last summer during training camp, it was clear that Bell was special and he was ready to make an immediate impact.  He started the final 13 games after being inactive for the first three contests due to a right foot injury suffered in the second preseason game. He ended up finishing with 1,259 yards from scrimmage, passing Hall of Fame running back Franco Harris (1,235 in 1972) for the most yards from scrimmage by a Steelers' rookie.
Two-time Super Bowl winning quarterback Ben Roethlisberger trusts the second-year back, targeting Bell 24 times this season. Only three other Steelers' players have been targeted more. The versatility Bell brings is on display when catching the football out of the backfield. He ranks fourth on the team with 19 catches for 192 yards receiving. Chicago Bears running back Matt Forte is the only back in the NFL with more catches (24). Bell and Buffalo Bills running back Fred Jackson are tied for second overall in catches by a back.
Bell has 12 more games to try to make history and join Foster as a leading rusher. Regardless of where he finishes, it should be exciting to watch.
Buccaneers admit mistake, boot Aguayo
In the NFL, it's always better to admit a mistake than to compound it. For the Buccaneers, the decision to burn a 2016 second-round pick on kicker Robert Aguayo has proven to be a mistake. The Buccaneers made the definitive admission of their error on Saturday, cutting Aguayo. He exits with $428,000 in fully-guaranteed salary [
more
]
Source: Mike Florio of ProFootballTalk
Powered by WPeMatico
Did Bucs put too much pressure on Aguayo?
After the Buccaneers surprised everyone by taking a kicker with the 59th overall pick in the draft, G.M. Jason Licht explained the move by heaping superlatives on the player. "I was very excited along with my staff and coaches about Roberto for a very long time," Licht told PFT Live in May 2016. "It's not [
more
]
Source: Mike Florio of ProFootballTalk
Powered by WPeMatico
Broncos holding their breath on Derek Wolfe
Only two days after losing Billy Winn for the year with a torn ACL, the Broncos are now sweating out another potentially serious injury along the defensive line. Via multiple reports, Broncos defensive lineman Derek Wolfe was carted off the field during practice on Saturday. It's being described as a right ankle injury by coach [
more
]
Source: Mike Florio of ProFootballTalk
Powered by WPeMatico