Jerry Hughes Is Making The Most Of His Second Chance
Find out how Jerry Hughes went from a bust to an impact player.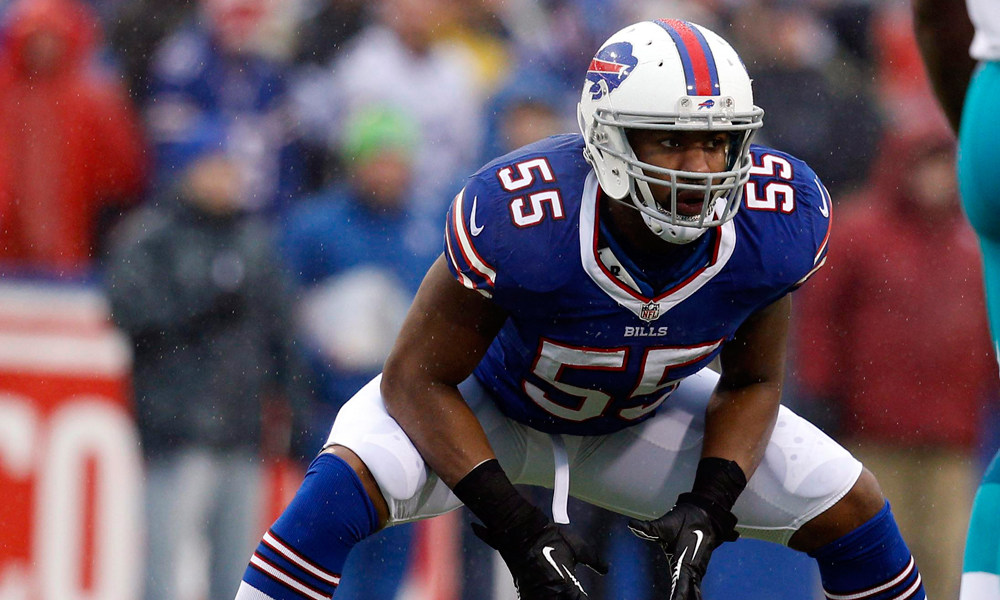 The value a first round pick has in the NFL is undeniably tremendous. If you hit, that selection can turnout to be a franchise changer, but on the opposite side of the coin it could cost lots of people their jobs.
Back in 2010, the Indianapolis Colts thought they found their next great pass rusher when they selected defensive end Jerry Hughes in the first round. The 26-year old is the first TCU Horned Frog drafted in the first round since LaDainian Tomlinson went fifth-overall to the San Diego Chargers back in 2001, and he's the first TCU defensive player selected in the first round since Bob Lilly, who went 13th to the Dallas Cowboys in 1961.
Hughes was a consensus All-American during his upperclassmen years, which drew some comparisons to current Colt Robert Mathis, but that elite play didn't translate immediately. During his 40 games in Indianapolis, he gathered just 41 tackles and five sacks.
With the Colts becoming frustrated with Hughes, the franchise decided to trade him to Buffalo for linebacker Kelvin Sheppard. Ironically, the Colts decided to waive Sheppard after one season, where he tallied 46 tackles and one sack.
"It never really felt like home," Hughes said of his time in Indianapolis. "So that's why I'm not really too attached to there."
Hughes went on to elaborate about his Indianapolis experience.
"Early on with the career in Indy it was definitely tough being the first-round guy and not getting the opportunity to play those first two seasons," Hughes said. "But I just kind of look at that they really didn't know what they have."
However, during his final season with the Colts, Hughes began to show flashes of his potential with greater opportunity.
"I think last year the organization gave me an opportunity to play the field," said Hughes. "The first two years I didn't really get too much [time] on the field. If you're not on the field, nobody really knows you. Last year it was a fresh organization and they gave me the opportunity. I just do what I do best and go out there and play football."
Hughes racked up 41 tackles and four sacks in that final season with Indianapolis before being traded, which has turned out to be the best thing for Hughes professional career.
From the jump, Hughes believed Buffalo was a good fit for him.
"Just by the way I play football," Hughes said of why he is a fit for the Bills. "I'm fast on the field, I'm relentless, I'm always going after the ball-carrier. I'll do whatever it takes to help the team."
Thus far Hughes has been right about the fit.
In 24 games with Buffalo, he already has more tackles (74) and sacks (15.5) than he did with Indianapolis.
Sometimes all a player needs is change.
"Just the whole change of scenery, getting the opportunity was huge, and I just wanted to take full advantage of that," Hughes said.
With the Bills sitting at 5-3, they're hopeful Hughes can help lead them to the playoffs for the first time since 1999.
Did Bucs put too much pressure on Aguayo?
After the Buccaneers surprised everyone by taking a kicker with the 59th overall pick in the draft, G.M. Jason Licht explained the move by heaping superlatives on the player. "I was very excited along with my staff and coaches about Roberto for a very long time," Licht told PFT Live in May 2016. "It's not [
more
]
Source: Mike Florio of ProFootballTalk
Powered by WPeMatico
Broncos holding their breath on Derek Wolfe
Only two days after losing Billy Winn for the year with a torn ACL, the Broncos are now sweating out another potentially serious injury along the defensive line. Via multiple reports, Broncos defensive lineman Derek Wolfe was carted off the field during practice on Saturday. It's being described as a right ankle injury by coach [
more
]
Source: Mike Florio of ProFootballTalk
Powered by WPeMatico
Buccaneers admit mistake, boot Aguayo
In the NFL, it's always better to admit a mistake than to compound it. For the Buccaneers, the decision to burn a 2016 second-round pick on kicker Robert Aguayo has proven to be a mistake. The Buccaneers made the definitive admission of their error on Saturday, cutting Aguayo. He exits with $428,000 in fully-guaranteed salary [
more
]
Source: Mike Florio of ProFootballTalk
Powered by WPeMatico