Is Nick Foles A One-Hit Wonder?
Nick Foles could become a star, but only time will tell if he'll reach his full potential.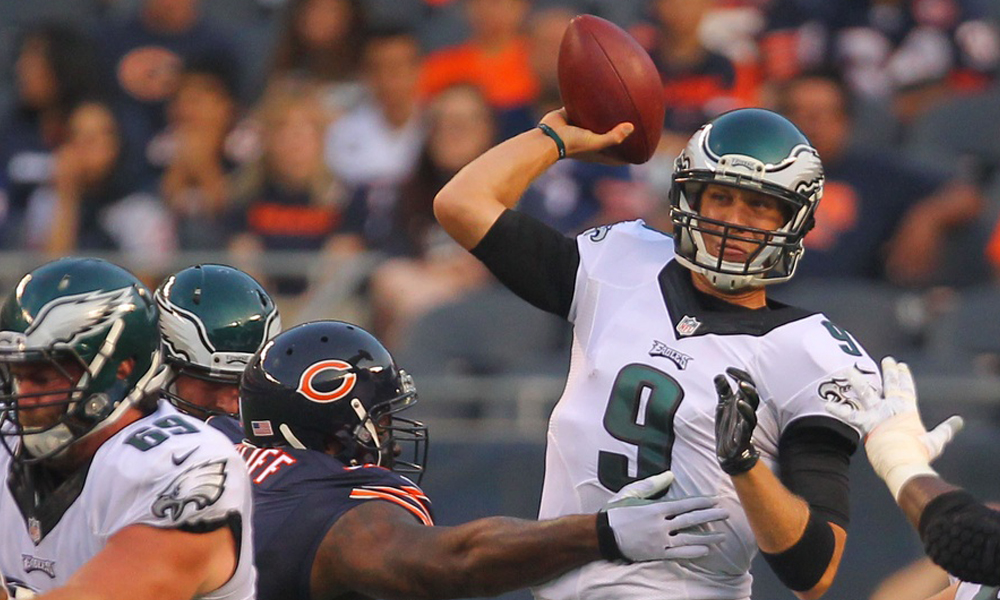 In this edition of Point/Counterpoint, writer Mark Gunnels and NFL editor Charlie Bernstein debate whether Philadelphia Eagles quarterback Nick Foles is ascending toward elite status or a just another young guy will regress.
Mark Gunnels states his case why Foles is here to stay:
The Eagles have turned into an offensive juggernaut thanks to head coach Chip Kelly and quarterback Nick Foles. Last year, the Eagles ranked second in yards per game and fourth in points a game.
Kelly's fast-paced offense seemed to be a perfect fit for Michael Vick, but things didn't go as planned for the veteran quarterback. It all started when Vick injured his hamstring last year against the New York Giants. At the time, it seemed like Philly was doomed, but Foles' emergence actually turned out to be a blessing in disguise.
"(Foles) had an opportunity to learn from me this year and last year and just sit behind me and pick my brain, and he also went out and played the game, and now he's just taking that and everything is unfolding for him," Vick said of Foles last year.
Foles came in and changed Philly's fortunes. He went 8-2 as a starter to help lead Philly to the NFC East championship. Their season ended shortly after, when the New Orleans Saints knocked them out in the divisional round of the playoffs. Despite not winning a playoff game, most would consider the Eagles' season a success.
Now the question is, was Foles just a one-year wonder?
We've seen quarterbacks have one good season and instantly fall off the face of the earth next season. Injuries are the biggest cause of this, just look at Washington Redskins quarterback Robert Griffin III.
Foles hasn't been spectacular through two games this season, but all that matters is the 2-0 record. To his credit, both wins were in come-from-behind fashion. Sometimes when it comes to the quarterback position, it's all about the intangibles. Although it's been a small sample size, Foles has displayed the 'it' factor that you simply can't teach.
The 25-year-old still has a lot to prove, but he's in a perfect situation with Kelly and Philadelphia's weapons at his disposal. Foles could turn out to be a fruad or a star. Only time will tell.
Charlie Bernstein gives his take of why Nick Foles is "just a guy."
There have been several quarterbacks that have entered the league and experienced some immediate success. Many of those have suffered a major regression as defenses get film and have had an offseason to study their strengths and weaknesses.
That's what is happening with Eagles quarterback Nick Foles.
Even the most faithfully blind Philadelphia Eagles fan would tell you that Foles touchdown to interception ratio from a season ago (27 TD's/2 INT's) was fluky at best and there would be a regression to the mean. To hold up over time in the NFL you need to have above average arm strength, pocket presence and accuracy. Although there is no question about Nick Foles arm strength, he's had major issues with pocket presence and accuracy in the first two weeks of 2014.
Whereas most remember Foles spectacular 2013 campaign, he did see some game action at the end of his rookie season of 2012, and he looked pretty mediocre. Foles threw for just 6 TD's and 5 INT's in six games while posting a 1-5 record.
Last season, new coach Chip Kelly brought the Eagles pace up to a frenetic level which took the league by storm. After Michael Vick became injured, Foles started the final 10 games of the season and put up the impressive numbers he did.
Now that the league has had a chance to evaluate Foles and the Eagles offense, the 2014 returns are more indicative of his actual talent level which caused 87 players to be selected ahead of him in the draft. Against a Jacksonville defense which ranked 27th in the NFL in defense a year ago, Foles took five sacks in one half and turned the ball over three times. Foles missed open receivers all over the field, and the Philly offense finally started producing when running back Darren Sproles busted a 49-yard touchdown run. If one of the worst defenses in football can utterly confuse Nick Foles, what's going to happen when he actually faces a good team?
I will agree with my colleague that Foles hasn't been spectacular through two games. Citing the win-loss record can be extremely skewed. The Eagles were headed toward losses in each game before circumstances stepped in and saved the day, not so much this supposed "future star in the making." In Week 1 when Jaguars safety Jonathan Cyprien left the game with a concussion, Eagles wideouts were open all over the football field and Foles did lob a few balls for some scores; Throws that any quarterback who has played this decade could make. In Week 2, Foles erratic play and poor presence put the Eagles in another big hole. Fortunately for Philadelphia, the running and screen game with LeSean McCoy and Darren Sproles were able to bail them out, as well as a missed defensive holding call which led to an Andrew Luck interception which allowed the Eagles a chance to come back.
Nick Foles plays for an offensive genius and now that the league has some film on him he's looking extremely mediocre. Foles is a product of superior coaching and offensive talent around him and if he were on a different team he would be a below average starter or above average backup quarterback.
Buccaneers admit mistake, boot Aguayo
In the NFL, it's always better to admit a mistake than to compound it. For the Buccaneers, the decision to burn a 2016 second-round pick on kicker Robert Aguayo has proven to be a mistake. The Buccaneers made the definitive admission of their error on Saturday, cutting Aguayo. He exits with $428,000 in fully-guaranteed salary [
more
]
Source: Mike Florio of ProFootballTalk
Powered by WPeMatico
Did Bucs put too much pressure on Aguayo?
After the Buccaneers surprised everyone by taking a kicker with the 59th overall pick in the draft, G.M. Jason Licht explained the move by heaping superlatives on the player. "I was very excited along with my staff and coaches about Roberto for a very long time," Licht told PFT Live in May 2016. "It's not [
more
]
Source: Mike Florio of ProFootballTalk
Powered by WPeMatico
Broncos holding their breath on Derek Wolfe
Only two days after losing Billy Winn for the year with a torn ACL, the Broncos are now sweating out another potentially serious injury along the defensive line. Via multiple reports, Broncos defensive lineman Derek Wolfe was carted off the field during practice on Saturday. It's being described as a right ankle injury by coach [
more
]
Source: Mike Florio of ProFootballTalk
Powered by WPeMatico