Can the Denver Broncos follow San Diego's Blueprint?
The Broncos will look to exact revenge on the Seahawks by following a blueprint set by a heated rival.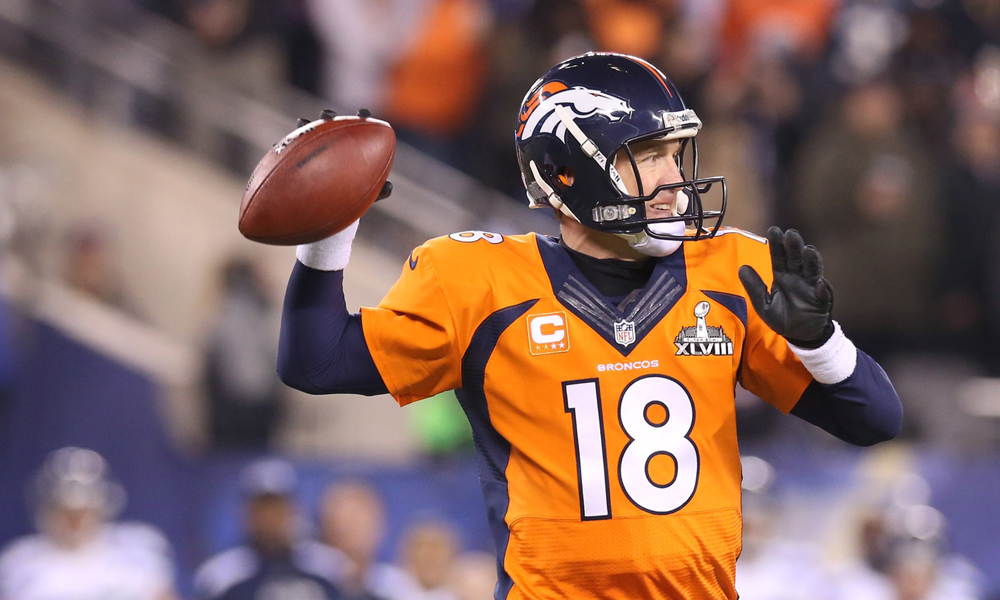 When the Broncos and Seahawks met in Super Bowl XLVIII, Seattle looked downright unbeatable, unleashing a 43-8 whooping that marked the third-largest point differential in the history of the Big Game. This year's Seahawks looked equally dominant in their season opener, delivering a 20-point thrashing of the Packers.
Then came Week 2, when the Chargers flipped the script on the defending champions and laid a blueprint for success that San Diego's division rivals hope to emulate in Week 3.
The Chargers did a lot of things well in last week's 30-21 upset victory, including protecting the football (no turnovers) and pressuring the quarterback (two sacks of Russell Wilson in just 25 pass attempts). But the real key to the game was how San Diego dominated time of possession, 42:15 to 17:45. That allowed Philip Rivers & Co. to wear down the vaunted Seattle defense, while permitting San Diego's defense to stay fresh into the fourth quarter (the Seahawks were shut out in the final stanza).
"They did a real good job on third down when they had the ball," Seahawks quarterback Russell Wilson said. "They just sustained drives and kept us off the field offensively."
The Chargers committed to their running game, rushing 37 times for 101 yards, and were deadly efficient on third down (converting 10-of-17 for a 58 percent success rate).
"Some of those draws and things in the running game against a tired defensive front, they work a whole lot better than when they're fresh and having a bunch of three-and-outs," Chargers quarterback Philip Rivers said. "The game and the flow went exactly how we wanted it to."
Those are principles the Broncos will try to replicate as they head to CenturyLink Field.
Montee Ball, who ran six times for just 1 yard in the Super Bowl, will need to be a workhorse back. He also must protect the football — he lost three fumbles as a rookie and cannot afford another against a Seattle defense that is aggressive is trying to take away the football.
If Ball is successful, it will put Peyton Manning in third-and-managable situations from which he can thrive. So far this season, Manning has completed 7-of -11 third- or fourth-down tries of 8 yards or less, while he has converted just 1-of-4 third- or fourth-down tries of 9 or more yards.
It will also help immensely that Denver gets back Wes Welker; 40 of his 73 catches a season ago came on third or fourth down.
Additionally, it's a boon that Manning is intimately familiar with the offense the Chargers used to carve up the Seahawks last Sunday; San Diego head coach Mike McCoy was Manning's offensive coordinator in Denver in 2012.
Manning now has a blueprint on how to beat the team that humiliated him on the grandest stage of all. And he has the talent at the skill positions to execute that plan at the highest level. All he has to do now is remind himself this is not a playoff game and he should do just fine.
Buccaneers admit mistake, boot Aguayo
In the NFL, it's always better to admit a mistake than to compound it. For the Buccaneers, the decision to burn a 2016 second-round pick on kicker Robert Aguayo has proven to be a mistake. The Buccaneers made the definitive admission of their error on Saturday, cutting Aguayo. He exits with $428,000 in fully-guaranteed salary [
more
]
Source: Mike Florio of ProFootballTalk
Powered by WPeMatico
Did Bucs put too much pressure on Aguayo?
After the Buccaneers surprised everyone by taking a kicker with the 59th overall pick in the draft, G.M. Jason Licht explained the move by heaping superlatives on the player. "I was very excited along with my staff and coaches about Roberto for a very long time," Licht told PFT Live in May 2016. "It's not [
more
]
Source: Mike Florio of ProFootballTalk
Powered by WPeMatico
Broncos holding their breath on Derek Wolfe
Only two days after losing Billy Winn for the year with a torn ACL, the Broncos are now sweating out another potentially serious injury along the defensive line. Via multiple reports, Broncos defensive lineman Derek Wolfe was carted off the field during practice on Saturday. It's being described as a right ankle injury by coach [
more
]
Source: Mike Florio of ProFootballTalk
Powered by WPeMatico