Former Stars Are Now Their Teams' Harshest Critics
Tim Tebow, Brian Urlacher and Hines Ward have all recently called out their former teams.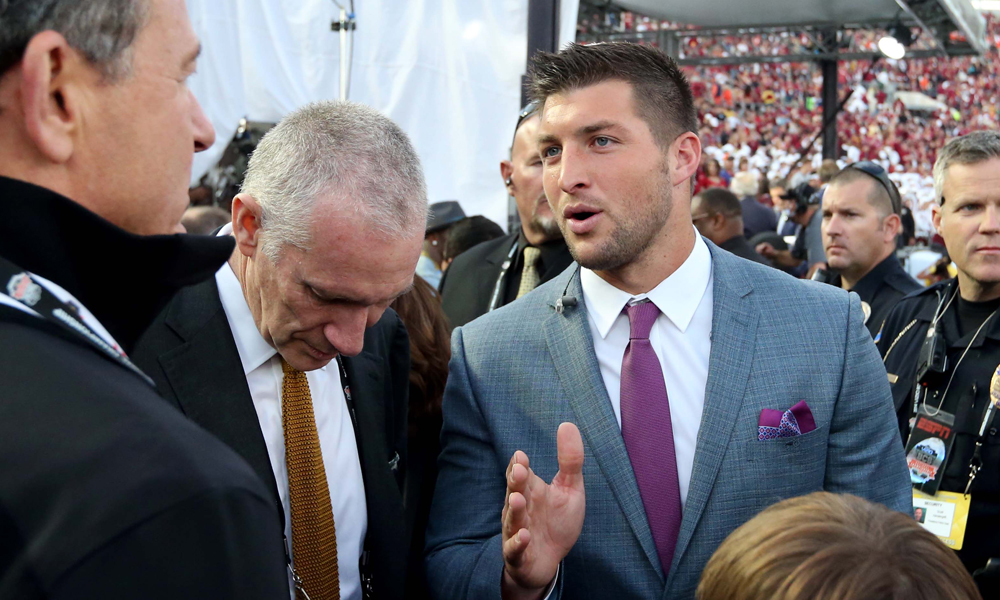 "Tebowing" is getting a whole new meaning.
He didn't start the fire, so to Joel-speak, but Tim Tebow is one of several prominent analysts who have recently criticize the underachieving team that made them famous. Football's most viral trend started with Hines Ward and Bill Cowher calling out the Pittsburgh Steelers a couple weeks ago, and has carried over to Tebow blasting the Florida Gators and most recently Brian Urlacher denouncing Chicago Bears quarterback Jay Cutler.
"I never thought I would say these words, but Pittsburgh has gotten soft," Cowher said on CBS' NFL Today after the Steelers lost 31-10 at Cleveland two weeks ago.
"The defense looks soft," Ward added on NBC's Football Night in America. "Guys are just able to run the ball up and down the field. I look at their personnel, they can't cover anybody in the secondary. Offensively, I thought I'd never say it, but the Steelers are a finesse offense right now. I don't even know who these guys are."
Current Pittsburgh coach Mike Tomlin scoffed at the claims as "elevator music" and his team put its money where Tomlin's mouth was with a 30-23 win over Houston last Sunday night.
But Cowher and Ward seemed to open the floodgates for others to air their grievances.
The most surprising of these cases was Mr. Sunshine himself, Tebow, who said in a radio interview this week that Florida lacks toughness, leadership and an identity on offense.
"They're not in rhythm, they're not in timing, they're not believing their brother next to them is going to do their job," Tebow told Jacksonville's 1010-AM.
It's impossible to disagree with Tebow's take when the Gators somehow surrendered 42 points despite allowing only 120 yards of offense to Missouri in a 42-14 loss.
Urlacher entered the fray on Wednesday, saying that Cutler is an elite quarterback "in salary only" on Chicago's 87.7 The Game.
"You look at the [Tom] Bradys, the [Peyton] Mannings, the [Aaron] Rodgers, the [Drew] Brees, those guys win every year, even with no one around them," Urlacher said. "Rodgers has no offensive line. He wins. Brady has no receivers. He wins.
"And you look at Jay. He's got Brandon [Marshall], Alshon [Jeffery], Matt [Forte], this great offensive line, Martellus Bennett, and they can't seem to put it together for some reason. I'm not sure if that's his fault, but for some reason they just can't figure it out."
Urlacher's not wrong, but his criticism differs from that of Cowher, Ward and Tebow because he has an axe to grind. Urlacher wanted to continue his Bears career in 2013, but the aging face of the franchise was given a low-ball offer by the team and decided he would rather hang it up. (In the Bears defense, they were offering reasonable money for a diminished product. Salary caps kill sentimentality).
A year after feeling slighted by what the Bears offered him, Urlacher watched them give Cutler an enormous seven-year, $126 million contract. In other words, Urlacher could turn his grapes into a batch of Sour Patch Kids.
Regardless of motives, a trend certainly seems to be underway with football headliners calling out their former teams. It will be interesting to see who will be the next to speak out – and why.
Buccaneers admit mistake, boot Aguayo
In the NFL, it's always better to admit a mistake than to compound it. For the Buccaneers, the decision to burn a 2016 second-round pick on kicker Robert Aguayo has proven to be a mistake. The Buccaneers made the definitive admission of their error on Saturday, cutting Aguayo. He exits with $428,000 in fully-guaranteed salary [
more
]
Source: Mike Florio of ProFootballTalk
Powered by WPeMatico
Did Bucs put too much pressure on Aguayo?
After the Buccaneers surprised everyone by taking a kicker with the 59th overall pick in the draft, G.M. Jason Licht explained the move by heaping superlatives on the player. "I was very excited along with my staff and coaches about Roberto for a very long time," Licht told PFT Live in May 2016. "It's not [
more
]
Source: Mike Florio of ProFootballTalk
Powered by WPeMatico
Broncos holding their breath on Derek Wolfe
Only two days after losing Billy Winn for the year with a torn ACL, the Broncos are now sweating out another potentially serious injury along the defensive line. Via multiple reports, Broncos defensive lineman Derek Wolfe was carted off the field during practice on Saturday. It's being described as a right ankle injury by coach [
more
]
Source: Mike Florio of ProFootballTalk
Powered by WPeMatico