Cross-Sport Doppelgängers: NFC East
We reveal our cross-sport doppelgängers for the Cowboys, Giants, Eagles and Redskins.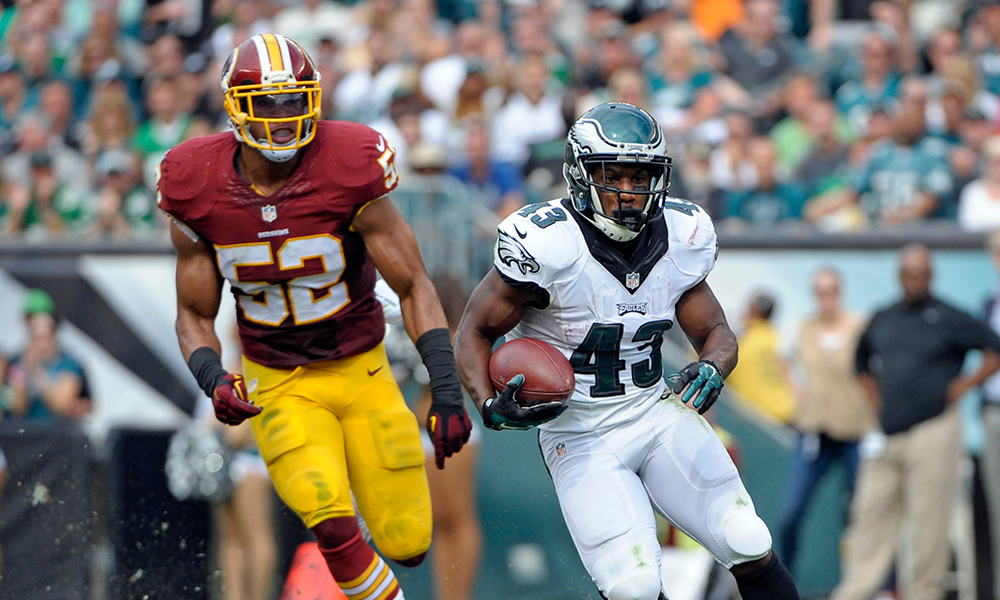 Our cross-sport doppelgängers series heads to the NFC, where we kick things off comparing NFC East teams to their NBA or MLB look-a-likes. Find out which franchises get paired up this week and learn why they have more in common than you ever would have imagined. 
Also, check out the rest of our cross-sport doppelgängers series: AFC East | AFC North | AFC South | AFC West
Dallas Cowboys = Los Angeles Lakers
This is one of the easier pairings in our doppelgängers series. These two franchises are among the most recognizable in all of sports. They have also each won the second most titles in their respective sports, with the Lakers having won 16 NBA titles (one behind the Boston Celtics) and the Cowboys having claimed five Super Bowls (one behind the Pittsburgh Steelers).
Both franchises are currently trying to overcome problematic ownership structures. In Dallas, owner/general manager Jerry Jones has evolved into one of the most meddlesome owners in all of sports. By refusing to hire to true general manager, he has sentenced his team to prolonged mediocrity. From 1997 till the end of last season, Dallas was 136-136, a stretch that includes just one postseason victory.
In Los Angeles, the Lakers have been in free-fall mode since legendary owner Jerry Buss passed away in February 2013. Jerry Buss' son, Jim, has bungled one move after another since taking over, from hiring Mike D'Antoni over Phil Jackson to losing Dwight Howard without compensation to grossly overpaying Kobe Bryant. The Lakers have gone from a destination franchise to a lottery lock.
The recent struggles of both franchises have forced their fans to focus on their success of years past. Fortunately, both teams have plenty of that. In addition to the aforementioned titles, these franchises have produced some of the biggest names in sports history, including Roger Staubach, Tom Landry, Troy Aikman, Emmitt Smith and Michael Irvin in Dallas, as well as Jerry West, Wilt Chamberlain, Kareem Abdul-Jabbar, Magic Johnson, Shaquille O'Neal and Bryant in Los Angeles.
New York Giants = Chicago White Sox
Both of these storied franchises have: 1) won a few championships; 2) secured at least one recent title; and 3) served as the "big brother" team in a two-team sports town.
The Giants have won four Super Bowls, with their most recent triumphs coming in 2011 and 2007. The Giants are clearly the "big brother" to the team they share a stadium with, as the Jets have not won a championship since 1968 and are about to finish a fourth consecutive non-winning season.
The White Sox have won three World Series, with the most recent coming in 2005. They have been clearly more successful than their city's co-inhabitants, the Cubs, who not won a title since 1908 and are coming off five consecutive losing seasons.
The Giants and White Sox have both won more games than they've lost (New York's all-time winning percentage is .546; Chicago's is .505), but they are both going through tough times right now. After missing the playoffs in 2012 and 2013, the Giants currently sit at 3-9 and are riding a seven-game losing streak. The White Sox, meanwhile,  have lost an average of 94 games over the last two seasons.
Philadelphia Eagles = Texas Rangers
It only takes three words to make this connection: Oh, so close!
The Eagles have been to two Super Bowls (1980 and 2004), losing both of them. Philadelphia also made three consecutive trips to the NFC Championship game between 2001-2003, losing each of those. Additionally, Philly lost in the NFC Championship Game in the 2008 season.
The Rangers made consecutive trips to the World Series in 2010 and 2011, failing on both attempts to capture the franchise's first championship. The loss in 2011 was particularly devastating. The Rangers led the series, 3-2, before losing Game 6 in extra innings. Texas went on to drop Game 7, as well, despite jumping out to a 2-0 lead in the first inning.
The Eagles and Rangers haven't produced as many big names as the Cowboys and Lakers, which we laid out above, but they did host two of the most dominant athletes of all time: Reggie White played with the Eagles from 1985-1992, while Nolan Ryan pitched for the Rangers from 1989-1993.
Washington Redskins = Brooklyn Nets
Bad ownership, terrible decisions in free agency, coaching drama … these franchises have it all!
Let's start on the ownership level. Daniel Snyder and Mikhail Prokhorov are both willing to spend whatever it takes to win; unfortunately, they have a tendency to spend on past-their-prime veterans. Snyder is now splitting his time between pretending his team's name is not racist and softly petting Robert Griffin III's head, whispering soft reassurances into his ear. Prokhorov also has quite the imagination,  pretending he is not trying to sell a franchise that has no chance to fulfill the promise he made in 2012 about the Nets winning a championship within three seasons.
Both owners have been of the mindset that they can buy a championship, something history shows is next to impossible. The Redskins have brought in a long list of free-agent busts, including Albert Haynesworth, Adam Archuleta, Antwaan Randle El and Jeremiah Trotter. The Nets prefer to blow their money on the trade market. Brooklyn's trade for Kevin Garnett and Paul Pierce was one of the worst in NBA history, as the Nets gave up three first-round picks that will set the franchise back for years. They also traded for one of the worst contracts in all of professional sports, Joe Johnson's six-year, $119 million pact.
Then there is the coaching drama. The Nets traded Jason Kidd to the Bucks after Kidd made a push for more power after his first season as head coach (which, although shrewd, makes sense given some of Billy King's awful decisions). Kidd has the Bucks exceeding expectations in Milwaukee, while the Nets are hovering around .500 under new coach Lionel Hollins. Meanwhile, in Washington, the Redskins hired Jay Gruden to fix RGIII, only to see the a public, messy rift emerge between the quarterback and coach that all but assures one of them will not be back next season.
It's not been pretty, but hey, at least it's entertaining … as long as you are not a fan of either team.
Do you agree with this week's doppelgänger choices? Would you like to offer up some other potential pairings? Join Michael Lombardo for his weekly NFL Chat on Friday at 2pm EST. But you don't have to wait until then … ask your question now or comment below. 
Buccaneers admit mistake, boot Aguayo
In the NFL, it's always better to admit a mistake than to compound it. For the Buccaneers, the decision to burn a 2016 second-round pick on kicker Robert Aguayo has proven to be a mistake. The Buccaneers made the definitive admission of their error on Saturday, cutting Aguayo. He exits with $428,000 in fully-guaranteed salary [
more
]
Source: Mike Florio of ProFootballTalk
Powered by WPeMatico
Did Bucs put too much pressure on Aguayo?
After the Buccaneers surprised everyone by taking a kicker with the 59th overall pick in the draft, G.M. Jason Licht explained the move by heaping superlatives on the player. "I was very excited along with my staff and coaches about Roberto for a very long time," Licht told PFT Live in May 2016. "It's not [
more
]
Source: Mike Florio of ProFootballTalk
Powered by WPeMatico
Broncos holding their breath on Derek Wolfe
Only two days after losing Billy Winn for the year with a torn ACL, the Broncos are now sweating out another potentially serious injury along the defensive line. Via multiple reports, Broncos defensive lineman Derek Wolfe was carted off the field during practice on Saturday. It's being described as a right ankle injury by coach [
more
]
Source: Mike Florio of ProFootballTalk
Powered by WPeMatico