Cam Newton Returning to Elite Status
Is Carolina Panthers quarterback Cam Newton close to returning to elite status?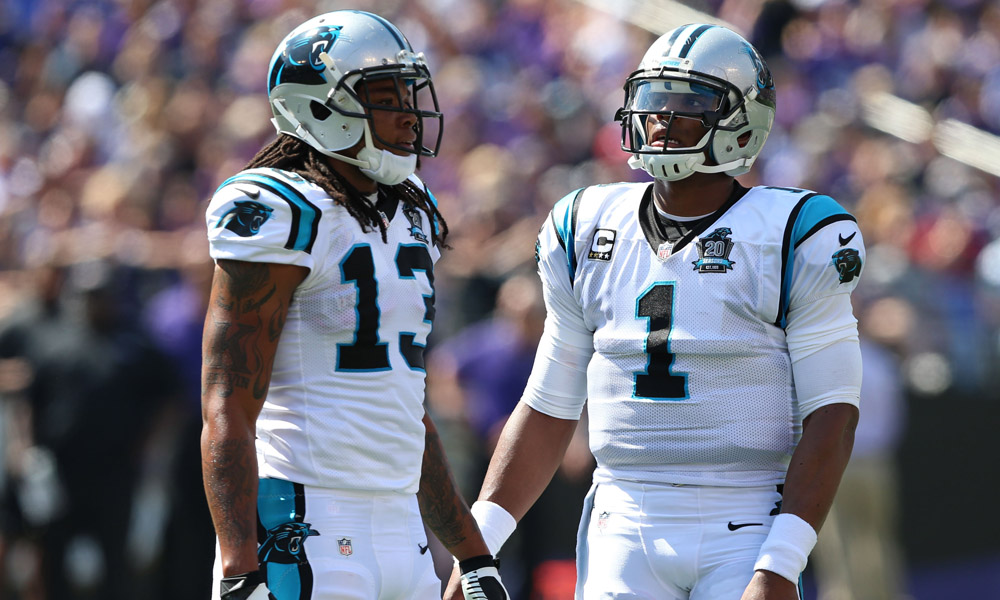 Carolina Panthers head coach Ron Rivera said that Cam Newton "might be the best athlete of all" during Newton's rookie campaign. Once considered one of the most dangerous quarterbacks in the NFL, Newton has fallen off the charts in the past year. However, through all the injuries and drama, Newton is quickly returning to his elite self.
When on top of his game, Newton is clearly a top player in the NFL. In his rookie year, not only did he rank 10th in passing yards with 4,051, he had the most rushing yards among all quarterbacks (706) and the second-most rushing touchdowns in the league (14). In his second year, he had the 11th most passing yards, the second-most rushing yards among all quarterbacks (behind only Washington Redskins QB Robert Griffin III) and the most rushing touchdowns among QBs.
It was in his third year, after these first two promising seasons, that Newton's production started to decrease. He had 490 fewer passing yards, 156 fewer rushing yards and two fewer rushing touchdowns than in the previous year.
Already having to climb back up a steep hill, Newton needed surgery to repair his ankle ligaments over the offseason and faced a four-month recovery period. To make it an even worse offseason, Newton lost his top receiver Steve Smith to free agency. Smith, a 13-year veteran, was Carolina's all-time leader in receiving yards, receiving touchdowns and receptions, and his departure left a young, inexperienced receiving core for Newton to work with. Finally returning from a nightmare of an offseason, Newton suffered a hairline fracture of his ribs in the third preseason game, causing him to miss the first regular season game. The hill got a lot steeper.
It didn't look pretty for Newton coming into his first game of the season. His receiving core consisted of rookies Kelvin Benjamin and Brenton Bersin as well as mediocre veterans Jerricho Cotchery and Jason Avant. Cotchery is 32 years old and in the twilight of his career and Avant has never had more than 680 yards and three touchdowns in a season. Newton's best option seemed to be the team's experienced, sure-handed tight end Greg Olsen. In addition to this shaky receiving core, the Panthers top two running backs Jonathan Stewart and DeAngelo Williams both went down with injuries. This left Newton with rookie Darrin Reaves in the backfield, averaging 2.5 yards per carry in three games. Needless to say, it looked like Newton was in for a tough season.
However, six games into the season, Newton has managed to lead the injury-riddled Panthers to a division-leading record of 3-2-1. Against the dominant Cincinnati Bengals defense, Newton led the offense to 37 points and 430 total yards, having produced 391 of them. Taking it upon himself, the 25-year-old quarterback is leading the Panthers in total rushing yards after running for 107 yards in the showdown against the Bengals.
The game ended up being a tie, but Newton did all he could to win it. It was Newton's fourth-down converting run with 49 seconds left in regulation that set up the game-tying field goal. Newton also gave Carolina a shot in overtime, throwing a beauty of a pass 23 yards down the field to Cotchery, who dropped it.
To further show how amazing Cam has been with his mediocre supporting staff, he has the highest QBR (total quarterback ranking) and RAT (passer QB rating) of his career even with his top receiver, Kelvin Benjamin, having the fifth-most drops in the NFL. However, Benjamin is still on pace for 1,110 yards and 11 touchdowns. Newton is taking decent players and turning them into Pro Bowl candidates.
Newton's success is even more impressive when you consider that he is doing all of this with the third-worst offensive line in the league. Carolina's offensive line has allowed the second-most sacks in the league and Newton has constantly been under pressure from opposing defenses. However, Cam is still finding ways to win ballgames.
If it wasn't for the embarrassing defense of the Panthers and his second-rate supporting cast, the fourth-year quarterback might actually be getting the credit he deserves. Regardless, it's clear that Cam Newton is making his way back to elite status.
Buccaneers admit mistake, boot Aguayo
In the NFL, it's always better to admit a mistake than to compound it. For the Buccaneers, the decision to burn a 2016 second-round pick on kicker Robert Aguayo has proven to be a mistake. The Buccaneers made the definitive admission of their error on Saturday, cutting Aguayo. He exits with $428,000 in fully-guaranteed salary [
more
]
Source: Mike Florio of ProFootballTalk
Powered by WPeMatico
Did Bucs put too much pressure on Aguayo?
After the Buccaneers surprised everyone by taking a kicker with the 59th overall pick in the draft, G.M. Jason Licht explained the move by heaping superlatives on the player. "I was very excited along with my staff and coaches about Roberto for a very long time," Licht told PFT Live in May 2016. "It's not [
more
]
Source: Mike Florio of ProFootballTalk
Powered by WPeMatico
Broncos holding their breath on Derek Wolfe
Only two days after losing Billy Winn for the year with a torn ACL, the Broncos are now sweating out another potentially serious injury along the defensive line. Via multiple reports, Broncos defensive lineman Derek Wolfe was carted off the field during practice on Saturday. It's being described as a right ankle injury by coach [
more
]
Source: Mike Florio of ProFootballTalk
Powered by WPeMatico