Buffalo Bills DT Kyle Williams Deserves More Credit
The numbers show that Bills defensive tackle Kyle Williams is one of the NFL's most underrated players.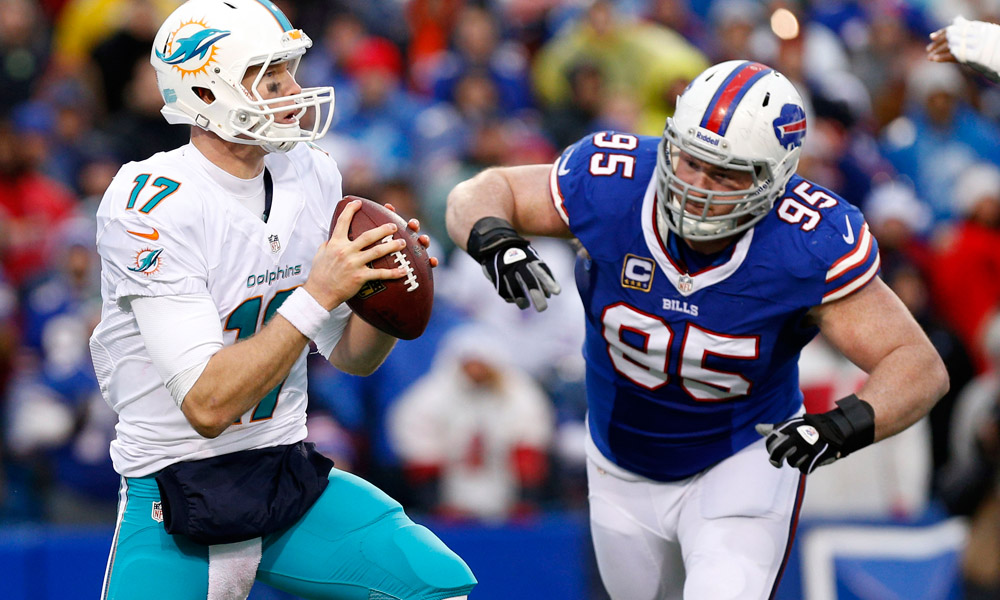 You are a quarterback about to step under center against the Buffalo Bills' defense. Which defensive player are you most worried about? Which player is the one you must account for on every play? Well, you glance to your right and see Mario Williams, the $96 million man and pass-rushing fiend. Then, you glance to your right and see Jerry Hughes, a former first-round pick. You glance in between the center and guard to your right and you see Marcell Dareus, a former top-five overall pick and Pro Bowler. However, none of those players put fear into your heart. Yes, they are good players, but they aren't game-changing, dominant players. Your eyes finally make their way in between your left guard and tackle. There is the 6'1 and 303-pound defensive tackle Kyle Williams, who could end your day in an instant, and you feel a shiver emanate down your spine. That's the guy you must account for on every play. He is the player who could single-handily disrupt everything you are trying to do on offense.
Kyle Williams doesn't look like he would be the most dominant player you never heard of, but he most certainly is. When he came out of LSU and declared for the NFL draft in 2006, he wasn't a very sought after player. He was criticized for not being "strong at the point and driven off the ball by opponents" and for having "marginal skills as a pass-rusher" by a particular draft outlet. This led to Williams falling all the way to the 134th overall pick in the fifth round, where the Bills drafted him.
Through his first few seasons, Williams was a solid but unspectacular player, which gave credence to his doubters; however, that all started to change in the 2009 season. Williams started to show glimpses of the game-changing player he would become. He recorded 66 tackles and four sacks as a 3-technique defensive tackle, shaded on the outside shoulder of the guard, in Perry Fewell's 4-3 defense.
In 2010, Williams played in George Edwards' 3-4/4-3 hybrid defense and lined up at a variety of positions. The lack of a true position didn't stop him from improving off his prior numbers as he went for 76 tackles and 5.5 sacks.
A foot injury cut his 2011 season short and caused him to have a slight dip in performance during 2012, despite the fact he went back to his natural position at 3-technique defensive tackle under new defensive coordinator Dave Wannstedt. Williams recorded 46 tackles and four sacks in 2012.
Another defensive coordinator change, his fourth since he entered the NFL, led to him playing mostly as a 5-technique, lined up on the offensive tackle, defensive end under Mike Pettine in 2013. Nevertheless, Williams put up a career best in every meaningful category as he had 68 tackles and 10.5 sacks, while playing out of position in a 3-4 defense. According to Pro Football Focus, his season went down as the eighth-most productive year by an interior pass rusher since 2007.
Entering the 2014 season, Williams was facing yet another change on defense as the Bills switched from a 3-4 defense under Pettine to a 4-3 defense under Jim Schwartz.
In Schwartz's defense, Williams mostly lines up at the 3-technique defensive tackle position. Schwartz's defense needs the 3-technique to get as much penetration as possible for it to run at an optimum level.
Through three games in 2014, Williams has nine tackles and a sack as he looks to improve on his stellar 2013 campaign.
Now the question is: what does Williams do that makes him the most feared player on the Bills' defense?
Williams' best trait is his ability to get up field extremely quickly, which he does in a variety of ways. First, Williams has some of the best snap anticipation in the NFL. Oftentimes, he is engaging the opposing offensive linemen before they can even get out of their stance. Next, Williams has incredible quickness for a man his size. He uses this agility coupled with an impressive swim move to get into opposing backfields before you can blink. For example, with 3:23 to play in a game versus the San Diego Chargers, Williams lined up at the 3-technique in the Bills' goal-line front. As Philip Rivers received the snap under center, Williams exploded and took a slight step to his right as he got into the B-gap. Before the left guard could even engage with Williams, he performed a sudden swim move and got into the Chargers' backfield where he made the tackle on Donald Brown for a four-yard loss.
Williams' next best attribute is one that he was criticized for coming out of LSU, his strength. Williams probably isn't the strongest guy in the gym, but his raw strength coupled with his impeccable technique make him a nightmare for offensive lineman. He does a great job of getting a low pad level, which allows him to gain maximum leverage, and exploding through the offensive lineman's chest with his arms extended, so that he can get the offensive lineman moving backward. From there, he can either utilize his powerful bull rush or switch into a hard rip move to get into a position to make a play.
Furthermore, he is a master at hand fighting within the interior line. He does not allow opposing lineman to latch onto his pads; therefore, he limits the amount of control they have over him. This allows Williams the ability to utilize a variety of counter moves to get past opposing blockers while playing the run or rushing the passer. His sack of Ryan Tannehill in Week 2 of this season showcased these traits best. On that play, Williams lined up at the 1-technique, inside shade of the guard, defensive tackle to the offense's right. After the ball is snapped, Williams took a quick inside to outside stutter step to try and get the right guard off balance. He followed up his stutter step with a hard inside rip move, but was stifled by the Dolphins guard. However, Williams did a great job of resetting his hands as he pushes off the guard's left hand, which freed him up to chase down and sack Tannehill.
What makes Williams such an incredible and dominant player is that he showcases all these traits in every game. His constant effort and tenacity allow him to constantly attack the offensive line in a variety of ways. He can beat you with quickness, strength, technique or all three at once and that is what makes him special.
Williams is much better than the marginal pass rusher who was weak at the point of attack that he was said to be coming out of LSU.
For a player who plays at such a high level, you'd think Williams was ranked at the top of the NFL in terms of interior defensive linemen. However, an ESPN player ranking, where they "polled 85 experts to rate each player on a 0-to-10 scale, with 10 being the best regardless of position in the NFL," rated Williams as the 10th best interior defensive lineman. He was ranked behind players like Haloti Ngata, Sheldon Richardson, Justin Smith and Vince Wilfork. Williams has been more productive, disruptive and impactful than each one of those players. In 2013, he had better pass rush productivity than each of the players while coming away with the same amount of sacks as all four of them combined, per PFF. The fact is that Williams deserved to be ranked ahead of each of those players; however, he was snubbed because he is from a small market in Buffalo and doesn't have the name recognition of the other four.
When you hear of great defensive tackles in the NFL, the first names that come to mind are Ndamukong Suh, Gerald McCoy and Geno Atkins. It's about time Kyle Williams is as highly regarded as they are.
Williams is almost assuredly at the forefront of opposing quarterbacks minds, it's about time that he is on yours.
Did Bucs put too much pressure on Aguayo?
After the Buccaneers surprised everyone by taking a kicker with the 59th overall pick in the draft, G.M. Jason Licht explained the move by heaping superlatives on the player. "I was very excited along with my staff and coaches about Roberto for a very long time," Licht told PFT Live in May 2016. "It's not [
more
]
Source: Mike Florio of ProFootballTalk
Powered by WPeMatico
Broncos holding their breath on Derek Wolfe
Only two days after losing Billy Winn for the year with a torn ACL, the Broncos are now sweating out another potentially serious injury along the defensive line. Via multiple reports, Broncos defensive lineman Derek Wolfe was carted off the field during practice on Saturday. It's being described as a right ankle injury by coach [
more
]
Source: Mike Florio of ProFootballTalk
Powered by WPeMatico
Buccaneers admit mistake, boot Aguayo
In the NFL, it's always better to admit a mistake than to compound it. For the Buccaneers, the decision to burn a 2016 second-round pick on kicker Robert Aguayo has proven to be a mistake. The Buccaneers made the definitive admission of their error on Saturday, cutting Aguayo. He exits with $428,000 in fully-guaranteed salary [
more
]
Source: Mike Florio of ProFootballTalk
Powered by WPeMatico