2015 NFL Mock Draft 9/23
A look ahead at the 2015 NFL Draft, with predictions, picks and analysis for every team.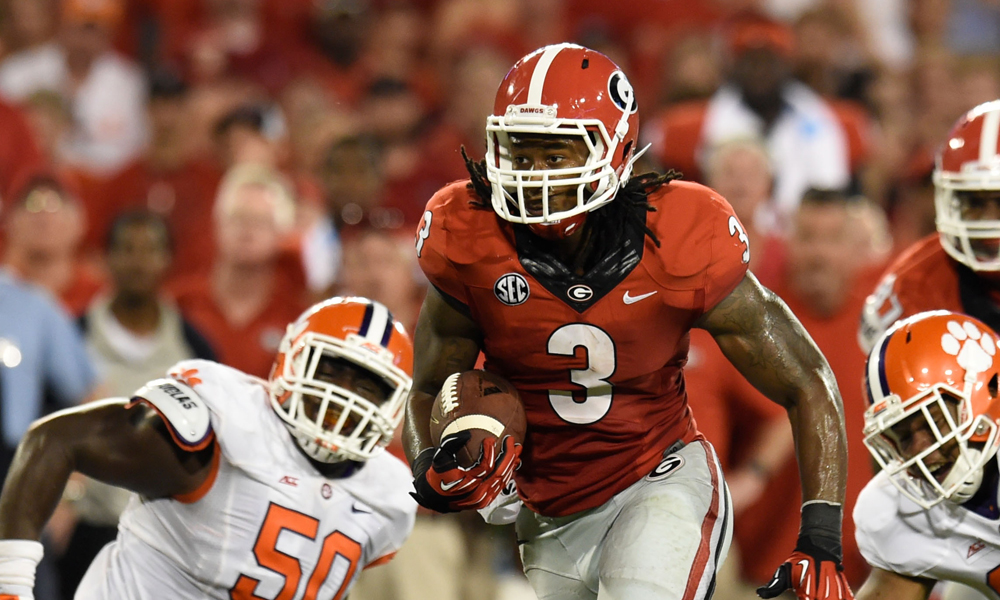 It's never too early to look ahead at the upcoming NFL Draft. With three weeks of football in the books, we've started to see every teams' holes, which could be addressed through the draft. Here is our first 2015 NFL Mock Draft:
1. Oakland Raiders – Texas A&M OT Cedric Ogbuehi: The recent trend of Aggies offensive lineman going near the top of the NFL Draft looks to continue in 2015. Jake Matthews was drafted sixth overall in 2014 and Luke Joeckel went second overall one year earlier. The Raiders' first and most important priority is to protect quarterback Derek Carr. Drafting Ogbuehi is the first step in the Raiders' path toward that goal of keeping Carr healthy and improving their offensive line.
Incumbent – Donald Penn LT: Entry to NFL – CFA in 2006, Minnesota
2. Jacksonville Jaguars – USC DT Leonard Williams: Through three games, Chad Henne has been sacked a league-leading 16 times. The offensive line is terrible, but it's possible the defensive front is even worse. The Jaguars have allowed the most points scored in the first three weeks of the NFL season (119). The offense has scored 44 points overall, ranking third worst in the NFL. It is no secret the Jaguars are still searching for pieces both on offense and defense. Jacksonville used six of their nine picks on offense this past May in the NFL Draft. Next year, they should address the defense first and add Williams to their no-name defense, sine he can be an impact player.
Incumbent – Roy Miller DT: Entry to NFL – 3rd round in 2009, Tampa Bay
3. Tampa Bay Buccaneers – Oregon QB Marcus Mariota: Lovie Smith has shown little faith in second-year quarterback Mike Glennon after reuniting himself with journeyman signal-caller Josh McCown, who he worked with in Chicago. Long-term, both McCown and Glennon are not the answer for the Buccaneers. Mariota up to this point is the top quarterback prospect, especially with Florida State's Jameis Winston's constant struggles to stay out of trouble. Mariota possesses the ability and smarts to be considered a franchise quarterback in the NFL.
Incumbent – Josh McCown QB: Entry to NFL, 3rd round in 2002, Arizona
4. St. Louis Rams – Florida State QB Jameis Winston: Sam Bradford's time in St. Louis likely has run its course. The Rams are desperate for a franchise quarterback, and the team must move on from the former first overall pick. Winston's latest mishap, is another red flag, for NFL teams, in the evaluation process. Last season's Heisman Trophy winner supposedly shouted sexually explicit content derogatory to women and it cost him the entire game against Clemson. Winston has all the tools you want in a quarterback, but the NFL is under immense scrutiny to clean up its image and it starts with the players. Winston's character flaws could hinder his draft value in 2015.
Incumbent – Sam Bradford QB: Entry to NFL, 1st round in 2010, St. Louis
5. New York Giants – Iowa OT Brandon Scherff: The Giants can throw a dart at their draft board in 2015 and walk away happy with whatever name the dart lands on. Lacking talent on both sides of the football, the Giants have plenty of glaring needs. One in particular is the offensive line. The Giants ranked 26th in total offense after three games. The Giants' first win in 2014 also is in conjunction with Eli Manning not throwing an interception for the first time this season. The offensive line is not totally to blame for Manning's deficiencies at quarterback, but do factor into the missteps by the offense as a whole.
Incumbent – Will Beatty OT: Entry to NFL, 2nd round in 2009, New York Giants
6. Cleveland Browns – Iowa DT/DE Carl Davis: Armed with two first-round picks in 2015 the Browns have plenty of options available at their fingertips. The Browns prefer big defensive ends and tackles on their defensive front. Davis is that guy for Cleveland, as he stands at 6'5 and 315 pounds and is the anchor of the Hawkeyes' defense. Davis is strong and wins at the point attack and rarely is he moved off the football. One of the best players I've scouted this season. Great intangibles.
Incumbent – Ahtyba Rubin DE: Entry to NFL, 6th round in 2008, Iowa State
7. Houston Texans – Florida State CB P.J. Williams: Quarterback is an option here, but the secondary is the Achilles' heel of the defense. The Texans rank 18th overall in pass defense, and have allowed the fifth highest amount of completions in the league with 77. Williams has the athleticism and instincts in coverage as well as the physicality to make an impact in run support.
Incumbent – Johnathan Joseph CB: Entry to NFL, 1st round in 2006, Cincinnati
8. Washington Redskins – Alabama S Landon Collins: The Redskins' last line of defense needs a youth movement. Ryan Clark, Brandon Meriweather and DeAngelo Hall are all over 30 years old. Alabama has been an NFL factory for producing secondary talent. In 2012 the Crimson Tide had two such players (Mark Barron and Dre Kirkpatrick) drafted in round one. In 2013, Dee Millner was drafted in the first round. In 2014, Ha Ha Clinton-Dix heard his name called to the podium in round one. Collins' athleticism, physicality and instincts are second to none in this draft class. He should be the fifth player from Alabama's secondary drafted in the first round over the last four years.
Incumbent – Ryan Clark S: Entry to NFL, CFA in 2002, New York Giants
9. Kansas City Chiefs – Alabama WR Amari Cooper: The Chiefs need an impact receiver. Dwayne Bowe and Donnie Avery are solid starters, but adding an additional option for Alex Smith is a must. Cooper resembles DeSean Jackson and Jeremy Maclin, two receivers who excelled in Andy Reid's offense in Philadelphia. His quickness off the snap and first-step acceleration make Cooper difficult to defend. After four games in 2014, Cooper is leading the nation in receiving yards with 655.
Incumbent – Donnie Avery: Entry to NFL, 2nd round in 2008, St. Louis
10. Dallas Cowboys – Michigan State QB Connor Cook: Let the critics bash me on this projection with the 10th pick overall. The glaring need is defense but on a hunch Jerry Jones may decide to take Cook. Tony Romo continues to experience back tightness and we have 13 weeks to go in the regular season. Cook can run a huddle and deliver in the clutch, two things that are vital to the success of an NFL quarterback. I doubt he can leapfrog the players listed above at quarterback, but I think he will be a very sound and safe future prospect.
Incumbent – Tony Romo QB: Entry to NFL, CFA in 2003, Dallas
11. Cleveland Browns (from Buffalo) – Arizona State WR Jaelen Strong: With the 22nd selection in 2014, the Browns drafted quarterback Johnny Manziel. It's inevitable: Manziel will take over for Brian Hoyer as Cleveland's starting quarterback at some point. The key ingredient to jump starting Manziel's career is putting the right pieces in place to help him succeed. Strong has a wide catching radius similar to Manziel's favorite target at Texas A&M, Mike Evans.
Incumbent – Andrew Hawkins WR: Entry to NFL, FA in 2011, St. Louis
12. New York Jets – Georgia RB Todd Gurley: The Jets land (no pun intended) possibly the best player in the upcoming NFL Draft. Gurley is a rare athletic specimen that is sorely needed in New York. Rex Ryan prides himself on running the rock and playing physical defense. Gurley gives the Jets their first bona fide play-maker since Keyshawn Johnson.
Incumbent – Chris Johnson RB: Entry to NFL, 1st round in 2008, Tennessee
13. Tennessee Titans – Nebraska DE Randy Gregory: The Cornhuskers defensive end likely will end up playing in a 3-4 defensive scheme in the NFL. At 6'6 and 248 pounds, Gregory fits the mold of the Titans' linebackers, who average 259 pounds. The Titans need a player like Gregory, who can provide an outside pass-rush.
Incumbent – Kamerion Wimbley OLB: Entry to NFL, 1st round in 2006, Cleveland
14. Miami Dolphins – Stanford OT Andrus Peat: Miami's offensive line has been in shambles since the Jonathan Martin/Richie Incognito incident last year. The Dolphins' ability to dominate up front is not their strength, and Peat is a big, athletic kid who can add depth. The Phins added Brandon Albert and drafted Ja'Wuan James with their first pick in 2014.
Incumbent – Nate Garner G/T: Entry to NFL, 7th round in 2008, New York Jets
15. New Orleans Saints – Clemson OLB Vic Beasley: Rob Ryan, the Saints defensive coordinator, will welcome a talent like Beasley to the team. One of the most explosive players off the edge in the upcoming NFL Draft, Beasley has another gear after he explodes off the football. In fact, Beasley may not be around this late, but that is the way this mock draft has shaken out.
Incumbent – Victor Bulter OLB: Entry to NFL, 4th round in 2009, Dallas
16. Minnesota Vikings – Baylor OL Spencer Drango: The Vikings are set at tackle with Matt Kalil and Phil Loadholt. The interior has some question marks and upgrading at guard seems like a good fit. The team also would likely welcome an impact safety to pair with Harrison Smith, but at this point there is not a prospect worth it at 16th overall. Drango brings versatility and stability to the offensive line.
Incumbent – Charlie Johnson G: Entry to NFL, 6th round in 2006, Indianapolis
17. Pittsburgh Steelers – Washington CB Marcus Peters: The Steelers signed right tackle Marcus Gilbert to a contract extension that keeps him in Pittsburgh through 2019. I'm personally not sold on Gilbert and don't rule out Pittsburgh taking another flyer on a tackle. That said, Ike Taylor is 34 years old, and finding an eventual replacement is ticking away for Pittsburgh. The Steelers like their defensive backs big and strong and Peters matches that description.
Incumbent – Ike Taylor CB: Entry to NFL, 4th round in 2003, Pittsburgh
18. Detroit Lions – Ohio State DT Michael Bennett: A few years back, everyone envisioned the Lions boasting one of the best defensive fronts in the NFL. The team built through the draft, adding Ndamukong Suh, Nick Fairly and Ziggy Ansah over the last five years. Suh enters the final year of his contract with Detroit and Fairley has been a disappointment. Meanwhile, Ansah looks like the real deal moving forward. Next year, the Lions should select Buckeyes defensive tackle Bennett and start the rebuilding process along the interior of the defense.
Incumbent – Ndamukong Suh DT: Entry to NFL, 1st round in 2010, Detroit
19. Chicago Bears – Florida State DE Mario Edwards Jr.: The Bears are old on defense. Really, really old. Defensive starters Jared Allen, Charles Tillman, D.J. Williams, Lance Briggs and Jay Ratliff are 32 years or older. Tillman was just placed on injured reserve, ending his season and leaving the Bears without one of their top players. An influx of youth is a must for the Bears. The Seminoles' depth over the last couple years held Edwards Jr. under the radar, but he is becoming a real force in Tallahassee.
Incumbent – Jared Allen DE: Entry to NFL, 4th round in 2004, Kansas City
20. Atlanta Falcons – Michigan State DE Shilique Calhoun: It does not take a rocket scientist to recognize that the Falcons need help on defense. Calhoun plays low to the ground and bursts off the line of scrimmage. He reminds me a little bit of former Atlanta great John Abraham.
Incumbent – Kroy Biermann DE: Entry to NFL, 5th round in 2008, Atlanta
21. Arizona Cardinals – Stanford QB Kevin Hogan: Head coach Bruce Arians should put the wheels in motion to replace Carson Palmer. Hogan is a big, strong-armed quarterback who Arians can mold into his next Ben Roethlisberger.
Incumbent – Carson Palmer: Entry to NFL, 1st round in 2003, Cincinnati
22. Baltimore Ravens – Florida DE/OLB Dante Fowler Jr.: Terrell Suggs is as good as it gets in the NFL. But next season Suggs will enter his 13th season in the league, and general manager Ozzie Newsome should prepare for his eventual exit. Fowler Jr. is a talented player who should transition to the outside linebacker position at the next level.
Incumbent – Terrell Suggs OLB: Entry to NFL, 1st round in 2003, Baltimore
23. Indianapolis Colts – Ohio State DE/OLB Noah Spence: Spence is a special athlete with good change of direction ability to avoid blocks. The rookie will be groomed to replace veteran Robert Mathis, who has thrived at outside linebacker after playing most of his career at defensive end. Spence will learn a lot from the Pro-Bowler.
Incumbent – Robert Mathis: Entry to NFL, 5th round in 2003, Indianapolis
24. San Francisco 49ers – Auburn WR Sammie Coates: One thing the 49ers' offense does not have is speed. They are tough and physical, but never will be described as fast, but that is about to change. Coates reportedly has been clocked in the 4.3s in the 40-yard dash and his speed will bring another dimension to the Niners' offense. Anquan Boldin is nearing the end of his career and Michael Crabtree is in the final year of his rookie contract.
Incumbent – Anquan Boldin: Entry to NFL, 2nd round in 2003, Arizona
25. Philadelphia Eagles – LSU OT La'el Collins: I hate to continue to focus on age when projecting picks, but Philadelphia's offensive line has three starters playing in their 10th NFL season. Also, it is worth mentioning that Lane Johnson, the fourth overall pick in the 2013 draft, will miss four games after testing positive for banned performance-enhancing drugs. Collins in a mauler on the field and possesses the versatility to spend time at guard or tackle for the Eagles.
Incumbent – Jason Peters: Entry to NFL, CFA in 2004, Buffalo
26. Carolina Panthers – Wisconsin RB Melvin Gordon: The Panthers have plenty of running backs on their roster, but they do not amount to much. Their leading rusher in 2013, DeAngelo Williams, will be 32 years old in 2015. Jonathan Stewart can not avoid nagging injuries, robbing him of being a consistent threat. In 2015, Carolina should draft Gordon, who is a big-play waiting to happen on the field. His burst and vision are the hallmarks of his skill set.
Incumbent – DeAngelo Williams: Entry to NFL, 1st round in 2006, Carolina
27. San Diego Chargers – South Carolina RB Mike Davis: With Ryan Mathews out for an extended period with an MCL knee strain, again, it is time for the Chargers to address the running back position. Mathews has yet to play a full 16-game schedule in his five-year career. Davis reminds me of Tampa Bay Buccaneers running back Doug Martin. The skill set that Davis brings to the table is impressive, but overall he remains quietly under appreciated.
Incumbent – Ryan Mathews – Entry to NFL, 1st round in 2010, San Diego
28. New England Patriots – Washington DT Danny Shelton: Vince Wilfork has been New England's go-to-guy since being drafted in 2004. Bill Belichick should look ahead and find his eventual replacement by drafting Shelton. Currently, he leads the Huskies with 40 tackles, 9.5 tackles-for-loss and seven sacks. Shelton's seven sacks lead the nation.
Incumbent Vince Wilfork – Entry to NFL, 1st round in 2004, New England
29. Green Bay Packers – Washington OLB Shaq Thompson: The Huskies linebacker is everywhere on the field. In all facets of the game, you see Thompson making an impact. That is exactly what the Packers need, another player besides Clay Matthews who can change the game and make plays. Thompson is a bit undersized but overall his production and ability is too much to ignore.
Incumbent – Julius Peppers – Entry to NFL, 1st round in 2002, Carolina
30. Cincinnati Bengals – Oregon CB Ifo Ekpre-Olomu: The Bengals drafted Alabama's Dre Kirkpatrick in 2012 and the jury is still out on if he is a bust or not. Bengals defensive coordinator Paul Guenther has an arsenal of smaller quick cornerbacks on the roster. Ekper-Olomu fits the mold to perfection.
Incumbent – Terence Newman – Entry to NFL, 1st round in 2003, Dallas
31. Denver Broncos – Washington DE/OLB Hau'oli Kikaha: The Broncos signed DeMarcus Ware to replace Elvis Dumervil, whom they lost via free agency in 2012. Kikaha will be groomed to replace Ware, who enters the twilight of his career in Denver. Named to the preseason watch list for the Bednarik Award (given to the top defensive player), Kikaha is relentless in pursuing the quarterback.
Incumbent – DeMarcus Ware – Entry to NFL, 1st round in 2005, Dallas
32. Seattle Seahawks – Michigan TE/WR Devin Funchess: Either at tight end or receiver, Funchess has been one of the most productive Wolverines over the last two years. Currently, he leads to team with 20 catches, 284 yards and three touchdowns. At 6'5 and 230 pounds, Funchess instantly is an overwhelming mismatch for linebackers. His initial burst off the line for a guy his size is impressive.
Incumbent – Zach Miller – Entry to NFL, 2nd round in 2007, Oakland
Buccaneers admit mistake, boot Aguayo
In the NFL, it's always better to admit a mistake than to compound it. For the Buccaneers, the decision to burn a 2016 second-round pick on kicker Robert Aguayo has proven to be a mistake. The Buccaneers made the definitive admission of their error on Saturday, cutting Aguayo. He exits with $428,000 in fully-guaranteed salary [
more
]
Source: Mike Florio of ProFootballTalk
Powered by WPeMatico
Did Bucs put too much pressure on Aguayo?
After the Buccaneers surprised everyone by taking a kicker with the 59th overall pick in the draft, G.M. Jason Licht explained the move by heaping superlatives on the player. "I was very excited along with my staff and coaches about Roberto for a very long time," Licht told PFT Live in May 2016. "It's not [
more
]
Source: Mike Florio of ProFootballTalk
Powered by WPeMatico
Broncos holding their breath on Derek Wolfe
Only two days after losing Billy Winn for the year with a torn ACL, the Broncos are now sweating out another potentially serious injury along the defensive line. Via multiple reports, Broncos defensive lineman Derek Wolfe was carted off the field during practice on Saturday. It's being described as a right ankle injury by coach [
more
]
Source: Mike Florio of ProFootballTalk
Powered by WPeMatico