Brian Hoyer Proving Worthy of Browns' Starting Role
Johnny Manziel will be the man in Cleveland someday. But for now, Brian Hoyer's doing just fine.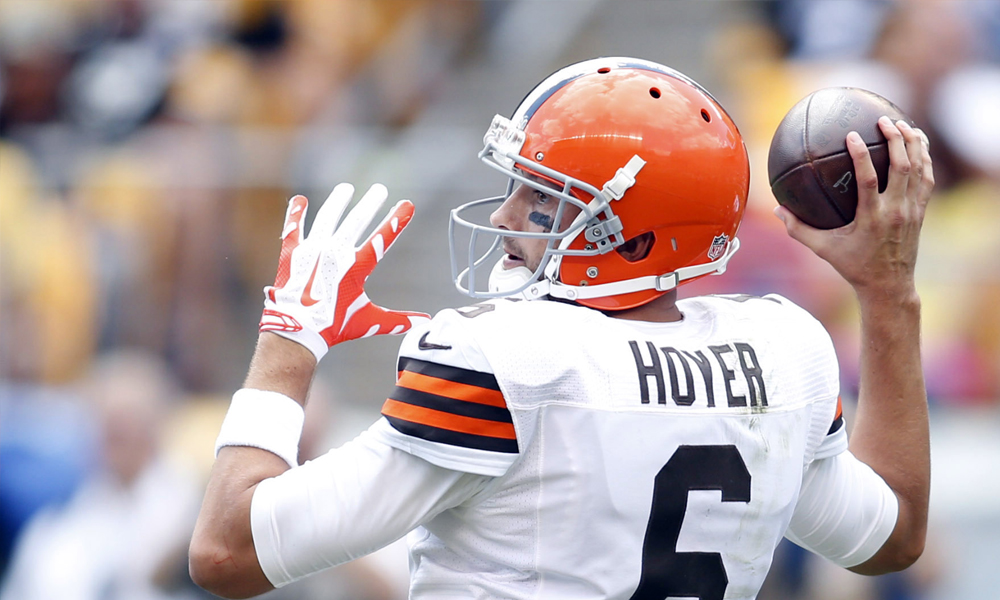 Brian Hoyer should be the toast of Cleveland – emphasis on "should be."
On the surface, everything is there that would seem to assure his popularity among Browns fans. Like the beloved and still never successfully replaced Bernie Kosar, Hoyer is one of them – the Browns-loving boy grown up to live his dream. And through the first three games of the season, Hoyer's Browns have borne a strong resemblance to Brian Sipe's Cardiac Kids with every game decided on the final play.
Yet everyone in the world – with the possible exception of Brian Hoyer – sees him as a placeholder quarterback. That's the nature of life when your team drafts a quarterback in the first round, particularly one that comes with the hype and Hollywood glitz of Johnny Manziel. (Yes, we just compared College Station, Texas to Hollywood. Don't call us on it).
Manziel's jersey sales compared to Hoyer's are probably somewhere in the same neighborhood as the sale of cheeseburgers versus garbanzo beans. And with fellow first-round selections Blake Bortles and Teddy Bridgewater getting their first action in Week 3, people are likely to start wondering even more vocally when Johnny Football will get his shot to do the same for more than a series.
But to this point, Hoyer has done nothing to demonstrate that he doesn't deserve to be Cleveland's starter.
Hoyer's passer rating of 97.5 pits him 13th in the league and tops among AFC North quarterbacks. The key to that stat is that he doesn't make dumb decisions – Hoyer has yet to be picked off. Certainly there is one throw he would probably like back, and that is the third-down slant to Andrew Hawkins that likely would have clinched a win had he delivered it a millisecond sooner. Instead, the Browns punted and Baltimore did its heart-breaking act in the final two minutes.
The question is, how long Hoyer can hold on to the starting job?
The Browns have been trying to figure out ways to get Manziel on the field, and ingeniously accommodated the skill sets of both quarterbacks with a beautiful gadget play that caught everyone in the stadium by surprise as Hoyer connected with Manziel for a 39-yard pass. Unfortunately for the Browns, the officials were not among the surprised and flagged running back Terrance West for an illegal shift. And that's the only time that play, which involved Manziel feigning confusion as he wandered to the sideline, can ever be used.
First-round picks are not drafted, or paid, solely for their usage on trick plays. Inevitably, Johnny Football's time will come. But as long as Brian Hoyer gives the Browns a chance to win games – and so far he's done so three times despite the team's 1-2 record – he has earned the right to keep his job.
Buccaneers admit mistake, boot Aguayo
In the NFL, it's always better to admit a mistake than to compound it. For the Buccaneers, the decision to burn a 2016 second-round pick on kicker Robert Aguayo has proven to be a mistake. The Buccaneers made the definitive admission of their error on Saturday, cutting Aguayo. He exits with $428,000 in fully-guaranteed salary [
more
]
Source: Mike Florio of ProFootballTalk
Powered by WPeMatico
Did Bucs put too much pressure on Aguayo?
After the Buccaneers surprised everyone by taking a kicker with the 59th overall pick in the draft, G.M. Jason Licht explained the move by heaping superlatives on the player. "I was very excited along with my staff and coaches about Roberto for a very long time," Licht told PFT Live in May 2016. "It's not [
more
]
Source: Mike Florio of ProFootballTalk
Powered by WPeMatico
Broncos holding their breath on Derek Wolfe
Only two days after losing Billy Winn for the year with a torn ACL, the Broncos are now sweating out another potentially serious injury along the defensive line. Via multiple reports, Broncos defensive lineman Derek Wolfe was carted off the field during practice on Saturday. It's being described as a right ankle injury by coach [
more
]
Source: Mike Florio of ProFootballTalk
Powered by WPeMatico