Gloomy NFL Days In The Sunshine State
The Buccaneers, Dolphins and Jaguars entered the season with a lot of optimism, but that optimism is fading with every embarrassing loss.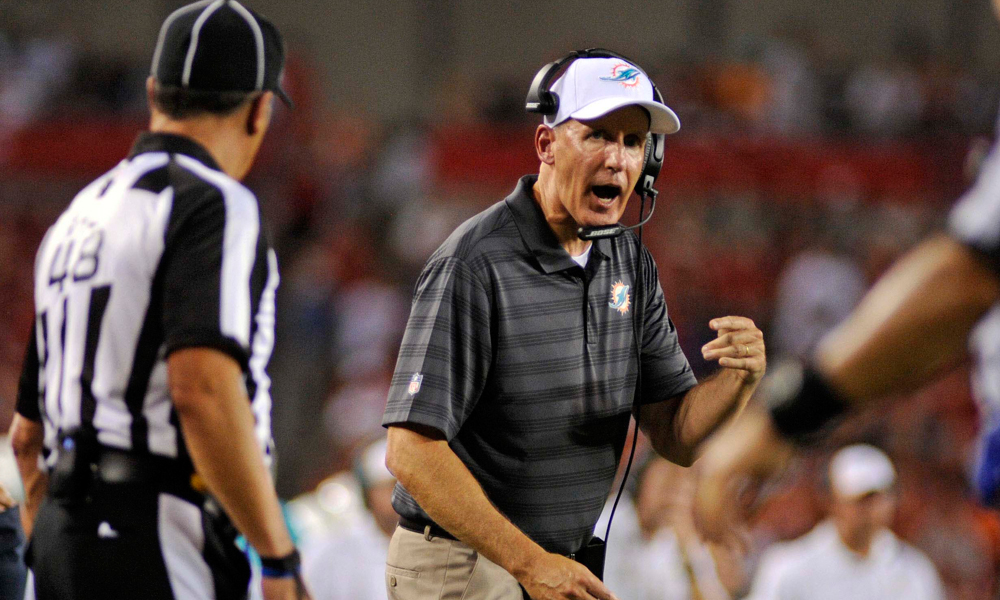 Although the state of Florida is crazy about football, so far it would be better if fans of the Jacksonville Jaguars, Miami Dolphins and Tampa Bay Buccaneers maybe visited a nice beach or one of the many theme parks on Sundays.
Entering 2014, optimism was high for each of Florida's NFL teams. Through three weeks, the three professional teams in the state cumulatively have a 1-8 record, while being outscored by a combined 150 points.
Gus Bradley's Jaguars added former Seattle Seahawks defensive linemen Chris Clemons and Red Bryant to help bolster a defense with strong young players like Sen'Derrick Marks, Tyson Alualu and Paul Posluszny. While the offense wasn't expected to be great, the defense was supposed to make this team competitive in 2014, and they started strong, jumping ahead of the Philadelphia Eagles 17-0 in the first half of the opener. The Jaguars have been outscored 119-27 since.
After Sunday's 44-17 loss to the Indianapolis Colts, Bradley said his team missed too many opportunities to make plays on defense.
"I told them, we gotta train to be clutch," Bradley said. "You know, I think that's the big message to them, is that, when you get your opportunity called, you have to make the play. You have to make the play, and I think we just missed on too many opportunities there defensively."
The Miami Dolphins entered the year optimistic that Bill Lazor's new fast-paced offense would help them battle for playoff contention. A Week 1 upset of the New England Patriots had spirits high, but back-to-back disappointing performances against the Buffalo Bills and Kansas City Chiefs respectively have Lazor pointing the finger back at himself. Lazor told the Miami Herald the team's anemic passing game rests squarely on his shoulders.
"There is no doubt the blame rests 100 percent on me," the first-year offensive coordinator said. "[To be] last in the league in yards-per-attempt, which I think is a pretty good indicator in the passing game of how you are doing, rests on the coordinator and getting everybody to do it the right way."
Head coach Joe Philbin was clearly frustrated by his team's offensive output during his post-game press conference.
"We didn't catch the ball very well," Philbin said. "I know in the first half we had a minimum of three drops, I think. I think our long touchdown drive was what, 19 yards maybe. I mean, you gotta do better than that on offense. You have to, you can't expect to win a lot of games if your longest touchdown drive is 19 yards."
For the Buccaneers, Lovie Smith was like a family member returning home. A linebackers coach for Tony Dungy's Buccaneers, Smith seemed like the perfect fit to wash away the mess that was the Greg Schiano era. A defensive philosophy that promised to feature young stars Lavonte David and Gerald McCoy had some envisioning a return to the glory days of the Tampa-2 defense.
While the offense looked like it may take time to come together, many speculated that the Buccaneers' defense would be very good and possibly even dominant from the jump. Injuries have played a key role in their disappointing play as they already lost two starters for the season with cornerback Mike Jenkins and defensive end Adrian Clayborn going down. Free agent defensive end Michael Johnson has been slowed by an ankle injury but has underwhelmed, creating no pressure at all when he has been able to go. McCoy missed Thursday night with a broken hand, and Mason Foster was out with a shoulder.
Injuries are a part of football, and Smith knows he needs more from his reserves when they're pushed into action.
"We weren't competitive," Smith said. "We have injuries and we are missing some good football players but with the guys we had out there we should have played better than that."
The Buccaneers seemed lost on Thursday night and listening to linebacker David, they may need to rethink the way things are being done.
"We have some soul searching to do," David said after the blowout loss to the Atlanta Falcons. "Get back to the drawing board tomorrow. Come in, watch film and see what we got to do. Just need guys to step up. Can't go out there playing scared. We got to come out there with our own attitude and play football."
The Buccaneers struggled to get off the field in Weeks 1 and 2 against back up and third string quarterbacks respectively, and in Week 3 put up an embarrassing showing on Thursday night against Matt Ryan in their 56-14 defeat.
While all three teams started the year with optimism, Florida fans have good reason to be increasingly discouraged by the play of their local teams. In the first half of their games this weekend, the Buccaneers, Jaguars and Dolphins were outscored 79-0. Florida's January weather is absolutely perfect for playoff football. Unfortunately, it doesn't appear likely we'll be seeing any of the state teams competing in them.
Broncos holding their breath on Derek Wolfe
Only two days after losing Billy Winn for the year with a torn ACL, the Broncos are now sweating out another potentially serious injury along the defensive line. Via multiple reports, Broncos defensive lineman Derek Wolfe was carted off the field during practice on Saturday. It's being described as a right ankle injury by coach [
more
]
Source: Mike Florio of ProFootballTalk
Powered by WPeMatico
Buccaneers admit mistake, boot Aguayo
In the NFL, it's always better to admit a mistake than to compound it. For the Buccaneers, the decision to burn a 2016 second-round pick on kicker Robert Aguayo has proven to be a mistake. The Buccaneers made the definitive admission of their error on Saturday, cutting Aguayo. He exits with $428,000 in fully-guaranteed salary [
more
]
Source: Mike Florio of ProFootballTalk
Powered by WPeMatico
Did Bucs put too much pressure on Aguayo?
After the Buccaneers surprised everyone by taking a kicker with the 59th overall pick in the draft, G.M. Jason Licht explained the move by heaping superlatives on the player. "I was very excited along with my staff and coaches about Roberto for a very long time," Licht told PFT Live in May 2016. "It's not [
more
]
Source: Mike Florio of ProFootballTalk
Powered by WPeMatico